Destination weddings will look different this year and honeymoon priorities include extra outdoor space and privacy, and destinations are welcoming the return of romance travel with these insights in mind. From exchanging vows atop Maya ruins in Belize (the only country in the world to offer this exclusive experience), to exploring eco-conscious wedding options at Vizcaya Museum and Gardens in Miami, destinations are prepared to meet couples' needs and make all romantic travel dreams come true!
Here is a list of the top venues, resorts and spots in Belize, Barbados, and Miami for those couples looking to celebrate their love, marriage, and/or just quality time together.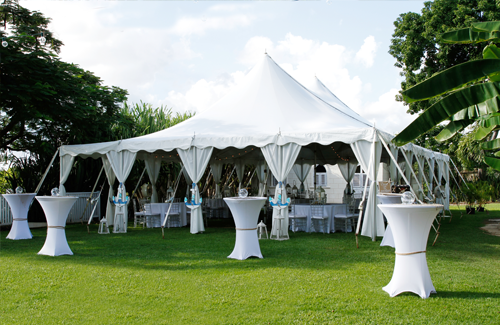 Belize is a curious destination offering brides and grooms an unmatched wedding experience, newlyweds an unforgettable honeymoon, and couples looking for a romantic escape the opportunity to disconnect from the rest of the world and reconnect with each other. Here are some of the romantic wedding settings that Belize naturally offers, and top honeymoon and romantic getaway highlights:
Cultural and Historic Wedding at a Maya Site: Belize is the only country in the world that allows weddings atop Maya ruins, making for the most remarkable and unrivalled destination wedding experience. From the Xunantunich Mayan Ruins to Altun Ha and Lamanai to the famed Caracol, not only is Belize the only country that allows Maya ruins weddings, but they are abound with some of the most intact and astounding structures in the world. What makes Maya ruins weddings so special (of course beyond the ceremony taking place on top of the oldest standing structures of ancient civilization) is that brides and grooms feel worlds away, with all focus on the sincere and intimate ceremony. Also, though located in Central America, Belize is an English-speaking country, which makes wedding planning a breeze – especially as most Belize resorts assist with every fine detail of the wedding planning process.

Ka'ana Resort is one such resort in San Ignacio, nestled in the lush jungle of Western Belize, that ensures your wedding is as unique as your relationship. The boutique property boasts 17 acres of tropical garden, ideal for various wedding reception arrangements – from dancing under mango trees to enjoying the incentive Belizean dishes with perfect wine pairings from the 1000 bottle cellar. Following the magical day, the newlyweds can start marriage off right with the enchanting honeymoon spent with as little or as much adventure, relaxation, and excitement as you want.
Dreamy Beachside Vows: Belize's relaxed atmosphere and ideal year-round temperatures of 80 degrees Fahrenheit make beach weddings picture-perfect in this Central American slice of heaven. Belize has a large offering of beach wedding properties, each scalable to suit every wedding shape and size – from intimate ceremonies over the Caribbean Sea on a private pier to exclusive resort bookings dedicated solely to the wedding – the options are sincerely endless. Chabil Mar is a popular resort choice for weddings, celebrating over 150 bridal celebrations and 12 years of service. The property offers a combined sense of romance and adventure with each ceremony and the couple rests easy knowing the details are in good hands at the all-inclusive wedding venue. Once the ceremony has been celebrated, the newlyweds can start their new adventure as a married couple gazing up at the stars during an intimate candle dinner, marveling at ancient Maya ruins, and taking every opportunity for a jungle adventure and island excursion.

Las Terrazas Resort is a spectacular Ambergris Caye location, bringing stunning beaches, the emerald waters of the Caribbean, and lush foliage into each wedding ceremony. Walking down the aisle of swaying palm trees, exchanging vows amid the sound of sea waves, and toasting champagne under the Caribbean sunset makes the special day just that much more special. The island resort is secluded and private and complete with professional wedding planners that work to make sure every detail is personalized and in place – from tropical bouquets and custom catering to open bar service and Caribbean music.

Portofino Beach Resort, located on Ambergris Caye, is another spectacular wedding resort destination that not only caters to destination wedding couples, but offers unique packages for special circumstances. For those who have been happily married for years, the property offers a special Soul Mates Renewal Package to celebrate love and commitment in a romantic and unique manner. The property also offers Symbolic Wedding Packages for those who want the destination wedding but prefer to be legally married at home. The property provides a great deal of flexibility to make every romantic dream a reality.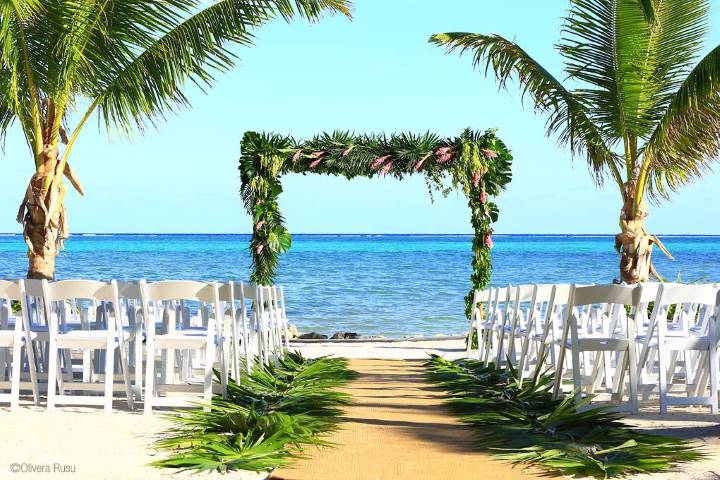 For engaged couples, there's no shortage of whimsical wedding venues across the island – whether it's simply an ocean and sand or nature backdrop, with wildlife venues like Barbados Flower Forest and Andromeda Botanic Gardens, or historic chapels and churches with stained glass windows, like St. Nicholas Abbey and St. John – there's a wide range of options for any size pocket. Irrespective of what the couple has in mind, the splendor of Barbados' powder-soft, white sand beaches, warm tropical seas and landscapes and seascapes set the ideal stage for a dream wedding, and brides and grooms can also rest assured knowing that every detail – no matter how small – is taken care of with the ample wedding suppliers available. For newlyweds and couples that just want a romantic getaway, there's magic to be uncovered at some of Barbados' renown retreats. Here are some options to consider:
Sweetfield Manor is a unique and historic boutique hotel that caters to both visitors and locals. Located on in the upper Garrison Historic Site (a UNESCO World Heritage Site) in the vibrant South part of the island, offering beautiful views of Carlisle Bay. The central location, lavish tropical gardens, wandering peacocks (is there anything more regal than peacocks!), mahogany trees, koi pond, unbelievable lagoon pool and the magical talking tree are only a few of the things that keep brides and grooms coming back to Sweetmanor. The venue boasts endless photo opportunities and the upper grounds offer the perfect location for the ceremony, while the lower grounds are ideal for the reception and celebrations. Moving from the ceremony to the reception area through the bougainvillea arch, down the old coral stairs past the koi pond and gas torches is magical in itself.
Crystal Cove is the perfect romantic getaway for newlyweds, soon-to-be newlyweds, and couples simply looking for an intimate retreat. Crystal Cove evokes the charm of a seaside Caribbean village and sweeps you away with striking ocean views and lush tropical scenery in a picturesque cliff side setting. Wedding package highlights include a romantic beach dinner under the stars, steel pan music for the ceremony, a signature couples massage and so much more. Once the ceremony and reception have wrapped up, adventurous newlyweds who want to enjoy time together can follow this three day itinerary to serve as inspiration for the romantic adventures that can ensue.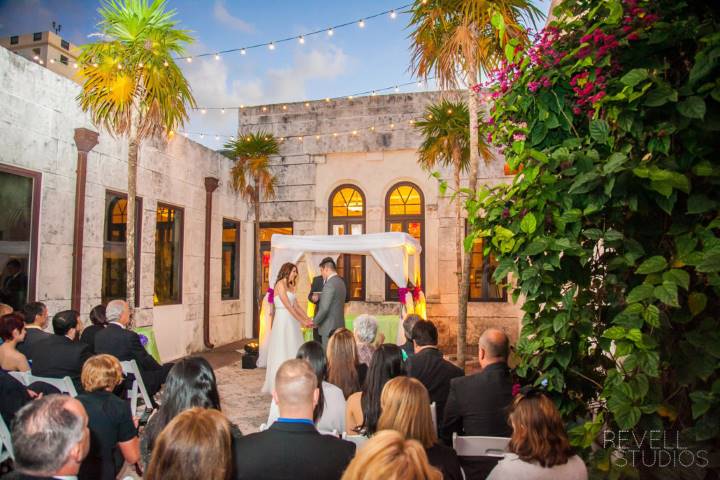 The Greater Miami area is brimming with passion – stemming from the vibrant gastronomic scene, the arts and cultural atmosphere, and the sweeping greenspace and natural landscape – there is an undeniable passion in Miami that perfectly complements romance travel. Here are some of the unique wedding options Miami has to offer:
Coral Gables Museum, the former home of the city's police and fire station, is a truly Miami-esque venue like no other. As Miami is known for its rich culture where colour, music, and flavours collide and come alive, Coral Gables Museum brings this same energy to weddings, and the annual Art Basel event is partially to thank for this. The museum offerings a variety of indoor and outdoor event space, with the indoor space featuring the characteristic coral stone walls, soaring ceilings, and beautiful natural light. What's more, this location is also LEED certified, which means that it has the added benefit of being environmentally friendly, from organic catering companies to recyclable table settings and even decorations from findings in the local gardens.
Another beloved historic wedding site is Vizcaya Museum and Gardens where natural beauty, historic architecture, and bayfront views work in favour of the happy couple. Built in 1916, Vizcaya Museum and Gardens embodies a range of styles spanning over hundreds of years and has hosted celebrations for over a century. Most weddings take place inside the formal gardens, spread over ten acres, amid the splashing fountains, beautifully manicured foliage, and shell-encrusted enclaves. For environmentally conscious couples, the property encourages couples to incorporate the natural beauty that already exists throughout the grounds. A Daytime Garden Ceremony, for example, can take place under the Vizcaya's Garden Mound's majestic oak trees, intimately surrounded by close friends and family. Event menus can cater selections from local farms and markets, and plant-based centerpieces such as orchids allow guests the opportunity to take home a beautiful memento that helps to clear carbon dioxide and refresh the air with oxygen!
A wedding venue that needs no introduction or rationale is The Biltmore Hotel. This renown hotel has hosted famous wedding ceremonies from around the world. It has been featured on popular television shows, and it the venue that can truly make every wedding wish come true. Opt for an intimate ceremony or go all out and make it grand, have it indoors or go outside, make it dramatic or keep it modest. The best part of this venue is that the guests only need to take the elevator up to return to their rooms after enjoying the special celebration.