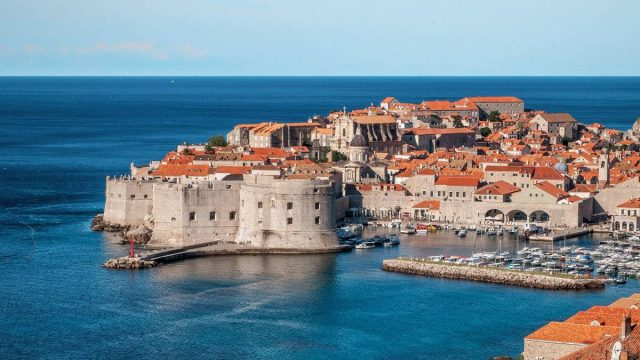 If you're looking for an adventurous place to spend your holiday, the enchanting Dalmatian Coast in Croatia should be your number 1 consideration. This beautiful shoreline is renowned for its gorgeous landscapes, charming communities and rich history dating back to the Roman Empire.
Cruising on the Dalmatian Coast will open you up to a distinctive life of adventure that you've never experienced. With ancient monuments, interesting historical facts, beautiful sights and smells of nature and crystal-clear waters, there'll be lots of things for you to learn and explore.
This piece will help you discover authentic Croatia cruising, and why it's getting increasingly preferred as a vacation choice given all the luxury and adventures it offers. 
Why should you choose a cruise along the Dalmatian Coast?
Well, it boasts breathtaking views with crystal waters and majestic cliffs. The scenic islands add to its allure attracting photographers, nature enthusiasts, and those seeking to rediscover the wonders of our world.
It's not about the scenery on the Dalmatian Coast. The coastal towns and villages offer a Croatian experience with their significance and vibrant culture. Dubrovnik's historic city walls and terracotta rooftops are tourist attractions. Don't miss out on visiting Split, a city built around Diocletian's Palace – or Korula, with its charming ancient town.
Cruising through this gem allows you to truly immerse yourself in its culture and history creating memories that will last a lifetime. Dubrovnik's cruises also offer luxurious amenities and exquisite treatments for passengers. It's one of the best cruises in Croatia. 
Let's not forget about the convenience that Croatian cruising offers – another reason to choose this option. You can fully focus on experiencing all the things each place has to offer without worrying about transportation. The journey is guaranteed to be incredible whether you're on a cruise ship or a smaller boat.
Here is what you can expect during a cruise, along the Dalmatian Coast
Here's what you can expect on a cruise, along the Dalmatian Coast. It brings you into a distinctive universe where you awaken to villages and cities that are rich in history, culture and great scenic landscapes and views. Explore coves and enchanting caves along the coastline, where you can dive into crystal waters and unwind on tranquil beaches.
The Dalmatian Coast is a paradise for adventure enthusiasts with its cruise itineraries that include stops at islands and idyllic beaches for swimming, snorkeling and various water sports. On land hiking trails offer awe-inspiring views of the Adriatic Sea and its picturesque surroundings.
But a Dalmatian Coast cruise is not just an encounter with nature. It also offers visitors a chance to get exposed to Croatia's cultures and traditions (past and present). Each stop at different places in the cruise allows tourists to explore sites, visit museums and converse with locals who are always eager to share their traditions and stories with foreigners. It's more like the entire moment during the cruise affords visitors the chance to experience the typical life in Croatia.
Traveling along the Dalmatian Coast affords you the opportunity to meet new people, make friends and learn new things as a result of interacting with fellow travelers.
Here are some helpful tips to keep in mind before cruising on Dalmatian Seas
1. Book Your Cruise in Advance – The Dalmatian Coast is a sought-after destination for cruises so it's wise to make your reservation. This way you'll have options to choose from, including itineraries, ship sizes, and departure dates.
2. Pack Accordingly – The weather in Croatia can be quite unpredictable so it's advisable to pack layers of clothing for warmth and light summer attire for comfort. Don't forget your comfortable walking shoes well.
3. Get Ready to Explore on Foot – One of the highlights of visiting this region is exploring the cities and villages on foot. Take delight in wandering through alleyways climbing city walls and leisurely strolling along picturesque promenades.
4. Learn Few Basic Croatian Words – This will help smoothen your interaction with the locals and it could also foster a relationship quicker. Nothing bonds people faster than when they speak the same language.
Conclusion
Cruising along the enchanting Dalmatian Coast gives you an opportunity to really experience Croatian life. From appreciating its sights and smells to learning about its history, nothing beats having a vacation that is as adventurous as it is educating.
There are numerous fun-filled activities you can do and you can immerse yourself in its culture, captivating village life and rich history as you sail across the Adriatic crystal waters, creating memories that will last a lifetime.
Embarking on a voyage along the Dalmatian Coast ensures a distinctive experience, whether or not you love nature or have an interest in history or simply seek a break from it all. You'd very much love cruising in Croatia as it promises luxury, adventure, comfort, and many other pleasures.