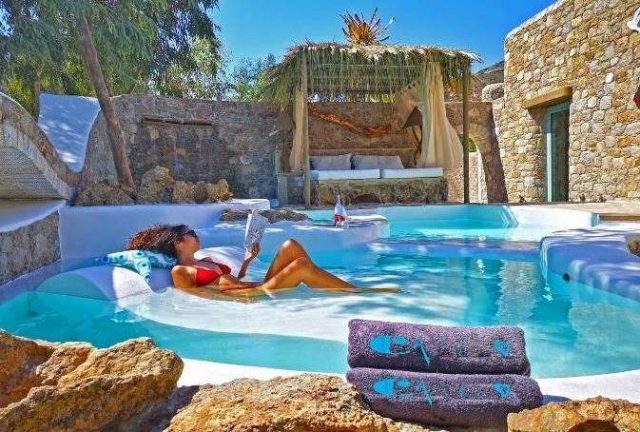 Calilo, Ios' newest and most luxurious boutique hotel, today announces the addition of eight new suites for 2020 along with new sunken rock pools, 5 miles of new walking trails and new private lounge facilities at Kalamos, Tripiti, and Pikri Nero beaches. Opened last summer with thirty suites offering elegant five-star accommodations on beautiful Papas beach, the eight new suites are promised to be even more sumptuous and private.
All suites offer spacious outdoor sanctuaries featuring multi-level or single-level private pools (some with soothing waterfalls and/or Jacuzzis), in-water loungers and outdoor natural rock showers as well as exquisite marble interiors handcrafted with the finest details, including painstakingly pieced together mosaic railings. Both in the suites and throughout the property, guests will find unique pieces of art, furniture and other whimsical touches created by the owner, who is an artist. The books by the bedside are also written by the owner.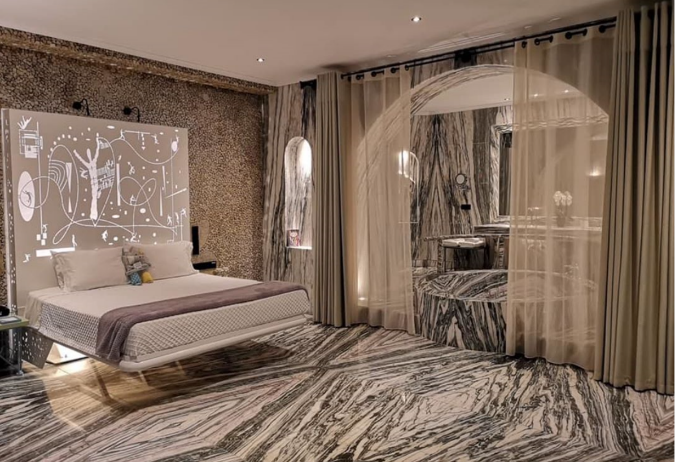 The utmost attention to detail applies to all aspects of the Calilo experience, from to the discreet yet prompt beach concierge service and frequently-held wine tastings to yoga class availability, the carefully tended organic garden and complimentary Wi-Fi throughout the property. If guests desire a private boat excursion, a picnic on a secluded beach or an individual yoga class, everything can be arranged through Calilo's signature concierge service. For guests staying five nights or more, helicopter transfers can be arranged to fly them into the nearby helipad from Santorini or Mykonos, as there is no airport on Ios and the other access to this exclusive, off-the-beaten track destination is by boat.
Set amidst 1,000-acres of land with six miles of secluded coastline, Calilo offers what the owners call the five pillars of a great vacation – privacy, luxury, culture, environment and fun. It's about letting guests be alone, or with their loved ones, in a vast private area where they can let loose and have fun, swim, enjoy water sports, walk in one of the property's numerous seaside or island trails, visit the organic garden and pick fruits and vegetables for their lunch or dinner, or simply relax in one of many hanging beach beds, beach cabanas or natural baths overlooking one of the best beaches in the entire Mediterranean. Calilo, which translates into Create A Life you can fall In LOve with, provides an oasis of joy and relaxation where guests can do just that.
Moreover, guests can enjoy their vacation with the peace of mind that only first-class sustainable practices are employed at Calilo. In order to preserve the land's natural beauty and protect it from the environmental degradation that usually follows mass tourism, the owners refused to develop the land for a decade as they devised how best to do it responsibly. Believing we do not have to damage the earth to accomplish our dreams, all materials used in the construction process, except for wood, iron, glass and cement are produced locally. Structures are built out of materials extracted from the ground of the actual building site and cut and carved by local craftsmen, providing social sustainability to the community. All water from daily cleaning and various water features is recycled in separate waste management reservoirs for the watering of trees. Storm water management and harvesting includes underground reservoirs.
When guests want to explore beyond the hotel, Calilo's staff can arrange private boat excursions to beach bars and lounges or spectacular hidden coves. Ios island offers visitors some of Europe`s best beaches and a famous nightlife to go with it. It also has a historic past dating back 5,000 years ago an array of attractions and activities including Skarkos Prehistoric Settlement, Paleokastro (a Venetian Castle dated back to the 10th Century), Homer's Tomb, Odysseas Elytis Theatre, traditional wind mills, more than 300 churches, ancient olive trees and visiting the lively town of Chora and Ios island port.
Calilo is open from June through September. For more information including rates and to make a reservation, visit the hotel's website at  www.calilo.com.