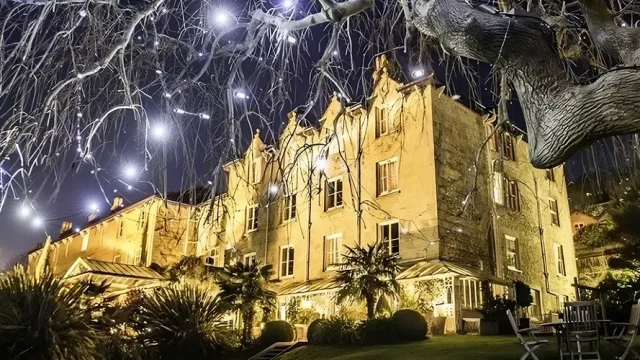 For many, winter is the perfect season to travel, particularly within the UK. Once the rush of the Christmas markets subsides, certain destinations become wonderfully less crowded, providing easy access to invigorating outdoor activities and snug indoor moments.
This festive season, embrace the quintessential charm of the UK with Foresters Hall. Offering a warm and festive welcome, it promises to be your ultimate holiday haven. The Isle of Wight transforms into a picturesque Christmas landscape, with Cowes and the surrounding diverse coastlines serving as the heart of this winter wonderland.
Whether you wish to nestle in for a few nights leading up to Christmas or desire a luxury retreat on the special day itself, Foresters Hall awaits your arrival this festive season.
Embrace the spirit of the holidays and let Foresters Hall be your perfect winter abode. Our 'A Very Wight Christmas' package ensures an enchanting stay. Not only will our dedicated team manage the festive preparations and culinary delights, but a curated itinerary ensures every moment feels imbued with holiday magic.
Highlights include:
A three-night stay with a late checkout option for those luxurious, languid mornings.
An afternoon tea complemented by a live jazz band upon your arrival.
Complimentary hot chocolate bar.
Delicious dining experiences, and wellies provided for winter strolls.
Unique Foresters Hall touches to elevate your stay.
On the eve of Christmas, the festivities kick off. Guests can relish an afternoon tea featuring rich mince pies and aromatic mulled wine, all while enjoying melodies from our beloved jazz trio. As the sun sets, you're encouraged to discover Cowes, returning to the hotel just in time for a festive cocktail hour.
The celebration continues post-dinner, where Chef Jake Storey showcases a seasonally inspired menu. Dance to live music, indulge in a nightcap, and partake in the time-honored tradition of hanging stockings.
On Christmas morning, delight in the simple joys of unwrapping presents from the comfort of your bed. After a leisurely breakfast, you may choose a refreshing seafront walk or a cozy gathering by our open fireplaces. A decadent four-course Christmas lunch by Chef Storey awaits, boasting a succulent turkey and the ever-favorite Christmas pudding.
The afternoon invites relaxation. Sink into plush sofas, peruse our book selection, or take a brisk walk in the provided wellies. And for those with a lingering hunger, our 'leftovers' buffet offers a spread perfect for evening grazing.
Boxing Day brings a chance to rejuvenate. Start with a Bloody Mary paired with a hearty breakfast. Then, consider the traditional Boxing Day Swim at Gurnard Beach, or explore the island on our complimentary bicycles. An optional late lunch at Smoking Lobster Cowes, featuring an Asian-inspired menu, rounds off your experience.
This winter, make memories with Foresters Hall – where every detail is curated for your festive delight.
A Very Wight Christmas
Christmas Eve:
Afternoon tea with Mulled wine and Jazz
Christmas Cocktail
3 course dinner
Nightcap
Christmas Day:
Hot breakfast
Christmas Day Lunch
Leftovers Buffet
Boxing Day:
Hot breakfast with Bloody Mary
[lunch at Smoking Lobster Cowes is optional)
3 course dinner
27th December:
Hot Breakfast
Late check-out