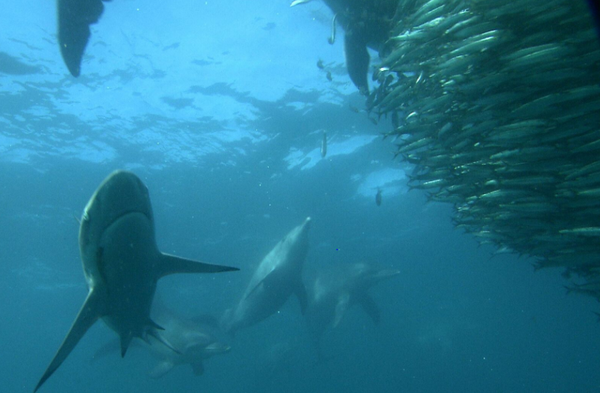 It's time to start planning for one of the ocean's most captivating phenomena. In May – July each year, nature enthusiasts around the world anticipate the annual Sardine Run which takes place off the shores of Durban and the beaches to its south. When conditions are right, millions of silvery sardines make their way up South Africa's eastern coast chasing cold currents.
Visible even by satellite, the mass migration can form up to nine miles in length and is followed by large numbers of predators that provide the main attraction for divers, snorkelers, and those viewing by boat. Thousands of dolphins are largely responsible for rounding up the sardines into densely packed masses of fish known as bait balls that can be up to 65 feet in diameter. Once a bait ball has been formed, sharks, game fish, birds, and the occasional whale take advantage of the opportunity to get in on the action – which is the most desirable time for divers and snorkelers to experience true underwater theater.
Those with their feet planted firmly on solid ground will not miss out on the excitement, as the feeding frenzy can be viewed from the shore as well. Swarms of Cape gannets and cormorants dive bomb the ocean while other hungry sea creatures breach the surface. As an added bonus, ragged tooth sharks congregate to mate during this period, while humpback whales and southern right whales also migrate during this time of year. Curious spectators can join the crowds on Durban's beaches to watch commercial fisherman haul sardine-filled nets onto the sand while locals bargain to buy the fish as they are sold by the basket. Anglers also closely monitor the Sardine Run as excellent game fishing takes place during this time from local beaches and rocks. For a birds-eye view, sightseeing airplanes and helicopters are a great way to view the run from above.
ABOUT DURBAN
Located an hour southeast of Johannesburg by air, Durban is the beachfront gem of KwaZulu-Natal Province (KZN). A bustling harbor city and popular surfing spot, Durban lies on the Indian Ocean and is South Africa's third largest urban area. Remnants of British colonialism and a mix of Zulu, Indian, and Afrikaans traditions give the city a rich cultural heritage, while outdoor activities abound on the signature "Golden Mile" beachfront and in the lush rolling hills that encompass Durban's suburbs. For more information, visit www.durbanexperience.co.za.