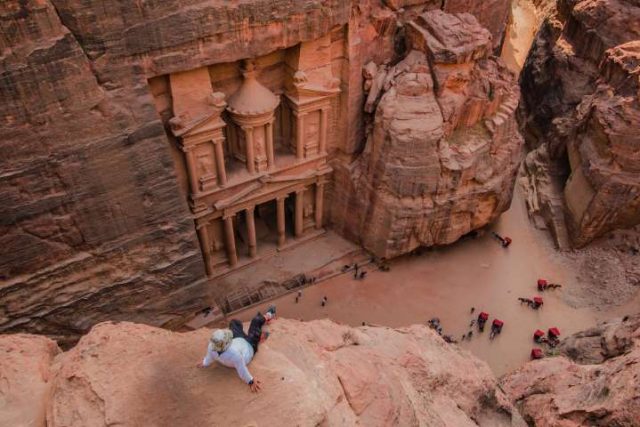 The search is now on for seven deserving people who want to experience a once-in-a-lifetime adventure to one of the New 7 Wonders of the World this year, thanks to the latest CSR campaign from Global Executive Search Firm, Venari Partners. 
The Venari Partners Challenge will see Venari Partners fund a 10-day expedition to Petra, Jordan which will be led by World Record Breaker, adventurer and endurance athlete, Sean Conway. Residents of the UK and Ireland are invited to nominate someone they admire to participate in this exciting challenge. 
Participants will be encouraged and supported to fundraise for a charity of their choice as part of the challenge, with Venari Partners offering top tips and advice on activities they can do ahead of the journey to Petra to raise money for organisations that make a real difference.
The challenging expedition, which will take place in October, will see participants trek 75 km along the Jordan Trail, enjoy a float in the Dead Sea and camp Bedouin-style under the stars, before finishing at the ancient Rose City of Petra, a UNESCO World Heritage Site and one of the New 7 Wonders of the World.
Ambassador and Team Leader for the Venari Partners Challenge, Sean Conway said: "I know first-hand the huge benefits you get from taking yourself out of your comfort zone. I can't wait to share my knowledge and experience with like-minded people and see how much they grow after spending a week in the deserts of Jordan."
James Parker, Director of Venari Partners commented: 'As a company, we challenge ourselves to be creative and thoughtful with our strategy, including how we share our company successes through our CSR strategy."
"The Venari Partners Challenge encapsulates many of Venari Partners' values and principles to provide an opportunity to make a positive impact on the lives of some very deserving individuals. With Sean's help and motivation, we hope each participant will enjoy completing the trek and in doing so make some precious memories whilst also supporting a charity of their choice."
Nominations for the Venari Partners Challenge are now open. You can nominate yourself, or someone who inspires you, by visiting the Venari Partners website. Nominations close on Monday 1 May, following which a neutral panel will select the seven successful applicants to participate in the adventure, alongside Sean Conway and some of the Venari Partners team.  To find out more information, please visit the Venari Partners Challenge website.