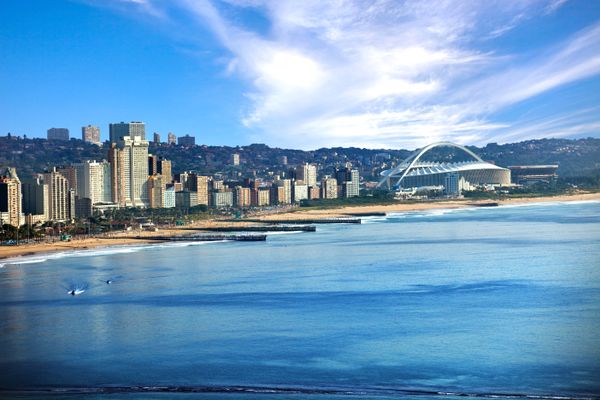 Durban, the beachfront gem of KwaZulu-Natal Province, was recently honored by the United Nations Educational, Scientific and Cultural Organization (UNESCO) as Africa's first City of Literature. Durban is one of just eight cities worldwide that were bestowed the literary designation including Seattle, Milan, and Québec City, as a result of their dedication to the development of cross-cultural initiatives in the areas of literature, publishing and other forms of written expression on local, national and global levels. As a City of Literature, Durban is also one of 64 cities joining UNESCO's Creative Cities Network. UNESCO Creative Cities are committed to fostering innovation and creativity as key drivers for sustainable and inclusive urban development, while sharing best practices with one another.
The U.S. Consul General to Durban, Sherry Sykes commended the city for its various programs. "Having creative hubs such as the Bat Centre, The Playhouse and Durban Art Gallery in one precinct is what makes Durban unique from other cities and that is why the city deserved this recognition," she said.
Some of the richest literary experiences available in Durban for both visitors and locals include the following:
Literary Events
Annual events like Time of the Writer and Poetry Africa celebrate the written word. Time of the Writer brings together writers from around the world for a week-long program of themed literary events. Next year's event will take place March 12 – 17, 2018. Poetry Africa hosts an extensive community outreach program for intercultural exchange and dialogue with poetry performances, readings and workshops on campuses and in community centers, like the BAT Centre.
BAT Centre
At Durban's BAT Centre, visitors can meet local artists and crafters who work on-site, exhibiting and selling their works in a vibrant, harbor-site complex. Founded in 1995, this nonprofit arts center is dedicated to the preservation, promotion, and celebration of the visual arts, crafts, music, dance, and literature of KwaZulu-Natal. It has become a must-visit spot for visitors seeking to learn about the region's cultural heritage, enjoy performances, and shop for original artwork. Every week, the Durban-based poetry organization Nowadays Poetry holds a poetry session where experienced and novice poets share their pieces. The group's mission is to promote the use of poetry, creative writing and spoken word.
The Playhouse
The Playhouse preserves two of Durban's famous landmarks: the glamorous Prince's Theatre, originally a cinema from 1926, and the Tudor-style Playhouse, which opened in 1935. The Playhouse committed to providing a flow of varied entertainment in-house and in collaboration, to be of interest to all cultural groups. Visitors may enter the Opera Theatre or the Drama Theatre to take in poetry, dance, opera and musical performances. Tours of the historic Playhouse are also available to the public.
Durban Art Gallery
Founded in 1892, the Durban Art Gallery is known for artwork demonstrating South Africa's cultural diversity. With more than 3,500 works from around the world, the gallery showcases a comprehensive collection of traditional and contemporary pieces by local KwaZulu-Natal artists. Visitors may also catch a number of lectures, classes, films and rotating art exhibitions during their time in Durban.
Literary Trails
Visitors can dive into the area's literary heritage on one of six KwaZulu-Natal literary routes, which are tours focused on well-known authors and their fictional characters. One example is the Grey Street Writers Trail, which is tied to the history of the Indian population in South Africa and the struggle for personal and political independence. Authors include Phyllis Naidoo, Dr. Goonam and Fatima Meer, who lived on Durban's Grey Street during the apartheid era. Today, the area is the cultural heart of the city's Indian community. Stops on the trail include the Red Square, an important venue for mass rallies organized in resistance to the apartheid government which Fatima Meer incorporates in her book Passive Resistance. There is also the Madressa Arcade where a character from Aziz Hassim's Lotus Peoplehad his first shop. Today, visitors will see the arcade lined with little shops reminiscent of Grey Street in the 1950s and 60s.
ABOUT DURBAN
Located an hour southeast of Johannesburg by air, Durban is the beachfront gem of KwaZulu-Natal Province (KZN). A bustling harbor city and popular surfing spot, Durban lies on the Indian Ocean and is South Africa's third largest urban area. Remnants of British colonialism and a mix of Zulu, Indian, and Afrikaans traditions give the city a rich cultural heritage, while outdoor activities abound on the signature "Golden Mile" beachfront and in the lush rolling hills that encompass Durban's suburbs.