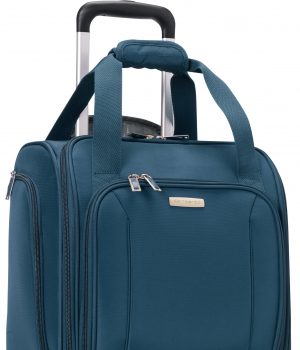 eBags, the industry-leading e-tailer and travel gear expert, is offering an assortment of smart luggage options that comply with new rules issued by major air carriers. The bags featured on Airline Friendly Bags with USB Chargers make it easy to power devices with batteries that are removable.
A number of major airlines have announced that starting January 15, 2018 they will require passengers checking luggage to remove the lithium ion batteries installed in "smart bags" to reduce the risk of fire in the cargo hold. If the bag will be traveling in the cabin, the battery can remain installed as long as it is powered off.
Exclusive to eBags, the Samsonite Spinner Underseater with USB Port tucks neatly under your seat, has smart pockets for your traveling-light essentials—and will charge your phone or tablet.  eBags' Lifeboat Quick Charge Portable Battery is removable and sold separately.  eBags features airline friendly smart bags by a number of brands including Samsonite, Travelpro, Travelers Club, Raden and Bellino among others.
The eBags Connected Luggage Tag helps lost bags get back safely, while using privacy controls to let customers control which information they display, and when.  This year eBags turned to Instagram travel photographers to source fresh new imagery for the tags.