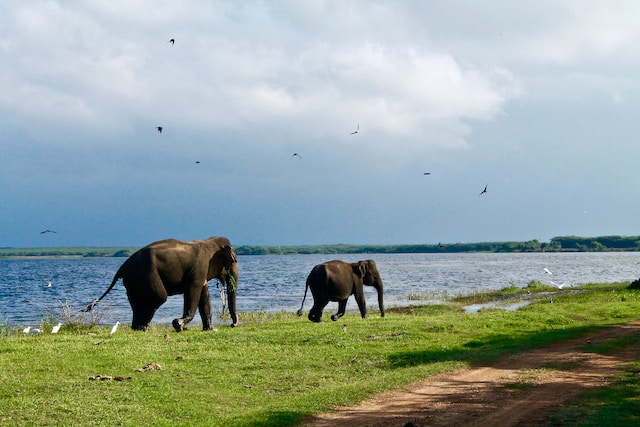 Wilpattu and Minneriya National Parks are home to the largest herds of Asian elephants in the world. Sri Lanka's amazing wildlife also includes sloth bears, leopards, water buffaloes, and Ceylon spotted deer, also known by photographers and wildlife enthusiasts as "Sri Lanka's Big Five." These amazing animals and a host of native bird species may be encountered during guided safaris hosted by long-time travel experts Aggressor Adventures®.
Sri Lanka is the perfect destination for adventurers seeking safe, guided pampered wildlife excursions. Travelers will savor the country's pristine habitats, extensive indigenous species, and friendly, rich, culture.
Minneriya National Park hosts up to 300 elephants during the drier months of June through September. Migrating herds congregate at an ancient water tank that dates to the Third Century AD. Guided, open-air jeep tours allow photographers safe, eco-friendly opportunities to observe the behavior among the multigenerational elephant families. Unspoiled Wilpattu National Park contains over 100 natural lakes which attract leopards, crocodiles, monkeys, Malabar pied hornbills, and painted storks. Additional excursions explore the Sigiriya rock fortress, a UNESCO World Heritage Site, beautiful Buddhist stupas and other rich cultural treasures of Sri Lanka.
Nestled in Sri Lanka's North Central Province, the five-star Aggressor Safari Lodges®  offers luxury, private, air-conditioned tented chalets; chef-prepared mouth-watering culinary delights and personalized service. Safari packages include private transfers from the Jetwing Beach Hotel in Negombo to the Lodge, which is north of Anuradhapura. Travel to Sri Lanka is made easy through many international airlines offering service to Colombo's Airport (CMB).