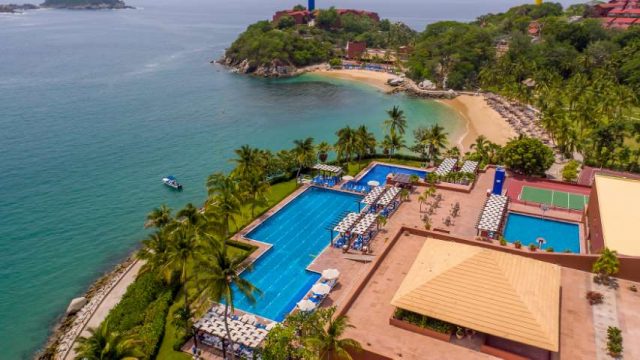 pring Break season is upon us, and families still looking to plan an affordable yet relaxing getaway can look no further than Las Brisas Huatulco. Perfect for kids of all ages, Las Brisas Huatulco offers all-inclusive rates accompanied by unbeatableactivities that every member of the family will enjoy.
Nestled into a coastal hillside, this village-style resort is surrounded by 50 acres of lush tropical gardens and sit along the coast of western side of Tangolunda Bay. Las Brisas Huatulco is a tropical paradise with four exclusive, white sand beaches and its own coral reef on the coast of Oaxaca. The expansive resort grounds are lush with vegetation making it seem quite private, even when the 484-key resort is full.
For the kids: No matter how old, children have a vast variety of activities to choose from every day of their stay. Toddlers under 12 can enjoy hours in the Little Angels kids club that's fully equipped with sports, board games, and arts and crafts in a staff-run facility. There's even a separate children's pool so kids can splash the day away. For the older siblings in the family, there's a wide array of recreational facilities including 11 tennis courts, basketball, soccer, and a bungee pyramid, as well as water sports like kayaking, snorkeling and windsurfing.
For the parents: While kids are having their fun in the sun, mom and dad can enjoy worry-free afternoons together. Guests will relax and enjoy refreshing cocktails with views of the beach, or glide into a couples dance class for an intimate evening together. To take the relaxation a step further, parents can book one of the many exclusive treatments at the resort spa. There are also five different restaurants to choose from throughout the resort, so even if there's a picky eater in the family, there are options for everyone.