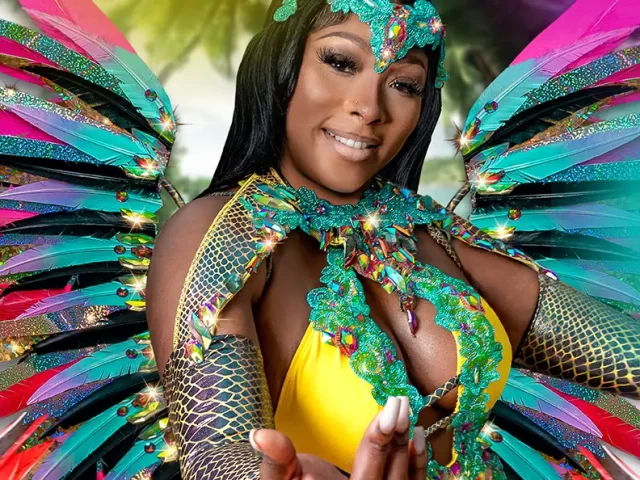 Starting Sat. April 8, the 2023 St. Thomas Carnival, will kick into high gear with parades and events highlighting St. Thomas' beautiful local culture. This year's theme: "Illuminating our Culture for the World to See, St. Thomas Carnival 2023," echoes and reflects the pride and joy the Carnival presenters have in their heritage and celebrations.
An easy-to-reach island paradise, St. Thomas is home to one of the Caribbean's most alluring harbors, world-class snorkeling, pristine beaches, historic forts and houses, top notch hotels, a big music scene, and delicious food.
Joseph Boschulte, the Commissioner of the USVI's Department of Tourism, said "Carnival season on St. Thomas is such a wonderful time of year. It allows us to showcase our culture, including our music, delicious food, history, design, and creativity. It dovetails perfectly with our tourism marketing campaign, 'naturally in rhythm' that highlights our authentic Caribbean experiences and culture."
Carnival begins appropriately with the Prince, Princess and Jr. Miss. contest on Sat. April 8th, followed by the Carnival Queen showcase on April 15. Other highlights of the festivities include J'ouvert, the official and spiritual start of Carnival with an early dawn party on the waterfront with trucks, water, and libations, the annual Children's and Adult Parades on the iconic Mainstreet in Charlotte Amalie with over 40+ entries this year, the Food Fair with local street food, arts and crafts and live music, the Panorama with six live steel pan groups performing musical calypso and Village Nights, six nights of free top-tier local and international performances with 30+ vendors selling food and drinks along with a family friendly village just for kids to enjoy rides, games, and fun.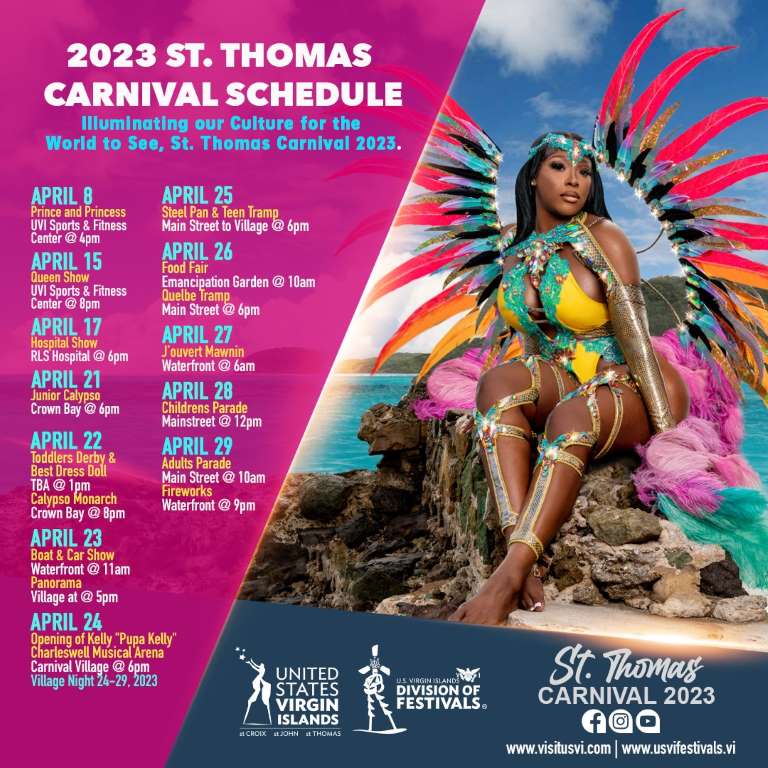 "We've put together a spectacular series of events to showcase the rich culture, tradition and spirit of Carnival," said Ian Turnbull, Director of the Division of Festivals. "We are grateful to our team of volunteers, sponsors, and the people of the Virgin Islands, we look forward to an even greater Carnival this year," he continued.
Reigning over Carnival Village will be Kelly "Pupa Kelly" Charleswell, in his Musical Arena on April 24th. Kelly studied classical trombone at the University of the Virgin Islands, but guitar is his first love. He played with the Puerto Rico Symphony, Eartha Kitt (the original Cat Woman), Milo's Kings, Eddie & the Movements and other iconic bands. He's best known for singing and playing guitar with the Awesome Jam Band and teaching music at Joseph Gomez Elementary School.
"Knights Delight" Food Fair will honor baker extraordinaire Goldine Burton-Knight. Together with her husband, she started Heritage Bakery & Deli, which has since become ERK Corporation. They have expanded and now supply markets throughout St. Thomas.
The Grand Marshals for the Parades are Ms. Georgia Francis for the Children's Parade, a veteran in the music education scene who influenced many students who have had an impact in the global music industry, and Mr. James Lewis for the Adults Parade, a long time Carnival reveler, and local fan favorite in the territory.
As you savor the vibrant tapestry of St. Thomas Carnival 2023, remember to protect yourself from the sun's rays with stylish and practical accessories like sun hats for women. These hats not only add flair to your ensemble but also shield you from the sun as you immerse yourself in the island's electrifying celebrations.
Carnival in Paradise, the mantra for this year's festivities will be filled with a week of food, music, culture, reveling, and fun; with a spectacular fireworks display to close out the festivities. For the full schedule and to keep abreast of all the activities of the Division of Festivals, visit www.usvifestivals.vi.