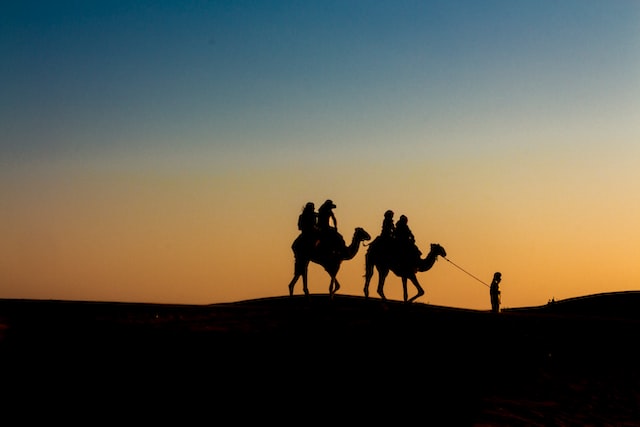 Morocco is a nation that has gained renown over the years because to places like the mythical Casablanca, as well as the free exchange of cultures over the past. A trip to Morocco will open your eyes to a tapestry of cultures, with influences ranging from native Berber and Roman to Arab and Spanish. Traditional clothing for both men and women is brightly colored and intricately designed, and Moroccans are justifiably proud of the high quality of their home-cooked meals.
With an amazing combination of spices and a delectable emphasis on meats and couscous, the cuisine of Morocco is among the finest that can be found either in Africa or the Mediterranean. A trip to this stunning African nation is an essential component for travel freaks, and it cannot be skipped. Because of its long history and numerous cultural traditions, Morocco provides visitors with the opportunity to get fully immersed in a variety of languages and cultures while also appreciating the country's stunning architecture and natural scenery. This article is wonderful for tourists who are interested in Morocco desert tours as well as seeing as many of Morocco's historical sites as they can.
Lip-smacking Moroccan cuisine
The Arabic culture, Jewish culture, Berber culture, sub-Saharan culture, and even Roman culture have all left their mark on the cuisine of Morocco, making it one of the most distinctive in the world. Given that this nation has historically served as a hub of travel between Africa, Europe, and the Middle East, this should not come as much of a surprise. The food of Morocco differs widely from one place to the next: in Fez, they eat pastilla; in the Sahara region, they eat medfloun; in coastal Safi, they eat sardines; and in Marrakech, they enjoy tanjia.
Pastilla
This savory-sweet meal is commonly offered at wedding festivities and other special events. It is a specialty of the province of Fez in Morocco, where it is prepared by stuffing flaky pastry with pigeon and almonds and flavoring it with a variety of spices including saffron and cinnamon.
Tanjia
Marrakech is famous for its tanjia, a braise that may be produced either at home or at the local butcher. Using butcher paper, a tanjia pot is prepared for roasting for up to eight hours with beef, lamb, or chicken with a mixture of spices and preserved lemons. The meat juices in the clay tajine pot taste great with crusty bread for dipping.
Couscous
The couscous is presented to the customer in a huge, circular dish. In addition to being topped with seven different vegetables (aubergine, courgette, carrots, pumpkin, potatoes, onions, and cabbage), this dish also includes chickpeas, caramelized onions, and either beef or chicken. A glass of leben (fermented milk) is a common accompaniment to couscous when it is offered.
Tajine
The options of tajine include anything from kefta (meatballs) with eggs to a lemon chicken tajine with green olives and green olives. In the Atlas Mountains, a Berber tajine is often made using vegetables that are in season at the time, such as peas, zucchini, tomatoes, and potatoes. Additionally, there may be poultry or beef hiding behind the mountain of veggies. When combined with warm bread, this dish becomes a wonderful pleasure.
Top Moroccan sights and attractions
Meknes
Meknes has made it to the top of the list of the greatest locations to visit in Morocco, despite its advanced age and impressive architecture. It is a medina that dates back to the 9th century and was once one of the capitals of Morocco. You can find it in the northern part of the nation.
While you're here, you may get the impression that it's not as nice as some of the other towns you might visit in Morocco; nonetheless, the royal palace and a number of other important historical buildings are great places to visit and learn about the culture of Morocco. Don't miss out on the chance to view the attractive sites that have helped make this city such a hotspot for travelers seeking for authentic Arabian experiences.
Chefchaouen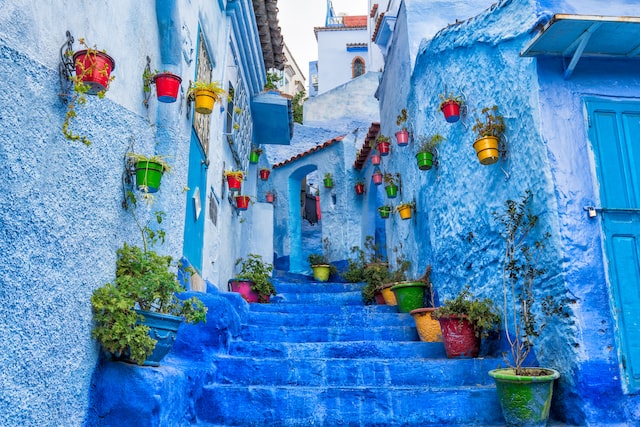 Chefchaouen, often known as the "blue city," is a little town in the middle of a vast environment. It is located in the Rif Mountains. This particular city in Morocco is one of the most well-liked destinations for lone travelers who are interested in discovering the country's well-known blue and white painted residences. Because the locals are so kind and welcoming, this destination, which is located in one of Morocco's most beautiful regions, is consistently ranked as one of the country's most popular tourist destinations.
Sahara Desert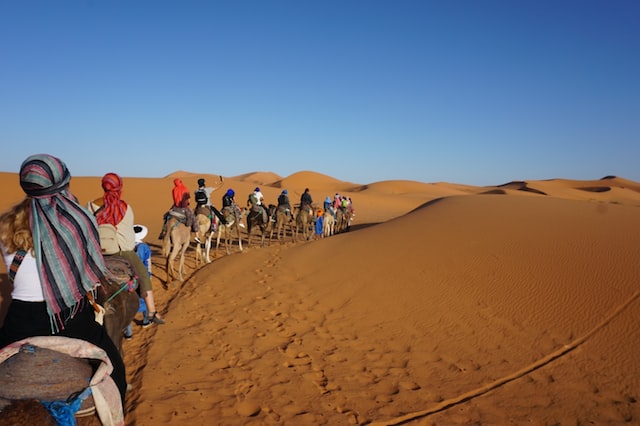 When in Morocco, a trip to the desert is an essential need for every tourist. Every moment spent in the desert, from taking in the breathtaking views of the sun setting over the sand dunes to taking in the dazzling display put on by the night sky, is mesmerizing and memorable. Make sure that you save a few days for a trip to the Sahara Desert, one of the finest locations to go in Morocco, among all of the top places to visit in Morocco. This will ensure that you get the most out of your vacation.
The Sahara desert is home to a wide variety of attractions and activities. As soon as you make it to the Sahara desert during your Morocco desert tours, you have the opportunity to go on the most exciting and unforgettable journey of your life by participating in desert safaris or camel caravans. Following that, you will get the opportunity to take in the breathtaking scenery of the Draa Valley, which begins in the city of Ouarzazate and continues out into the desert. In addition, you may embark on a camel safari group trip.
Ouarzazate
If you've always been drawn to the dry landscapes depicted in Hollywood films, you'll be thrilled to learn that the production crews behind some of your all-time favorite movies that feature scenes from the desert, may have traveled to Morocco at some point during the production of those movies. If you are someone who enjoys capturing beautiful moments via the lenses of their camera, then Ouarzazate is undoubtedly one of the greatest locations in Morocco for you to visit.
Because of all the Arabian beauty that attracts tourists from far and wide, it is certain to give you some wonderful settings for the photographs that you take. You get the opportunity to take a tour of the Atlas Film Studios, which were used in the production of films such as Cleopatra and Kingdom of Heaven. In addition, you have the option of checking out the many eateries and stores that are located in the Main Square.
Bio:
Exploring Morocco Travel offers the best Morocco desert tours packages, allowing you to tailor your vacation and ensure that each of these Morocco sightseeing excursions lives up to its reputation as pure joy. Now that you have included this nation on your list of countries to explore, you should make sure that your schedule does not exclude any of these top locations to see in Morocco.