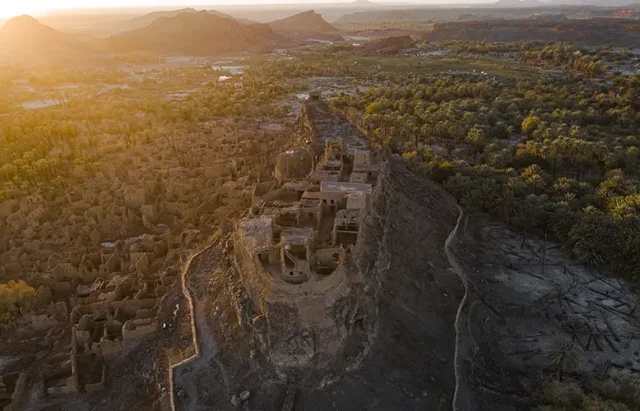 AlUla, Kingdom of Saudi Arabia:
Khaybar and Tayma, two of the three great oases in northwest Arabia alongside AlUla, are set to welcome visitors once again as they reopen for the second year running, offering a diverse range of immersive heritage activations, events, and experiences.
Starting in November and continuing through to early 2024, these captivating ancient oasis destinations will provide visitors and residents alike with an opportunity to journey through time and culture, amidst some of the region's most stunning, yet largely untouched, landscapes.
Renowned for its volcanic desert ecosystem and historical significance, Khaybar is a destination that melds culture, heritage, and nature to create a truly memorable experience. This oasis and its volcanic terrain are gradually revealing its treasures to the world one story at a time through a roster of special activations including cultural showcases, adventure activities, music events, Bedouin camps, and more.
Tayma, known as the Land of Kings, is a neighbour oasis to AlUla in terms of legacy, legend, and heritage. Situated along the ancient Incense Route, Tayma has played a pivotal role as a trading post en route to Babylon, and was once the residence of Nabonidus, the last native king of Babylon. Its iconic sites include The Ancient Temple of Salm, Bir Haddaj Well, Suq AlNajm Oasis, Qasr AlRadhm, Qasr AlTalaq and AlRumman Palace, with illuminating additions such as parades, pop-up performances and immersive experiences – all of which promise to give visitors a glimpse into its glorious past.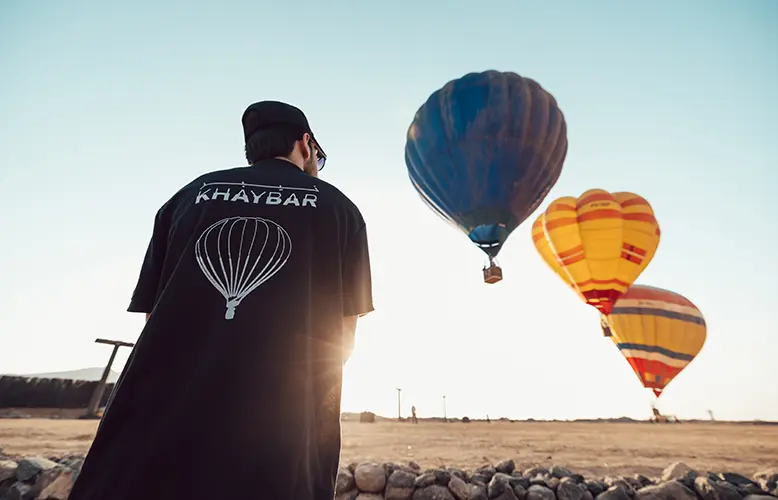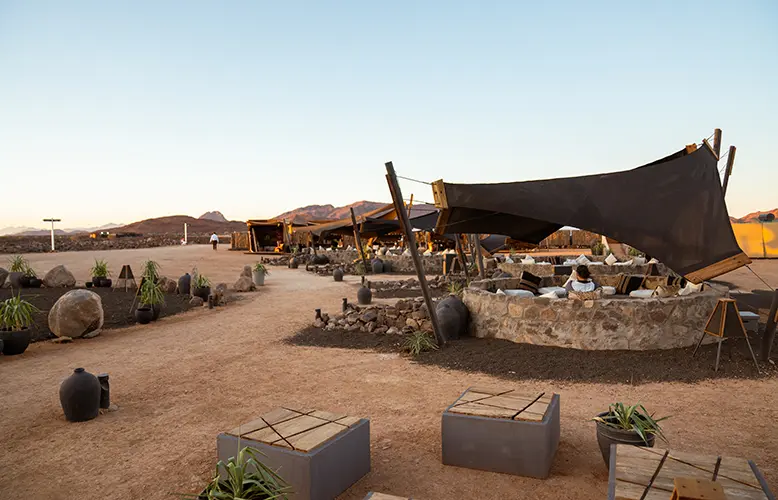 Activities to look forward to in Khaybar include:
Khaybar Heritage Tour (2nd Nov – 9th Mar 2024): Explore the oasis of Khaybar, one of the oldest areas of human settlement in the Arabian Peninsula, through six historical highlights, including the breathtaking AlRawan Viewpoint, quaint Munifah Village, and impressive AlNizar Fort – all with the help of a live tour guide. The 2–3-hour tour can be booked online. The weekday ticket gives visitors a fascinating tour of the Khaybar site plus access to various pop-up dance and music performances. With the weekend ticket, the immersive Oasis Sound experience can also be witnessed.
Bedouin Camp (2nd Nov – 1st Mar 2024, daily): Guests can use their Khaybar Heritage Tour ticket to visit this authentic recreation of a Bedouin camp, which offers an immersive look into how people used to live. Travellers will be able to enjoy refreshments, including coffee and dates.
The Sound of Khaybar Concert (2nd Nov and 10th Nov): Enjoy the mesmerising music of the prestigious Saudi National Band at the magical AlRawan Viewpoint, which blends ancient instruments and modern beats for a unique sound.
Khaybar Mustatils Helicopter Tour (2nd Nov – 28th Feb 2024, Thu-Sat): Soar through the skies for a bird's-eye view of traces of Khaybar's ancient human habitation. Discover complex animal traps, long funerary avenues of pendant-shaped tombs, and mysterious rectangular monuments known as Mustatils.
Khaybar Volcano Helicopter Tour (2nd Nov – 28th Feb 2024, Thu-Sat): Take to the skies in a thrilling helicopter tour and experience an unparalleled view of Khaybar's stunning landscape, including its majestic white volcano.
Strange Temporalities by Ghazaleh Avarzamani Art Installation at Khaybar (2nd November – 1st March 2024): Set in the heart of the Khaybar Oasis, feel inspired by the stunning landscape as it merges with contemporary art by Ghazaleh Avarzamani. Titled Strange Temporalities, the piece is a sculptural re-assemblage of a deconstructed playground slide that explores the notions of learning and forgetting, accomplishment and failure.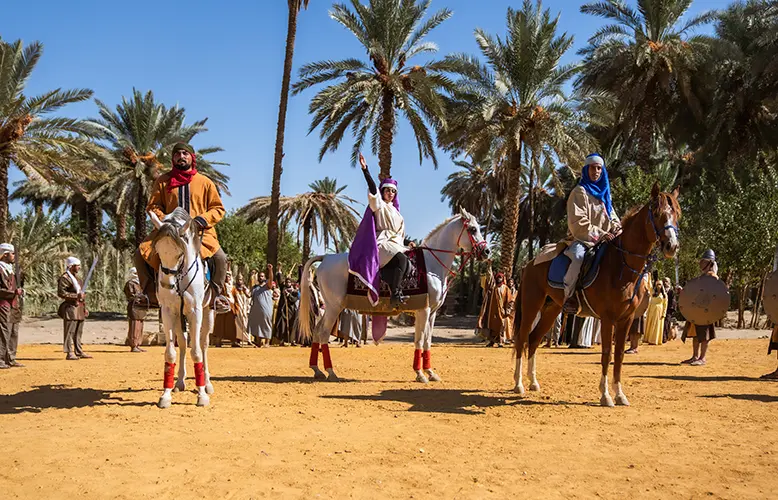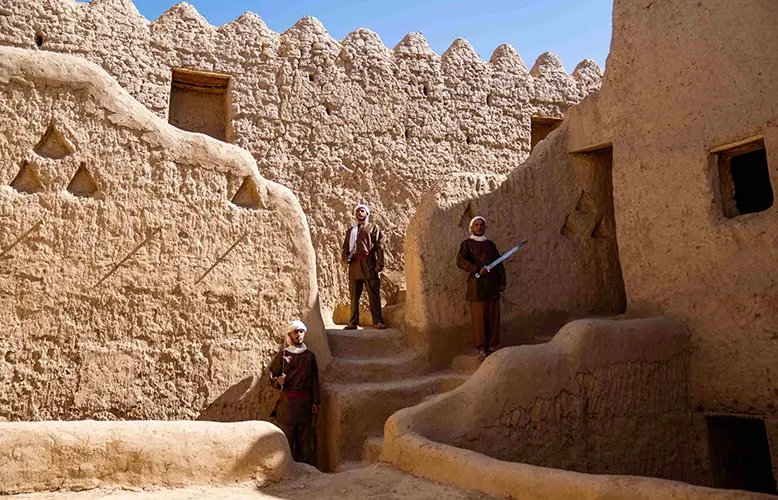 In Tayma, visitors can look forward to the following activities:
Bedouin Camp (26th Oct – 1st Mar 2024): Guests can use their Tayma Heritage Tour ticket to visit this recreation of an authentic Bedouin camp, which offers an immersive look into how people used to live. Travellers will be able to enjoy refreshments such as coffee and dates, and take pictures with falcons and camels.
Bir Haddaj Re-enactment show (26th Oct – 31st Dec): A re-enactment show presents an iconic landmark of Tayma that summarises two of its most famous assets – the Bir Haddaj, one of the largest and most iconic wells of Arabia and the decade-long presence of Nabonidus, the last Babylonian King.
Tayma Heritage Tour (26th Oct – 9th Mar 2024): Discover the 'Land of Kings' and learn how Tayma has played a pivotal role in the history of ancient Arabia. Explore fascinating locations such as The Ancient Temple of Salm, a 3,000-year-old Iron Age temple complex; Qasr AlRadhm, believed to be one of the residences of Babylonian King Nabonidus; and the Bir Haddaj, a hydraulic wonder believed to date back to the 6th century BCE. The 3–4-hour tour can be booked online.
Qasr AlTalaq Visit: Located next to Bir Haddaj, Qas AlTalaq is a two-story building attached to an old mosque. The palace dates to the 12th century when it served as a residence for the AlTalaq Family. Visitors will have the opportunity to hear its story from the Rawis "story tellers" as part of the Tayma Heritage Tour.
The tour includes access to a re-enactment show, pop-up performances, the King Nabonidus' Parade (weekends only) and The Palace Guest experience (weekends only):
King Nabonidus' Parade: This vibrant educational parade in Tayma vividly portrays the rich and ancient history of the 'Land of Kings.' Through a retelling of the region's earliest inhabitants' stories, guests can delve into Tayma's millennia-old legacy to discover the intricate tapestry of its past and present.
The Palace Guest Experience: Situated in the heart of Tayma, the grand AlRumman Palace, named after Governor Sheikh Abdul Karim bin Ali AlRumman, was first constructed in the 1700s. With extensions starting from 1916 and concluding in 1919, the structure stands as a testament to architectural brilliance and cultural significance. This experience invites visitors to be a guest at a traditional celebration featuring drama, music, storytelling, and special effects.
The reopening of Khaybar and Tayma highlights the significant role this area has played in the history of the region and uncovers its profound link to the ancient destination of AlUla.