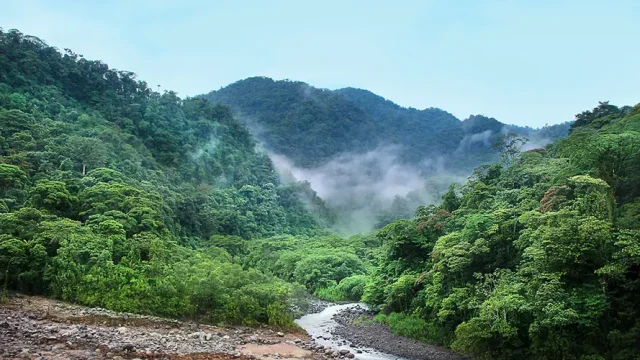 When visiting Costa Rica, you will want to see the lush rainforests and jungles. Luckily, this Central American country has plenty of resort options for those who want to explore these unique surroundings.
Here are some of the best places to stay in this charming tropical country.
Parador Nature Resort & Spa
If you're focusing on the Manuel Antonio area, Parador Nature Resort & Spa is an ideal option. You'll be right beside the Manuel Antonio National Park, allowing for easy adventures in this part of the country. The resort also boasts an outdoor pool overlooking paradise. In addition to exploring the surrounding park areas, you can also enjoy snorkeling or biking with the equipment from the resort.
Hotel Martino Spa & Resort
Prefer to be near some big attractions? Hotel Martino Spa & Resort is just one minute from Zoo Adventure. If that's a must-do on your itinerary, then you'll enjoy this location with a historic vibe throughout the beautiful grounds. There's a unique pool here, too, surrounding you with the jungle scene. However, if you wish to be more hidden away, this may not be the best option.
Lost Iguana Resort
Enjoy a more rustic setting with the Lost Iguana Resort, right in the center of the rainforests near the Mistico Arenal Hanging Bridges Park. There are two outdoor pools plus a spa, combining luxury into your retreat. On the downside, if you're looking to spend time at the beach, you may want to go for a resort that puts you a little closer to the sand and surf.
Bosque Del Cabo
From the Bosque Del Cabo, you can see the Pacific Ocean and coastline thanks to elevated views from this rainforest resort. It's a laid-back place with a casual vibe, offering a restaurant, bar, and outdoor pool for guests. You may enjoy this quaint and quiet place. However, if you're looking for more, you may want to consider other options.
Vajra Jahra Villas & Retreat Center
If you want to surround yourself with serene rainforests while still having quick access to beaches and other adventures, nothing can beat Vajra Jahra Villas & Retreat Center. This beautiful destination offers an infinity pool overlooking the lush landscape and Diamante Waterfall, complimentary meals, and an open-air yoga studio that makes it ideal for retreats.
It's easy to embark on hiking treks or schedule adventures that include surfing lessons, white water rafting, and ziplining. What makes it such a hidden gem is that it offers the right balance of replenishing harmony while having epic adventures you'll remember for a lifetime. There are nearby hot springs plus ways to connect with the country's culture by attending cooking classes with the locals. The resort can also arrange a cacao ceremony to further embrace your healing and connection to the world in a truly inspiring way.
You get luxury, relaxation, and adventure all from this prime location on the Pacific coast. To schedule your ultimate rainforest stay, get in touch and start looking forward to the perfect escape!