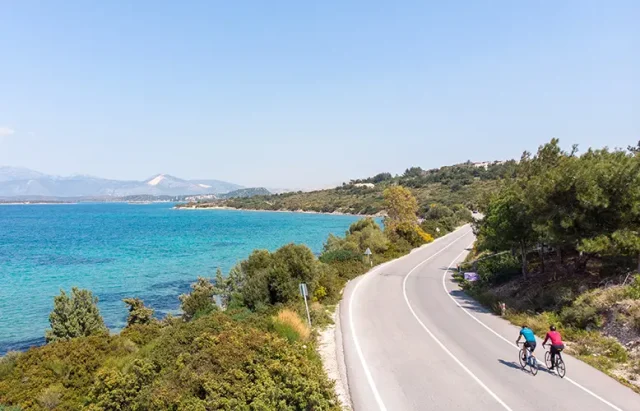 Are you an avid cyclist looking for an adventure? Look no further than Türkiye, where short and long-distance bike routes offer a unique way to explore the country's natural beauty, history, food, arts and culture. The routes include camping and glamping areas, as well as bike-friendly hotels that offer bike cleaning and repair services in secure parking areas. Plus, a wide range of hotels and hostels have national and international eco-labels to make your trip even more comfortable.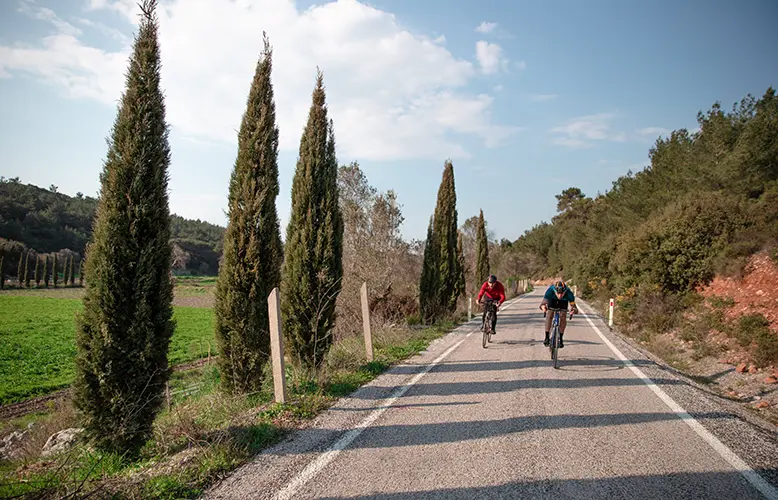 EuroVelo 8: The 'UNESCO Route' from Bergama to Ephesus
The first stop on this route is at the forty-fifth kilometre, which leads to the Ancient City of Pergamon. This UNESCO World Heritage site can be accessed through Türkiye's İzmir's Dikili Port. The route passes through stunning locations in İzmir, such as İzmir Bird Paradise, Karşıyaka, Alsancak, Seferihisar, Sığacık, Urla, and Alaçatı, before concluding in the ancient city of Ephesus, which is also a UNESCO World Heritage site. On this 500-kilometre long-distance route, you can stop in numerous villages and holiday resorts, observe flamingos while passing through the Gediz Delta, and enjoy breathtaking views of the Aegean Sea from the bike lane that runs through the city centre. You can also visit historic sites in two ancient cities on the UNESCO World Heritage List.
'Thrace Route' from Edirne to İstanbul
You can start your tour in Thrace from Edirne, a region noted for its natural beauty, delicious food, vineyards, legendary wines and friendly people. The city, the second capital of the Ottoman Empire, features historical structures such as inns, baths, bridges, and palaces and is the heart of the Thrace region. The Selimiye Mosque, built by Architect (Mimar) Sinan and included on the UNESCO World Heritage List in 2011. After Edirne, you can continue to Kırklareli via lush forest roads. In addition to the İğneada National Park, which has floodplain forests, swamps, freshwater lakes and coastal dunes, the highlights of this picturesque city include stellar examples of 19th-century Ottoman civil architecture. İstanbul, the vivid and vibrant metropolis with its ancient history and monuments, is the final stop on your bike journey.
'Anatolian Route' from İstanbul to Kayseri
Ride from İstanbul, the world's crossroads, to Anatolia's heart. From the European side of İstanbul, the ferry transports you to the Anatolian side, with stunning views of the Bosphorus. As you bid farewell to İstanbul's evocative silhouette, Kocaeli, Sakarya and Eskişehir welcome you, one after the other. The historical Odunpazarı district in Eskişehir draws attention due to its cultural richness and various museums. With its picturesque traditional houses, narrow streets, mosques, fountains and small squares, the district centre was added to Türkiye's UNESCO World Heritage Tentative List in 2012. In Nevşehir, you are greeted by scenic Cappadocia, one of the world's most fascinating geographical regions. You can see the distinctive Fairy Chimneys throughout the region – and one of the most thrilling ways to discover these natural formations is from a hot air balloon. Kayseri, one of Anatolia's most historic cities, is the final stop on this route, and it will captivate you, particularly with its legendary traditional cuisine.
The Eurasian Route: The Route of the Empire
Another option for long-distance cycling in Türkiye is the Eurasian Road (Via Eurasia), a long-distance culture and trekking route. The route enters Türkiye from Edirne and heads south, passing through İstanbul and Bursa. Starting from Beykoz, known for its lush groves, you can cycle through Poyrazköy and Anadol.