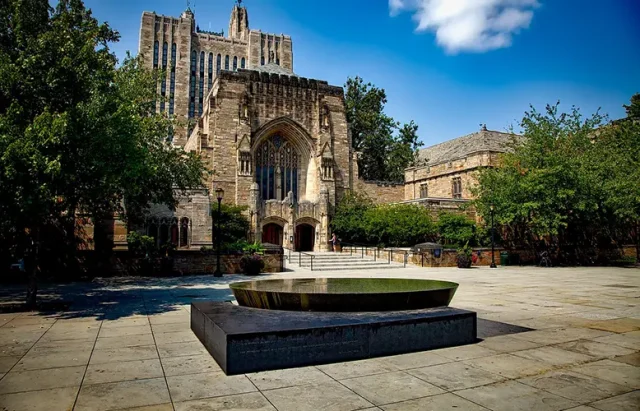 When you think of New Haven, Connecticut, many things may come to mind – from its world-renowned pizza to its vibrant arts scene. However, one of the city's most iconic and distinguished features is Yale University, a prestigious Ivy League institution nestled in the heart of New Haven.
Yale University
Yale University, founded in 1701, stands as one of the oldest and most prestigious universities in the United States. Its impressive Gothic architecture, historic libraries, and a rich academic tradition make it a must-visit destination for anyone exploring New Haven. Within Yale's hallowed grounds, you'll encounter world-class museums, like the Beinecke Rare Book & Manuscript Library and the Yale University Art Gallery, each housing remarkable collections of rare manuscripts and a diverse array of artworks. With its unwavering dedication to nurturing critical thinking and fostering innovation, Yale University welcomes scholars and visitors alike to explore its corridors.
Exploring Yale's Campus
Start your Yale adventure at the Beinecke Rare Book & Manuscript Library, a stunning architectural gem that houses rare books, manuscripts, and documents from various eras. The library's translucent marble panels give it an ethereal glow, earning it the nickname "The Cathedral of Books."
As you stroll through Yale's courtyards, don't miss the Sterling Memorial Library, another architectural marvel known for its grandeur. The Gutenberg Bible and an extensive collection of rare texts are among its treasures.
A visit to Yale wouldn't be complete without seeing the Peabody Museum of Natural History. Here, you'll encounter a fascinating array of dinosaur fossils, Native American artifacts, and an impressive collection of minerals and gems.
Yale University Art Gallery
The Yale University Art Gallery is a place where creativity and self-expression flourish, attracting art lovers with its diverse collection spanning ancient to contemporary art. Notably, the historical paintings by renowned American artist John Trumbull are a standout feature. To make the most of your visit, keep an eye on the gallery's rotating temporary exhibitions by checking their schedule. Immerse yourself in a world of artistic marvels, where history and innovation come together seamlessly in this extraordinary institution.
Yale's Hidden Gems
Yale's campus is vast and diverse, providing a wealth of photo opportunities and architectural marvels. Wander through Old Campus, an iconic courtyard surrounded by beautiful Gothic buildings. Additionally, the Saybrook College courtyard is a hidden gem, perfect for a quiet moment of reflection.
Exploring New Haven on Foot
Once you've soaked up the intellectual atmosphere of Yale's campus, venture out into New Haven itself. The city offers a mix of history and modernity, making it a perfect complement to your Yale visit.
While exploring, it's important to stay safe. If you ever find yourself involved in an accident in Connecticut, consult a New Haven personal injury attorney. They can provide valuable guidance and support during a challenging time. Your well-being should always come first.
New Haven's Culinary Scene
New Haven's food scene is legendary, and it would be a crime not to indulge in its culinary offerings. Frank Pepe Pizzeria Napoletana, with its coal-fired brick oven, is a must-visit for pizza aficionados. The clam pizza, a local specialty, is a unique and delicious twist on the classic.
If you're looking for something beyond pizza, explore the diverse dining options on offer. From international cuisine to farm-to-table eateries, New Haven's dining scene has something for everyone.
Yale University, with its rich history and lively campus culture, stands out as a real treasure in New Haven, Connecticut. A visit to this prestigious school gives you a peek into the world of academics and intellectual exploration.
As you explore both Yale and New Haven, remember to prioritize safety. Accidents can happen anywhere, but with the right support, you can navigate them effectively. Always consult a personal injury attorney if you find yourself in such a situation.
So, whether you're into history, love art, or just curious about what an Ivy League school is like, Yale University and New Haven, CT, have a lot to offer. You'll find plenty of experiences that will leave you feeling inspired and well-informed. Plan your visit today and uncover all the amazing things this charming Connecticut city has in store for you!