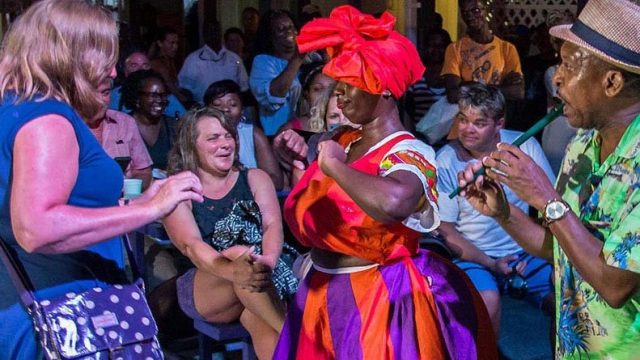 CROP OVER FESTIVAL
May to August 2019 | Website: www.visitbarbados.org/crop-over-festival
The most-popular festival of Barbados, this months-long celebration honors the 200-year-old tradition of the end of the sugar cane season with an exciting extravaganza of live music and traditional dancing. The festival now celebrates all that is Bajan with dusk 'til dawn parties, arts and crafts markets and culinary-driven street fairs. The island's most-colourful and -spirited celebrations occur the final week. Grand Kadooment Day, the final day of the festival, sees masquerade bands making their way to Spring Garden Highway, with revellers dressed in decorated costumes dancing behind music trucks and moving bars.
DIVE FEST
July 2 – 7 | Website: https://www.divefestbarbados.com/
Whether you can swim, float, dive, or prefer to soak up some sun on the beach, this festival has something for everyone! Dive Fest will feature water awareness programs, scuba and freediving demonstrations and trials, beach clean ups, conservation tips, lionfish hunting and tasting, as well as scuba dives all over the island – including the exhilarating east coast!
BARBADOS JAZZ EXCURSION & GOLF WEEKEND
October 10 – 14 | http://barbadosjazzexcursion.com/
Jazz Sax-Man and Barbadian-born recording artist Elan Trotman hosts a weekend of concerts, island excursions and charity golf for the 6th Annual Barbados Jazz Excursion & Golf Tournament. Festivalgoers will be treated to the biggest and best lineup of contemporary jazz and R&B artists yet assembled at the fest along with a simplified schedule that allows more time to discover the alluring tropical beauty of the Caribbean island.
FOOD & RUM FESTIVAL
October 24 – 27 | https://www.visitbarbados.org/food-and-rum-festival
Celebrating its 10th Anniversary, Barbados' signature event will bring together some of the best local, regional and international chef and mixology talent for a unique festival of flavour. Local foods and the island's famous spirit – rum, will be the highlight of this period of festivities, coupled with beach parties and other exciting cultural experiences that mark the annual festival. 
OPEN WATER FESTIVAL
November 6 – 10 | https://www.swimbarbadosvacations.com/
Join hundreds of other swimmers and open water enthusiast in Barbados' turquoise waters for races of 3.3, 5 and 10 km. Swimmers this year also have a chance to rub shoulders (or fins) with Oceans Seven swimmer, Cameron Bellamy!
RUN BARBADOS MARATHON
December 6 – 8 | https://www.visitbarbados.org/run-barbados-marathon-weekend
The island's largest running event is perfect for marathoners seeking to test their endurance against a tropical backdrop. Participants will run through the beautiful capital city and UNESCO World Heritage Site, Bridgetown and its spellbinding natural harbour at Carlisle Bay.