Frangipani Beach Resort, Anguilla's premier luxury boutique resort, announces today the launch of a new quarantine program for guests, "Bringing Anguilla to the Frangipani," to coincide with a reopening date of November 1, 2020.  The resort will reopen to welcome back guests for the 2020-2021 season with personalized quarantined activities and a new set of cleaning and safety measures that align with the local and international best practices. 
With a 10 to 14-day quarantine travel restriction for all foreign visitors stipulated by the Anguillan Government, Frangipani Beach Resort is bringing the island experience to the resort with personalized experiences that allow guests to enjoy a unique Caribbean getaway while they quarantine. As the movement on the island is limited during this period, the Frangipani "resort bubble" experience enables guests to enjoy Frangipani's most notable and uninterrupted beach access to beautiful Meads Bay. Exclusive access will be given to use motorized and non-motorized water sports, the on-site tennis court, an infinity beachfront pool, and the usage of the fitness facility.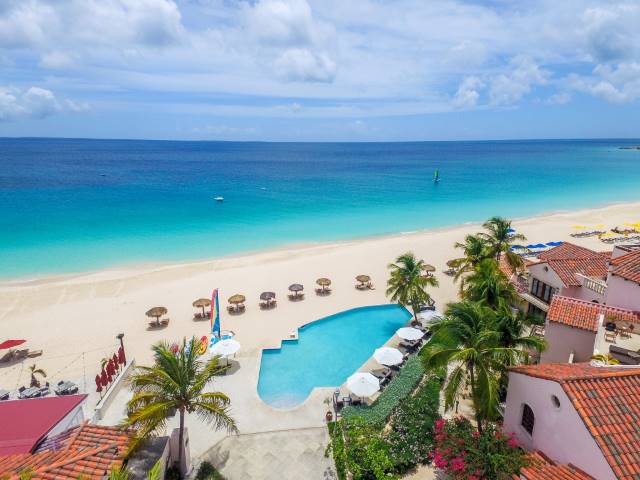 The resort's award-winning restaurant, Straw Hat, will offer a beachfront setting for breakfast, lunch, and dinner with menu items featuring locally-inspired cuisine. Guests can also enjoy the variety of dining available on the island. The Frangipani team will assist with pickup and delivery of meals for guests to dine poolside or in their guestroom or suite. For the ultimate quarantine experience, guests can set sail on the resort's FrangiCat, a private catamaran, for a day of beachside fun and special beach barbecue at the famous Prickly Pear Cay.
"We are excited to announce the launch of our new "Bringing Anguilla to the Frangipani" experience for guests while we await Phase 3 of the island's travel protocols," says Shannon Kircher, Marketing Director of Frangipani Beach Resort. "This is a great way for our guests, who are long-time Anguilla supporters, to indulge in all the great amenities and personalized experiences that set us apart while helping get Anguillians back to work."
Following the guidelines set by local government and worldwide health authorities, Frangipani Beach Resort has launched a new set of enhanced health protocols to ensure a safe environment, including the following:
Frangipani staff will receive on-going briefings and training from local health representatives on COVID-19 safety and hygiene protocols.
Social distancing will be in effect – beach and pool loungers and additional common areas have been modified to adhere to keeping physical distance.
Pre-arrival check-in procedures will be done electronically to allow the resort to receive key information from guests before arrival, reducing touchpoints and speeding up the arrival process.
A heightened cleaning and disinfecting program will be implemented, using new antiviral fogging equipment in rooms between guest stays.
Frequent handwashing is promoted, and hand sanitizer and disinfecting wipes will be available throughout the resort for guest and staff use. Guests are provided with reusable water tumblers upon arrival.
"The past few months have highlighted our interconnectedness as a global community and now, more than ever, we look forward to reopening our doors and welcoming back guests to a safe and enjoyable environment," said Kircher. "As always, our top priority is to ensure the safety and well-being of our guests and our staff as we follow guidelines shared by international health organizations and Anguilla's Ministry of Health."
For the complete list of health standards and safety protocols that have been implemented by the resort, please visit https://frangipaniresort.com/our-covid-ready-approach/.