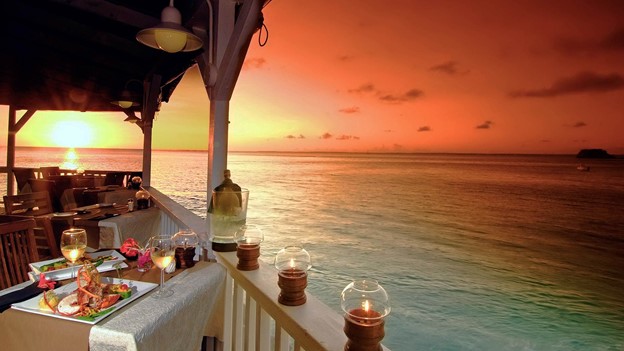 The Caribbean's St. Martin is a highly desirable destination for those seeking to spend their days in leisure, eating good food and swimming in the calm blue seas. In particular, this charming part-French, part-Dutch island enjoys a special reputation for its enchanting sunset and sunrise. With orange and red hues spread across the sky and reflected in the tranquil waves, the view from the shores of St. Martin looks like it leapt off a canvas. While going down to your hotel beach to soak up the sun's splendor would be the obvious choice, don't miss these other scenic sun gazing spots: they're sure to have your Instagram followers envious of your impeccable eye for a truly sublime backdrop. 
Paradise Peak, St. Martin: Shout "I'm on top of the world!" by hiking up Paradise peak, the highest point on St. Martin. With an elevation of 420 meters above sea level, this ascent leads to the most panoramic view of the entire island and surrounding turquoise ocean. While getting to the top is an easy hike, you wouldn't want to come down without witnessing the spectacular view you'll find during the twilight hours. 
Orient Bay Beach:  A favored beach amongst Canadians, Orient Bay Beach is the perfect place to observe a breathtaking show of sunrise, particularly over nearby Caye Verte.  It's a beautiful, white, soft sandy beach and in the early morning hours, it will give you a moment of true tranquility. This beach has a soothing stretch of coastline where you can rent a lounge chair, get a tan, or catch up on that unfinished book. Apart from relaxing, Orient Bay Beach offers one of the best spots on the island for snorkelling: although the waves here can be a bit spirited, you'll find an amazing reef tantalizingly close to the shore.  Just a short kayak paddle away is Caye Verte (or Green Cay) also perfect for snorkelling. Start your day by witnessing the remarkable golden hour before heading off to enjoy the numerous activities and excursions this part of the island has to offer.  
​
The Sunset Café at Grand Case Beach Club:  The Sunset Café is located in an award-winning intimate oceanfront hotel adjacent to the picturesque village of Grand Case. The restaurant is placed at such an angle that visitors experience the Caribbean Sea with a panoramic view of Grand Case and Creole Rock. It serves French and international cuisines, and their pineapple dessert is to die for. Set in a friendly and welcoming atmosphere, this café, like its namesake, offers one of the most enchanting sunset views. There is something about sipping your favorite cocktail or beer and feeling the magic of the setting sun from this cozy cafe.  
While St. Martin is full of amazing things to do, make sure to make space on your itinerary for these calming, inspiring, and potentially life-changing locations.