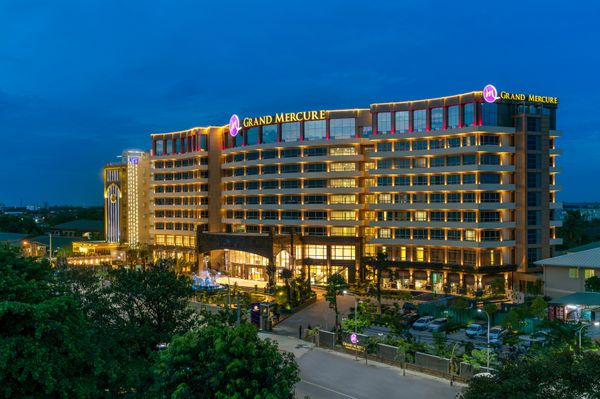 Grand Mercure announces the opening of its first property in Myanmar. One of Southeast Asia's largest and most diverse countries, Myanmar remains one of the most mysterious and undiscovered destinations in the world. A land of breathtaking beauty and charm yet only recently emerging into the modern world.
Myanmar has seen its emergence as a popular travel destination. According to the United Nations World Tourism Organisation, the country welcomed just 21,000 international arrivals in 1990, that rose to 120,000 in 1995, 660,000 in 2005 and 790,000 in 2010. Last year, Myanmar welcomed 3.44 million visitors up from 2.9 million in 2016 which saw an 18% increase.
Overlooking the famed Schwedagon Pagoda, Grand Mercure Yangon Golden Empire boasts 175 guest rooms and suites designed by local artist Pyar Dade. Featuring detailed hand-painted ceilings inspired by colourful sapphire, emerald, gold and ruby gemstones, the rooms ranged from 30 sqm for superior rooms to 340 sqm two-bedroom suite.
"This is our first Grand Mercure in Myanmar and the opening of Grand Mercure Yangon Golden Empire encapsulates the cultural touchstone of the destination and heritage in bringing local stories to life," said Patrick Basset, Chief Operating officer of AccorHotels, Upper Southeast and Northeast Asia and the Maldives.
"As Myanmar develops as a popular destination for tourists, business and corporate visitors, we expect to see significant development within the years to come. Renowned for its lush tropical trees, beautiful lakes and one of the ancient wonders of the world, Yangon is definitely poised to lead further growth in the country"
Culinary offerings are spread across its restaurant, deli, and pool bar. Flavours Restaurant offers diners a nostalgic selection of diverse international and Asian cuisine, as well as halal food. Specialty cakes and fresh pastries are available at Mahura Deli, where guests can enjoy a casual meal along with a selection of gourmet coffees, teas or a glass of wine. A selection of light snacks, finger foods and cocktails are available at Ken pool bar beside the outdoor swimming pool surrounded by a tropical lush garden.
One unique feature at Grand Mercure Yangon Golden Empire is the well-equipped wellness area complete with an outdoor swimming pool, children's pool, and a fitness centre. For relaxation, there is a spa complete with open-air Jacuzzi, sauna and steam bath, while a nearby golf course completes the suite of leisure facilities.
For meetings, private parties and weddings, the hotel boasts two state-of-the-art ballrooms that can host up to 400 guests with a large pre-event function area and seven meeting rooms that feature natural daylight overlooking the beautiful Yangon skyline.
"We look forward to welcoming business and leisure travellers to this urban garden, where our staff aims to bring captivating stories of the destination to life," said Vinoth Kumar, General Manager of Grand Mercure Yangon Golden Empire.
Grand Mercure is a portfolio of charming upscale hotels that embody the authenticity of each local culture. With attentive guest service at its core, each and every Grand Mercure location promises to be an inviting place where guests feel welcomed and cared for, and where a rich destination narrative both captivates and captures the imagination and adventurous spirit of travelers. With its origins in Asia Pacific, and further expansion planned for Asia, Latin America and the Middle East, the Grand Mercure brand now boasts more than 45 hotels worldwide.
For more information, please visit www.accorhotels.com