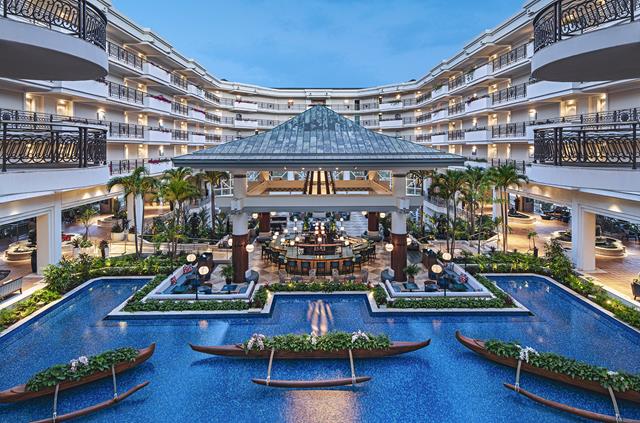 Grand Wailea, a Waldorf Astoria Resort, has announced the phase-one completion of its property-wide refresh, marking the most extensive renovation since its launch more than 30 years ago. The iconic resort, perched along 40 acres of lush, tropical gardens fronting Maui's Wailea Beach, presents a newly revitalized Botero Lounge at the heart of the resort, a total revamp of Grand Wailea's exclusive Napua rooms, suites and private lounge, and the transformation of two beloved dining venues into brunch restaurant, 'Ikena, and grab-and-gourmet market, Loulu. A completely reimagined wellness and Spa experience will be revealed in 2023. 
In addition to debuting its refreshed spaces, Grand Wailea is celebrating a new look and feel with experiential on-property programming throughout 2022, featuring continued partnerships with iconic wine brands Kosta Browne and La Fête du Rosé, an art installation by world-renowned multimedia artist Michael Pendry, and more.
"We are thrilled to update the classic charm of Grand Wailea, while enhancing the luxury and heritage for which it is known, and to commemorate this new chapter with so many exciting activations and partnerships," says JP Oliver, managing director. "We look forward to finalizing all redesigned spaces and ultimately offering guests an enriched product with authentic Hawaiian experiences in our idyllic Maui setting."
A Peek Inside the Iconic Grand Wailea's Refresh
BOTERO LOUNGE
The newly revitalized Botero Lounge features select artwork from Grand Wailea's impressive 900-piece outdoor art museum, equipped with nine bronze sculptures by renowned contemporary artist, Fernando Botero, each flown in from Italy over 30 years ago to grace the space. Housing the largest private collection of Botero sculptures in the world, Grand Wailea has restored pieces to their original form as part of the wider revitalization, making it a sought-after destination for aesthetes everywhere. New menus brim with fresh sushi prepared live by Chef Moony, paired with specialty cocktails teeming with a fusion of Japanese and local influences. Botero Lounge will also host the resort's new, all-encompassing "The Art of…" series, including guest-centric workshops such as "The Art of Sushi-Making," "The Art of Whiskey," and "The Art of Cocktail Mixing" – all taught by experts in their respective fields.
NAPUA TOWER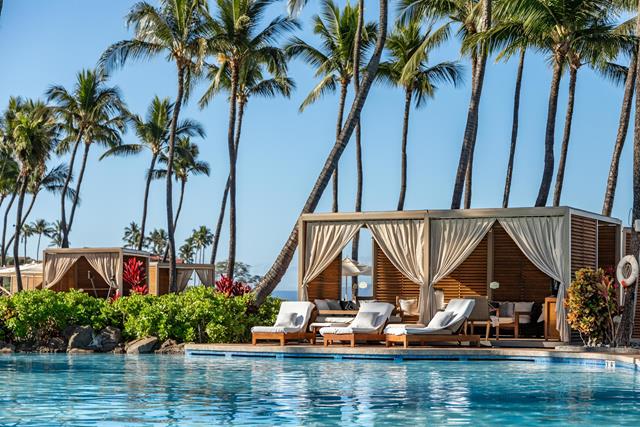 Grand Wailea's Napua brings harmony to the resort as the property's focal point. An exclusive enclave of hotel rooms and suites, set in a dedicated 'tower' in the heart of the resort, and featuring a private lounge for guests, Napua debuted in June following a complete renovation. Featuring an impressive collection of modern and post-modern art throughout, guest rooms and suites have been reimagined by Nina Chiappa Interiors. Design elements reflect a contemporary and abstracted Hawaiian theme revolving around land and water to create a rich visual palette that immerses guests in the laid-back pace of island life, with contemporary interiors and quietly luxurious finishing's. Guests of the reimagined Napua will enjoy a private concierge, and the exclusive Napua Lounge with food and beverages, and fun daily activations including chefs' stations, beverage tastings, live entertainment, spa and wellness sessions, and more. Napua will also feature an exclusive, curated collection of fashion editors' favorite resort-wear during select times of the year.