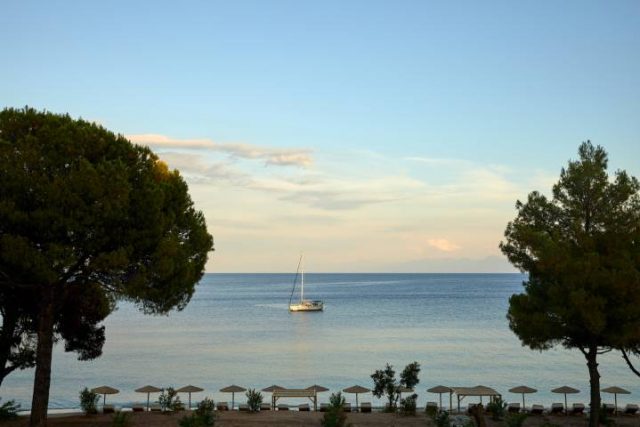 Whilst Mamma Mia certainly put Skiathos on the map, it still retains its authenticity, simplicity, and history. As the first northern Sporade to be developed in the 1960's, home to more than 50 beaches lapped by an almost Caribbean-coloured sea, plus a lushly green backdrop with two thirds of the island covered in pine forest; it is easy to see why Skiathos is the chosen spot for those seeking a slower pace and seclusion for a holiday over neighbouring islands of Santorini and Mykonos.
The family-owned property ELIVI SKIATHOS was developed by father and daughter Elias and Vivi Nathanailidi. It is located in arguably the best spot of the island, perched on a hilltop on the Pounta Peninsula overlooking the Aegean Sea in an area of natural beauty surrounded by a wildlife refuge, forest and lagoon. The hotel offers an abundance of opportunities to immerse in the nature of Skiathos including hiking or horse riding through the nature trails surrounding the hotel to outdoor yoga classes overlooking the magnificent Koukounaries Bay. 
The hotel is separated into three distinct accommodation areas, well spread-out across its 213 acres. ELIVI Xenia Hotel features 32 rooms on a hilltop overlooking lush greenery and the Aegean Sea, 67 Elivi Grace Rooms & Suites sit directly on Ampelakia beach and 61 Nest Rooms, Villas and Suites.