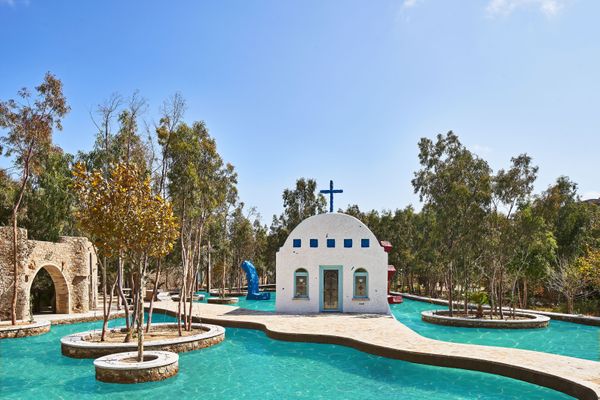 After a year when 80%* of engaged couples had to postpone their big day to 2021 due to the constantly changing regulations, the secluded 5-star coastal resort of Calilo, on the idyllic Greek island of Ios, has created a new picture-perfect chapel for weddings, blessings and the renewal of vows. Surrounded by water, by miniature islands growing palm, eucalyptus and poplar trees, and by giant letters that spell out LOVE, the Greek Orthodox chapel is a heavenly coastal location for guests who wish to make that all-important commitment of a lifetime.
Greek churches and chapels are, by tradition, small and take the blue and white colours of the national flag. So, while chapel at Calilo is small, the surrounding area has been designed to host up to 200 guests – a flexible space for a spiritual ceremony, followed by a spectacular celebration for a group of virtually any size.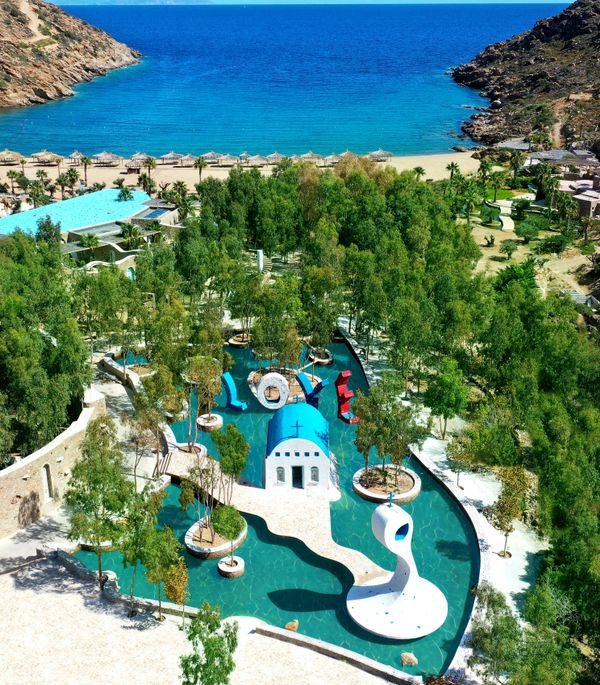 Rising out of, and carved from the rocks, Calilo is set in 1,000 acres of protected land and fringed by the spectacular 300 metre-long sandy Papas beach – considered to be one of the most beautiful in the Cyclades. Whether seen as a hedonistic hideaway, a holistic retreat, or a visionary conservation project, Calilo (which stands for Create A LIfe you can fall in LOve with) is a resort like no other. From the architecture to the interior design and the striking artworks and installations, it is the creation of the Michalopoulous family, whose aim is to preserve, protect and nurture.
Commenting, Vassiliki Petridou-Michalopoulos, said, "This 70 sq mile island is renowned for having 365 churches, one for every day of the year, and we felt that Calilo was the perfect backdrop for a church to add to this collection on Ios. By coincidence, it should lend itself perfectly to this year's wedding trend, the Second Celebration, popular with those couples who opted for a micro wedding in 2020 and wish to renew their vows and celebrate with friends and family."
Wedding guests can take their pick from 35 sumptuous suites, with one, two or three-bedrooms. Whether guests wish to flip-flop straight onto the beach from their room or hide away in blissful solitude, there is a suite to suit. Choose from those with a private multi-level plunge pool, a thatched king size daybed for languorous lounging, a natural rock pool, wide-angled views of the pristine coastline, a swinging day-bed, a pond with a cascading waterfall, a pool with a submerged in-water sculpted lounger for the ultimate in cool, and a shower that is open to the elements. The Honeymoon Suite boasts panoramic views, a decadent marble pool and a Jacuzzi for two, just minutes from the beach and pool.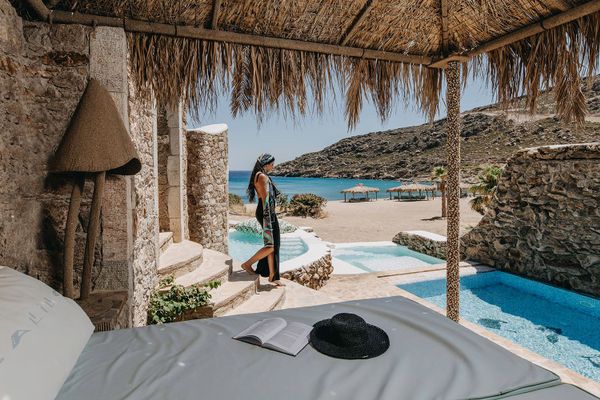 Vassiliki Petridou-Michalopoulos witnessed the overdevelopment of the neighbouring islands of Mykonos and Santorini, and was determined to save Ios from a similar fate. With her husband Angelos Michalopoulos, they bought one quarter of the island, all of it coastal, and promised to develop just 1% of it in low-density development for tourism. It is thought to be the largest private coastal conservation project in the world.
The resort's tranquil valley setting is matched by a generous array of chill out zones, hideaway nooks, bars, a spa and gym. The restaurant is at the heart of the hotel, but this summer Calilo also plans to open a relaxed open-air beach taverna where guests can dine under the stars and listen to the waves lapping on the shore. The curvaceous 800m2 sandy swimming pool that comes with sloping beach-effect sides offers sunken in-pool dining. For the ultimate in romance, stroll to one of the secluded neighbouring beaches and make use of the exclusive Calilo facilities.