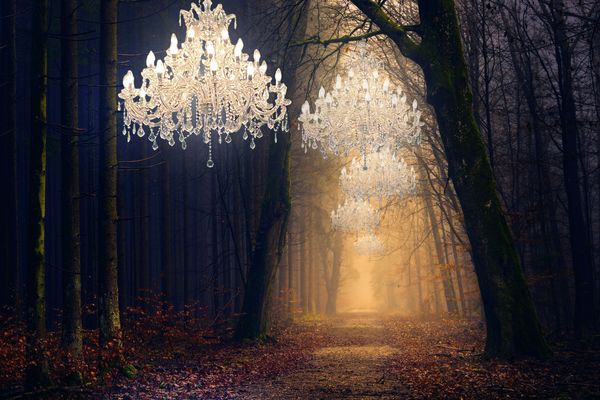 An avenue of ornate chandeliers will lead visitors on a magical journey through the forest at Hillsborough Castle and Gardens as part of a brand-new after-dark illuminated Christmas trail.
Running from 3rd December to 2nd January (excluding 6th, 7th, and 25th Dec), Christmas at Hillsborough Castle and Gardens features sparkling tunnels of light, giant jewel-like baubles hanging from the trees drenched and the flickering flames of a fire garden.
The Chandelier Walkway has been created by Somerset-based Crescent Moon, who have provided lights for everything from ITV's 'X-Factor' and 'Britain's Got Talent' to blockbuster movies including 'Cruella' and the new Marvel Studios' film 'Eternals'.
"Chandelier lighting has given majesty, elegance and beauty to interior spaces for centuries," said Crescent Moon director Simon Gerrard.
"They have also always been part of the visual imagery of fairytales and stories that take us out of the everyday and into the fantastical where we are willing to suspend belief. In this installation the ball has 'spilled out into the gardens', down the pathways and under the trees," he added.
Crescent Moon work in event design and decoration, specialising in the design manufacture and supply of chandeliers.
They supply giant chandeliers to film production companies at Shepperton Studios and Warner Brothers Studios films as well as for the BBC and ITV.
Christmas at Hillsborough Castle and Gardens is brought to you by Sony Music in partnership with Historic Royal Palaces. The trail is created by Culture Creative.
What: Christmas at Hillsborough Castle and Gardens – The after-dark illuminated trail through festive gardens
When: The festive trail is open on selected dates:
Fri 3rd Dec – Sun 5th Dec
Wed 8th Dec – Fri 24th Dec
Sun 26th Dec – Sun 2nd Jan
Open from 4.30pm, last entry 8pm and closes at 10pm.
Why Visit: Discover a Christmas illuminated trail for all the family set within the beautiful landscape of the Hillsborough Castle and Gardens.
Admission: From: Adult £18, Child £12, Family £56 (2 adults & 2 children).
Free entry for carers and children aged 2 & under.
Parking is free of charge