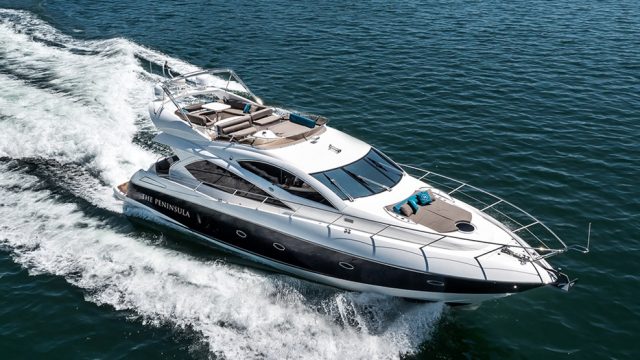 The Peninsula Hong Kong heralds the arrival of a new Peninsula Yacht for guests' enjoyment. The introduction of the yacht results in The Peninsula being the first luxury hotel in Hong Kong to offer a trinity of deluxe transportation options, complementing the existing fleet of Rolls-Royce Phantoms and a customised helicopter.
The Sunseeker Manhattan 60 is an iconic, 19 metre cruiser that will welcome up to 15 passengers each evening to enjoy a two-hour evening cruise featuring the 'Symphony of Lights' on the mesmerising Victoria Harbour during the "Harbour Sunset Cruise".
The Peninsula Yacht will also provide an alluring new venue for exclusive events, managed by the hotel.
A personalized chartered tour will be available for guests to charter for private functions, family celebrations, cocktail receptions, elegant pre-wedding photoshoots or onboard massage therapy by The Peninsula Spa.
For a fully personalised experience, the entire yacht can be chartered.
For more information visit https://www.peninsula.com/en/hong-kong/special-offers/events/the-peninsula-yacht.