With wedding season upon us, DRIFT Travel Magazine offers up some of the most romantic destinations in Europe – perfect for couples who are tying the knot this summer. From the turquoise seas of Mykonos to Portugal's historic Douro Valley, remote Alentejo, and boho-chic Algarve countryside, romance oozes from these stunning hotels.
MYKONOS THEOXENIA, GREECE
A honeymoon infused with history, style, and sophistication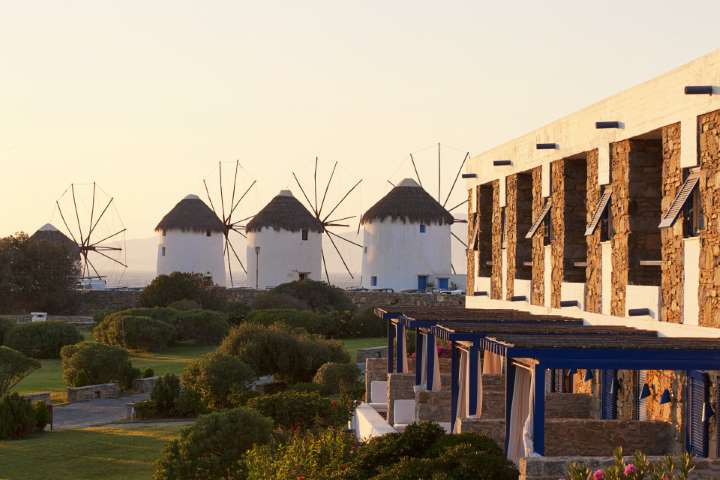 Next to the epic windmills, hugged by the Aegean, and hailing across the way to Delos, the bold interior design of the new Mykonos Theoxenia signifies a new era in high-end travel and offers honeymooners a sincere and exclusive journey that combines history, style, and sophistication with the unbridled pleasure and free-wheeling fun at the heart of Mykonos. Mykonos Theoxenia opens in July 2022 in Mykonos, Greece. Hugged by the Aegean Sea, next to the iconic windmills, and characterized by proximity to Delos, location is everything at Theoxenia. A landmark building, a visionary architect, and an extraordinary location, Mykonos Theoxenia is the revival of a story that began in the 1960s. Couples can connect with each other whilst trying sunrise yoga, plunging from their room into the ocean, embarking on cultural excursions in Delos, or joining full moon bonfires at the beach. Built in 1960, the hotel's design is striking and harmoniously blends into the natural landscape. Born from the same stone as the existing sea walls, and hailing across the way to Delos, Mykonos Theoxenia was born as a mythic establishment that set the pace for an era of eclectic travel. Now a landmark domain and protected UNESCO heritage site, the newly renovated and reimagined hotel will boast 37 elegant rooms with stunning views of the sea and Delos and eight deluxe suites, and four superior suites with four superior suites private swimming pools, and a terrace – perfect for an indulgent honeymoon.
ONCE IN MYKONOS, GREECE
A romance to remember, equipped for every couple, the hotel even has a private chapel on site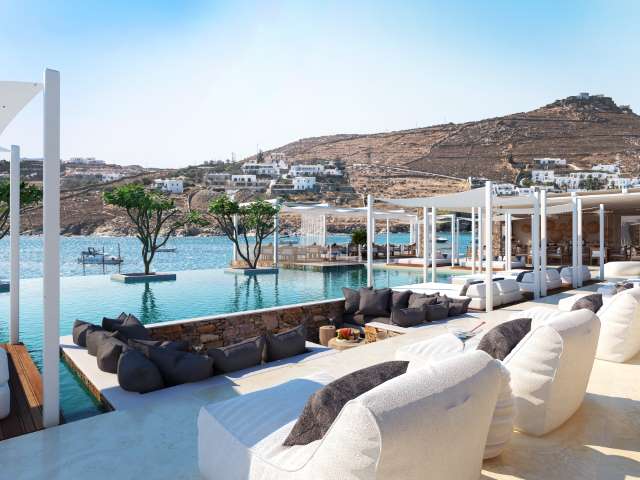 Opening in June 2022, Once in Mykonos is an exciting new addition to the island's thriving luxury tourism industry. The brand new five-star resort encompasses barefoot luxury and authentic Mykonian charm, boasting 59 elegant rooms with minimalist boho-chic interiors and a nod to Mykonos' heritage. For couples wanting added luxury and some more privacy and space, the hotel also offers two exquisite private villas complete with Jo Malone amenities for some added indulgence. The resort's state-of-the-art spa, complete with a sauna, steam room, hammam, and swimming pools offers couples a relaxing haven to spend quality time together post-wedding. Once in Mykonos can also organize private sunset cruises for a romantic evening on Greece's best-loved island, or for adventurous couples, scuba diving in the turquoise sea is also on the cards. To top it off, couples can enjoy a cold glass of Champagne at the Infinity Bar and a stellar fine-dining experience at the hotel restaurant – Once in Mykonos guarantees romance, luxury, and unforgettable memories.
N.B. For those who also want to tie the knot abroad, the resort also offers a private chapel for weddings!
OCTANT VILA MONTE, LARANJAL SUITE, ALGARVE
Exclusive Suite with heated plunge pool, solarium, patio, alfresco dining, and butler service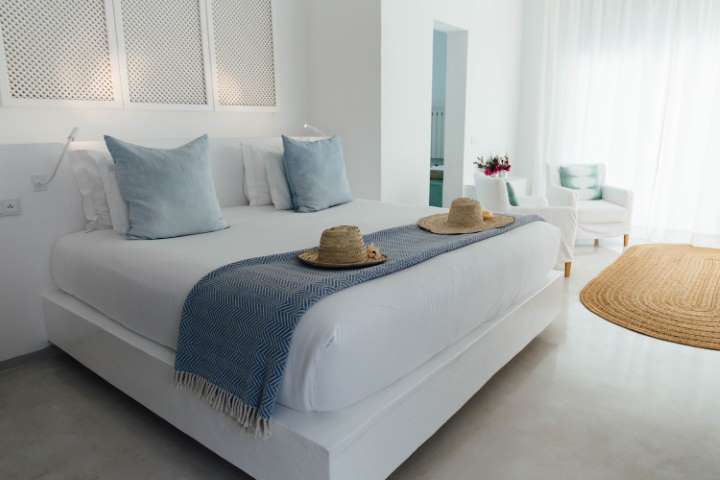 Surrounded by citrus trees, pink bougainvillea, and olive groves, Octant Vila Monte sits in an unspoiled corner of the Algarve. The Laranjal Master Suite is Octant Vila Monte best-kept secret. Located on the ground floor of the Laranjal Building, this suite is one of the most exclusive suites in the entire complex – perfect for couples who have just tied the knot and want some privacy. Bright and spacious, with white walls and design details reflecting regional traditions and customs, the Laranjal Suite also boasts a swimming pool, patio, and alfresco dining space as well as a solarium and private butler service. On property, newlyweds can enjoy access to local restaurants, two swimming pools, a tennis court, and wellness activities as well as boat trips, picnics on a deserted beach, and tailor-made private experiences such as BBQ on the terrace, private yoga classes, or a spa treatment.
OCTANT DOURO, PORTO
Luxurious spa, delicious dining, sumptuous dining, and spectacular river views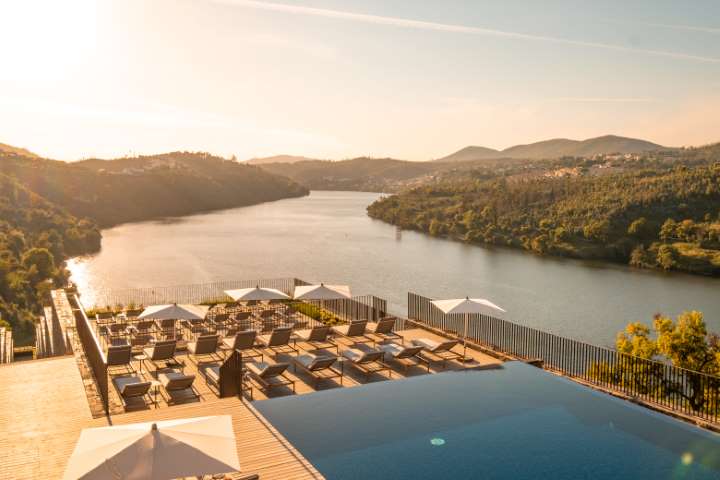 Romance awaits at this riverside haven, with spa treatments, river voyages, and wine tastings available to celebrate your commitment in style. Honeymooners at Octant Douro can look forward to an elegant suite with enviable views, exquisite dining options, and an award-winning spa. Offering the perfect blend of a good time and downtime, days at Octant Douro are passed lounging by the pool and padding to the spa in slippers, whilst evenings are whiled away tasting exceptional Portuguese cuisine and cocktails accompanied by stretching mountain views. If you're looking for a honeymoon with culture, there is nowhere better to discover the famous local wines of the Douro valley and escape on a romantic adventure with your loved one on a private voyage down the river.
OCTANT EVORA, ALENTEJO
Fantastic cuisine, countryside landscapes, and proximity to UNESCO city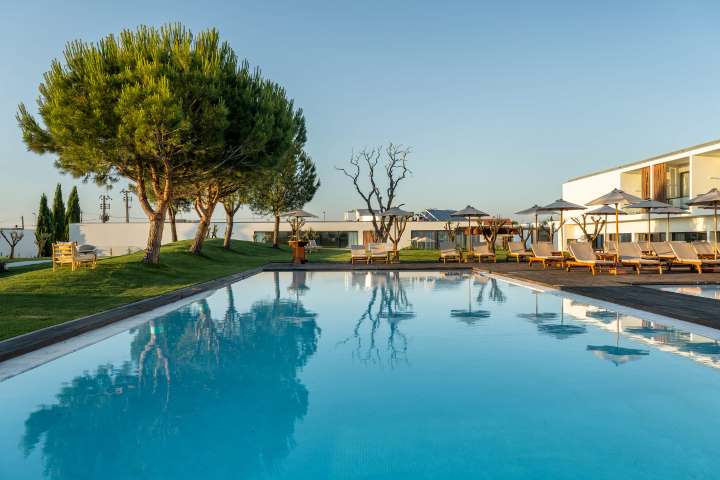 Located in the UNESCO World Heritage city of Évora, Octant Evora pays homage to its home in this untouched corner of southern Portugal. The hotel sits on 11-hectares of pristine Portuguese landscape and immaculately blends modern living with country life, it is a unique place where people, plants, and animals coexist in harmony. Stargazing, hot air balloon rides, nature walks, food and wine tastings, breakfast on the hotel's meadows at dawn, and learning more about farm life are just a handful of the experiences on offer for honeymooners at Évora. The hotel comprises 56 rooms, including private outdoor areas housing swimming pools and gardens, and five larger exclusive use villas. Facilities include an outdoor area that comprises a gym, spa with an indoor pool, sauna, two treatment rooms, and a Turkish bath, À TERRA restaurant, a farm, vegetable garden, olive grove, and orchard.