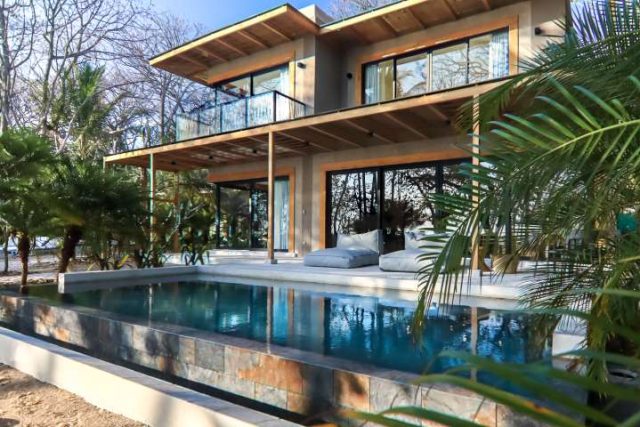 Hotel Nantipa – A Tico Beach Experience, the leading barefoot luxury boutique hotel in the heart of Santa Teresa, announced today the official opening of its first-ever Beachfront Villas. Nestled between the idyllic beach and serene forest, the two new three-bedroom accommodations are perfect for families, wedding parties, retreats, and intimate groups keen to explore the inspiring landscape and recharge with upscale comfort and bespoke Costa Rican hospitality. The tranquil sanctuaries continue Nantipa's dedication to offering a superior Pura Vida experience.
Guests are warmly welcomed to the 2,000 square feet Beachfront Villas to shake off the stress of daily life and reconnect with the natural environment. Each two-story villa is a private oasis featuring a full kitchen, dining area, and three guest rooms all with stunning ocean views and ensuite bathrooms. Two of the guest rooms are outfitted with luxurious king beds, and the third offers two queen beds. The accommodations combine beach chic design elements and biophilic wood accents with modern amenities. Nature lovers will enjoy the villas' floor-to-ceiling glass doors that open to the private outdoor deck, infinity pool, and exclusive beach access to the revered Nicoya Peninsula.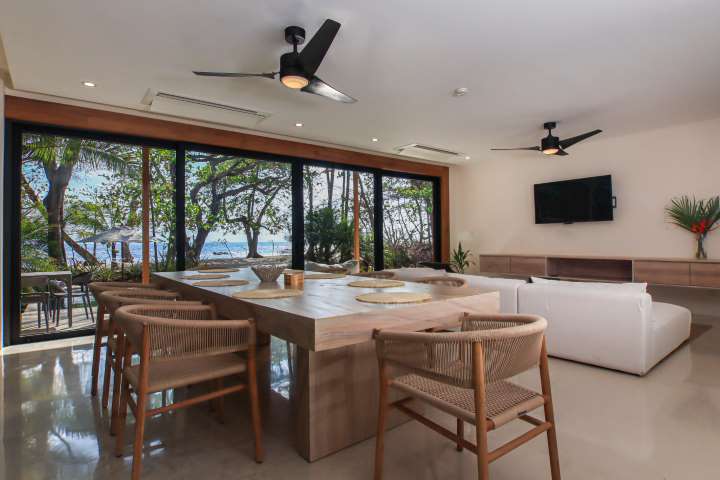 A 24-hour private concierge service connects Villa guests with Nantipa's exceptional services. Private chefs, fitness instructors, babysitting, and mixologists are available solely for Villa guests. Beyond the property, Nantipa facilitates local adventures including world-class surfing, yoga, paddleboarding, scuba diving, whale watching, fishing excursions, horseback riding, and hiking at Montezuma Waterfall, Cabo Blanco National Park and Curú Reserve. A detailed pre-arrival questionnaire is also provided for Villa guests to better understand their visit intentions and anticipate their every need before arrival.
"We are thrilled to welcome travelers to their nurturing home away from home in our new Beachfront Villas," said Harry Hartman, Owner and General Manager at Hotel Nantipa – A Tico Beach Experience. "We are dedicated to ensuring visitors fully enjoy the Tico Beach Experience, blending barefoot luxury and the healing properties of the natural environment with unparalleled comfort and service in the paradise known as Santa Teresa."
Nantipa is committed to preserving the natural Costa Rican environment and supporting the surrounding community. The hotel is designed with reclaimed wood, locally crafted furniture, a state-of-the-art waste-water treatment plant, energy sensors, and solar water heaters. Only six trees were cut to build the hotel, and more were planted to compensate for the loss. Hiring local residents and sourcing regional ingredients is a priority. At the beachfront restaurant, Manzú, seafood is purchased from local fishermen, bread is made by a local baker, and a significant portion of the produce is local to the Nicoya Peninsula region. Guests can sip tropical cocktails and relax beachside during the sunset, knowing that their experience sustains local economies and conserves resources. In addition, guests can participate in the hotel's sustainability initiatives like Pack for a Purpose and 10-minute beach clean-ups.
The Villas join Nantipa's existing 19 suites and bungalows nestled in the trees of one of UNESCO's five Blue Zones, where people live longest and are healthiest. The newly opened Numú Wellness Center invites guests on a holistic healing journey in an open-air space within the intimate gardens. Widely recognized as exemplary, Small Luxury Hotels of the World (SLH) recently named Nantipa as one of the premier environmentally sustainable luxury properties in the world for their new 26-property "Considerate Collection." Nantipa was also recently accepted as a Virtuoso partner and is an active member of Signature, Serendipians, and Travel Leaders.
For more information, please visit www.nantipa.com