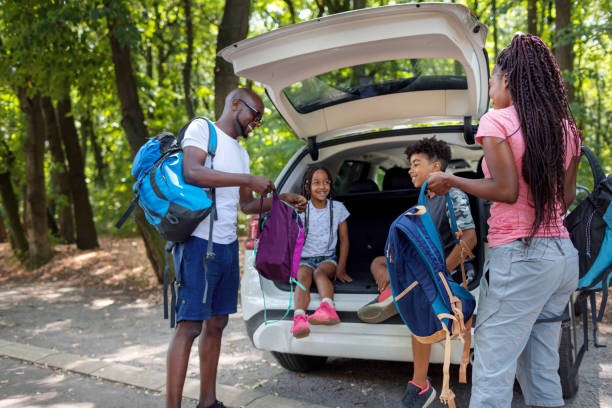 As the world continues to reopen its doors following two years of unprecedented closures, families are looking for fun ways to explore the larger world together. One of the best ways to have a memorable vacation with your kids is by hitting the open road for a cross-country trip. While road trips are a great way to travel as a family, they aren't as simple as you may think to plan.
Any time you are planning to travel with your kids, you will need to take some time to do the proper preparation. This groundwork can save you a lot of headaches once you are on the road. It's important to take the time to plan for several scenarios that go beyond planning your travel route.
While traveling can be a thrilling experience, it can quickly turn into a stressful nightmare when you add your kids into the mix. Creating memories in the backseat with your kids securely strapped into their Diono seats will take time to get organized. Let's take a look at a few tips for how to prepare for a road trip with your kids.
Route Planning
The last thing you want is to end up lost while driving across the country. It's crucial that you take the time to sit down with your maps or online app to plan out your route to your destination. With the help of apps like Google Maps, you can choose your route based on splitting up your travel, avoiding highways, concentrating on exploring the backroads, or avoiding highway construction.
Once you plan your primary route, you can pin your directions to your smartphone or vehicle GPS. If you are traveling somewhere remote, you may not have access to the wifi signal or your GPS could drop out, so it's important to print off a copy of your directions for your records.
Car Maintenance
You should never head out for a road trip without making sure that your vehicle is in top condition. You don't want to risk being broken down on the side of the road, especially with your children in the car. Make an appointment with your local auto shop to have your car scheduled for a tune-up. Your mechanic will check your tires, make sure your engine is working smoothly, change your oil and top up your fluids so your vehicle will be ready to hit the road.
Simple Packing
As parents, we know that it's tough to pack for a trip with the kids without overdoing it. When you are planning a road trip, it's important to keep in mind that you will have limited packing space in your trunk. Try to anticipate your needs and write a list of all essential items before you start packing. Keep your children's bags to a minimum with a few changes of clothes, pajamas, a warm sweater, and a second pair of shoes. Don't forget to leave space for your equipment if you plan on camping during your trip.
Share Driving Duties
Every parent knows that while road trips can create cherished memories, things can get stressful at the moment. It's important to take turns behind the wheel and give the second parent a break from the road. If you have a long distance to cover, you can plan to change seats when you stop for a break or to fill up on gas.
Travel Bag
When you are traveling in the car, you want to have one dedicated bag where you can keep all of your important items within reach. A travel bag can be the central place where you keep your route planning, snacks for the kids, reservations for your stay on the road, identification paperwork, and car sickness tablets for you and the kids.
Snacks and Entertainment
The key to a peaceful road trip with the kids is to make sure that they have plenty of entertainment and snacks. It's important to plan meal stops during your travels, but having a few healthy snacks can help keep your kids happy, quiet, and full. Concentrate on snacks that are easy to eat, make a minimal mess, and are easy on the stomach.
Keeping your kids entertained is important for staying sane on your family road trip. Packing an activity box for your kids, that is filled with small toys, coloring books, crayons, and tablets loaded with your kid's favorite movies is essential for a successful road trip.
One of the greatest joys of being a parent is creating memories with your kids. If you are itching to get out and explore with the family, follow these tips to help you plan an exciting road trip with the kids.