Quinta do Lago resort, situated in the heart of the Algarve, Portugal, has recently launched a new 'Farm to Fork' initiative, designed to nurture residents and protect their health during lockdown. The resort now delivers their homegrown immunity-boosting juices to their residents' front doors to kickstart their day. The juices are a renowned favourite at Quinta's PURE Café, where they press organic ingredients into nutritious drinks – all made from the resort's very own sustainable Quinta Farm. This delivery service ensures that residents are well looked after whilst areas of the resort are closed and forms part of the resort's ongoing sustainability strategy, which has been designed to protect and nurture the surrounding 2,000 acres of Ria Formosa Natural Park.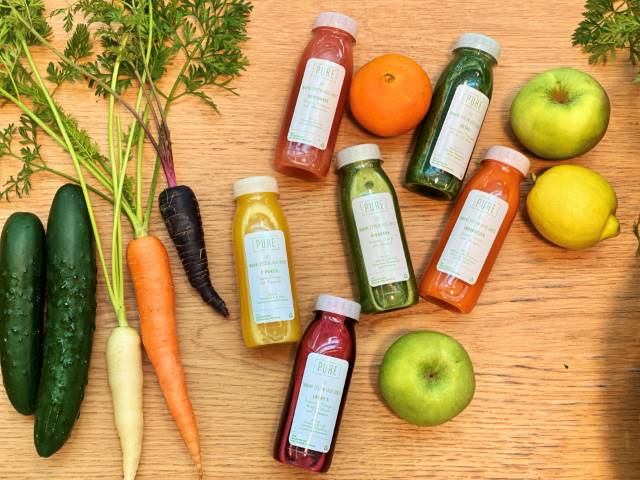 With two thriving sites, Quinta Farm consists of 2,100 sqm of land across the resort, and daily harvests supply Quinta's 12 restaurants with unbeatable, fresh produce. While restaurants and bars are shut, Quinta do Lago's juices are a great strategy to ensure no ingredients go to waste.
Gareth Billington, Quinta do Lago's Executive Chef, talks about Quinta Farm and the juice initiative: "Quinta Farm is an incredible resource. Restaurants in Quinta have long been known for quality and creativity, but the addition of our Farm has elevated this. It's a big operation, but it gives us the ability to use a vast range of fresh produce that is cut and delivered to the PURE Cafe in the morning and made into a delicious juice in no time. It's a great way to ensure we are taking good care of our residents too – particularly at such a challenging time."
Immune System Juices Available at Pure Café
Pure is the healthy beating heart of Quinta do Lago, aiming to provide guests with nutritious made-to-order meals that can be enjoyed whilst admiring the spectacular golf course views. As that is not currently possible, the café has designed a new strategy through its home delivery of healthy juices to maintain the resort's spirit of community and wellbeing, despite the current restrictions.
All homegrown from Quinta Farm, the 'B Banana Juice' is packed full of vitamins A, C, B6 and K, and 'The Detox Juice' is made up of cucumber, pineapple, mint, and lime – ensuring fresh and flavoursome stimulation for the day ahead. Using ingredients such as ginger, beetroot and banana, all of which are well known for their nutritional value, ensures these juices pack a punch for the immune system.
Quinta Farm – Farm to Fork
Quinta do Lago has revolutionised its restaurants and food production with the unveiling of its Quinta Farm. The farm has widened the chefs' creative boundaries, enabling them to introduce more local ingredients; providing inspiration for new recipes and fresh produce for existing ones. Similarly, the farm has significantly improved the resort's impact on the environment. Quinta Farm aims to harvest extremely high quality, organic produce in the morning and have it served as part of deliciously fresh meals by lunchtime. To do this and maintain variety, the farm grows seasonal vegetables, without the use of pesticides or synthetic fertilisers, while also harvesting more specialised ingredients that can be hard to come by. Quinta Farm is dedicated to reducing the resort's overall carbon footprint by limiting packaging, sourcing seeds from local nurseries, propagating in-house, and replanting more heirloom varieties of produce grown from existing plants. In 2020, Quinta Farm produced an impressive six tons of vegetables from 54 varieties of crops ranging from garden herbs to watermelons.
Quinta do Lago's Sustainability Strategy & Commitment to Residents Throughout Covid-19
Quinta do Lago is continuing to drive the resort's ongoing sustainability strategy through its golf course and introducing conservation opportunities throughout the surrounding area of the Ria Formosa. Protecting its abundant wildlife and stunning landscape is a priority for Quinta do Lago, and the resort works with RIAS (an organisation dedicated to protecting the local wildlife) and Nature Park Organisations to carry out this work effectively. Through the redesign of the South golf and working closely with the Golf Environment Organisation, Quinta has launched a multi-tiered strategy to foster nature, conserve resources, and educate and support the community. Vast eco-improvements have also been made throughout lockdown, including the installation of a state-of-the-art irrigation system, and nurturing current nature trails.
Over the past year, Quinta do Lago has remained dedicated to looking after its residents and supporting the local community. The resort's The Magnolia Hotel provided 100 complimentary rooms to healthcare workers and over 500,000 EUR was raised at the start of the pandemic to support local hospitals. Further supporting the focus on wellbeing, The Campus continues to live stream workout classes and the restaurants share virtual cooking workshops. These immune-boosting juices are another element of Quinta do Lago's efforts to support the community and natural environment throughout this time.