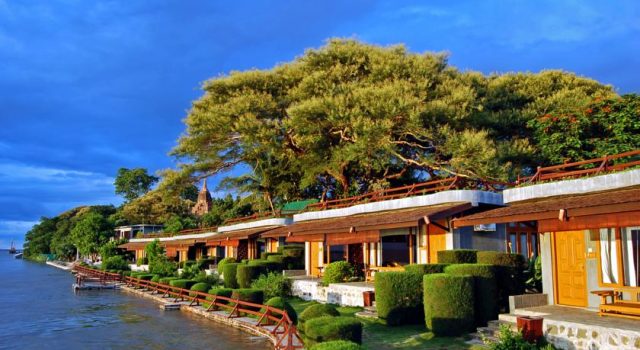 You will notice the title of this segment is not 'Insider's Guide to HOTELS'. That is because there are so many other types of accommodations and today's penny-wise traveler, depending on the travel destination will choose an alternate such as bed and breakfast, European Inn or guesthouse, or even a house exchange. We will talk about different types of accommodation as well as how to find the best room at the very best rate.
Be an aggressive traveler and an astute negotiator. If your goal is to have a budget holiday, you might have to fight for it once in awhile. Big hotel chains, just like budget hotels, will barter over rates, especially if have the hotel is empty or you are there off season.
If you're heading for a big city such as New York or Boston, stay over on Friday, Saturday and/or Sunday nights. In cities that attract a lot of business clients, many of the local hotels lower their weekend rates. You may also be able to negotiate a good price at a four-star hotel in a city on the weekend if the hotel hasn't been able to fill the rooms. Remember that the hotel would rather give you a discount, than have the room vacant for the night!
Find accommodations that are an extra 10 or 15 minutes from the city centre or from the nearest major attraction. On average, accommodations on the outskirts can be as much as 30% less, even during high season. They are also more willing to negotiate on LAST MINUTE reservations to gain a booking.
Compare services at various hotels. It is only a great deal if everything you need is included. If there are numerous surcharges you will incur, it won't be much of a deal by the time you pay the bill upon check
Hotel Reservations with Online Travel Websites
During a slow economy, hotels and resorts feel the pinch worse than any other sector of the travel and leisure industry. That is good news for you because hotels, even of the 5 star variety, have empty rooms that they are selling off via online travel websites (also known as electronic travel agencies). These sites include Expedia, Travelocity, HotWire, Priceline and Orbitz, to name just a few of the bigger ones. Here are some insider tips to using these sites to your benefit:
Priceline and Hotwire
 Both sites work on the same premise – you choose your city, your price point and the "star" quality of the hotel you want to stay in, but you do not know which hotel will be assigned. This can be a little risky because you have to pay your money upfront – which is non refundable – before you know which hotel you will be staying at.
Tip 1 – Never choose a 1 or 2 star hotel. Both Priceline and Hotwire tend to inflate or exaggerate the star rankings so you could end up in a real dump. In recent times, for most major cities across America, deals on a 4- star hotel have been pricing in the $59-79 price range so that is still very good value for your money and you know you will be staying in a clean, safe hotel
Tip 2 – Don't input your credit card information hoping to get a 'peek' at what is available. Once you pay, you are stuck. The money is 100% non refundable, because these sites work on the loose premise of a reverse auction. All purchases are final sale, so if your travel plans are even 1% unsure, this is not the right choice for
Insider Trick with Hotwire – You can get a good idea of what your hotel is going to cost you by using the following trick, which will work about 80% of the time. Click on the "Packages" link at the top of the site and then click "Hotel and Car". Add your travel dates and destination, and then click selling off for your dates and city and show approximate package amounts (for hotel and car). Just be sure not to book this unless you want the hotel/car package (remember, it is non refundable).
Expedia, Travelocity and Orbitz
 These would be the more traditional electronic travel agencies, which offer similar services as a travel agency in your home town. You go in, find the travel product that is right for you, at the right price and book it. A few things to keep in mind:
Tip 1 – You always pay 100% in advance with these websites, even for hotel and car rental bookings. This doesn't work for everyone. If you are booking a hotel for 3 weeks at $100 a night and you are not leaving for 4 months, you have to shell out $2,100
Tip 2 – Cancelling with these websites can be tricky and sometimes involves a fee. So, be careful in this
Tip 3 – You will get good deals on these sites sometimes but it will be hit and miss. Keep in mind, they are getting a commission and so prices will almost never be rock bottom except for occasional last minute sell-offs that are generally
Insider Trick with Expedia – Call a hotel directly and get their best rate but don't book it. Then compare on Expedia and often times, the deal is BETTER on the website. This is because large hotel chains allocate large inventories to Expedia and it is commonplace for the fares not to be adjusted to reflect supply and demand. So, the rate might be $149 through the hotel's 800 reservations line, but only $99 on Expedia. That is a savings of $300 for a 6 night /7 day vacation.