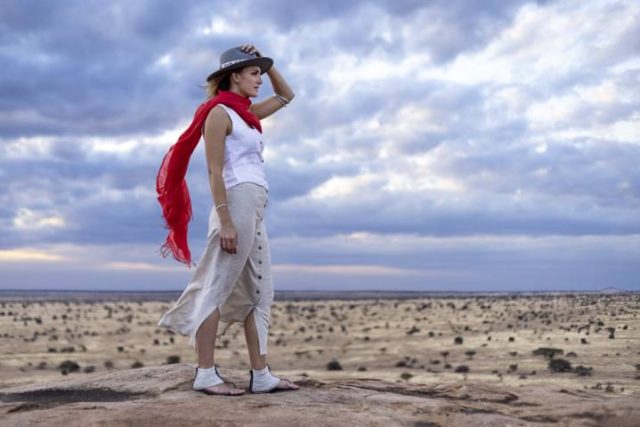 Great Plains is known as a legendary conservation tourism company with exquisite safari lodges in Botswana, Kenya and Zimbabwe. Behind the iconic eco-tourism brand, are the award-winning documentary filmmakers and National Geographic Explorers At Large, Beverly and Dereck Joubert. Together their creative spirit seems to be infinite. In addition to their five-star lodges, nature conservation initiatives with a long-term commitment to the environment, wildlife and local communities in Africa, books, photographs and films, the power couple also design their own fashion line of safari clothing- the d&b Explorer Collection.
In search of comfortable yet stylish clothes for their adventures through the African bush whilst also with company at home, Beverly and Dereck Joubert decided to create their own clothes with safari chic inspiration from the 1920's era. Reminiscent of the spirit of great discoverers like Karen Blixen, Hiram Bingham and Amelia Earhart, the Jouberts wanted to create clothes to match their insatiable desire to know more, to see more and to fully experience life; to become one with nature.
The main textiles of the d&b Explorer Collection is organic linen. This is due to the wax of the fabric, which holds a linen garment in place a little better and the fact that the linen can crease and still look good. But it is also sturdy enough to be used on a safari adventure. The colours are close to nature, with earth tones such as khaki, beige and sky blue. The collection includes items for men and women. Key pieces such as trousers, shirts, blouses and vests are complemented by accessories such as scarves and belts.
There are dozens of functional clothing options for safari tourists, but this particular collection is for the traveler, the explorer, for someone who wants a hand-made experience, just like the d&b Explorer Collection.
Just as meticulously as the Great Plains safari camps are run, the pieces in the collection are also made with the utmost care. All pieces are created and manufactured with environmentally friendly, sustainable, and responsible practices. Wherever possible, local communities are involved with the d&b Explorer Collection by promoting their talents, skills, and craftsmanship and to support them in their socio-economic development.
Pieces from the latest new d&b Explorer Collection can be ordered via: www.greatplainsconservation.com/safariboutique/shop-the-db-explorer-collection