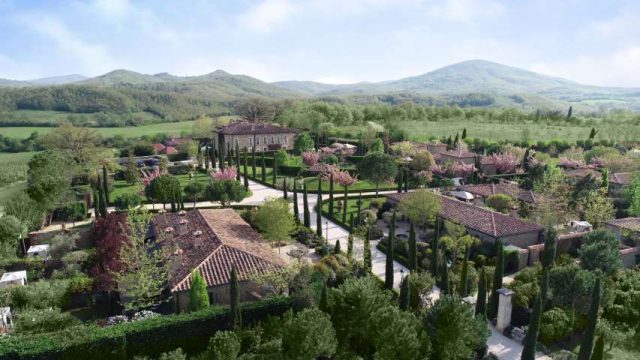 Borgo Santo Pietro, the luxury retreat for modern day pilgrims and developed in full respect of mother Nature will open for the season on the 29th of April.
Jeanette comments: "We began this project nearly 20 years ago with a clear idea of what we believed was the future of the real luxury experience and today we are ready to start a new chapter offering to guests new way to experience the Estate and what Borgo Santo Pietro's life is:
Connecting with nature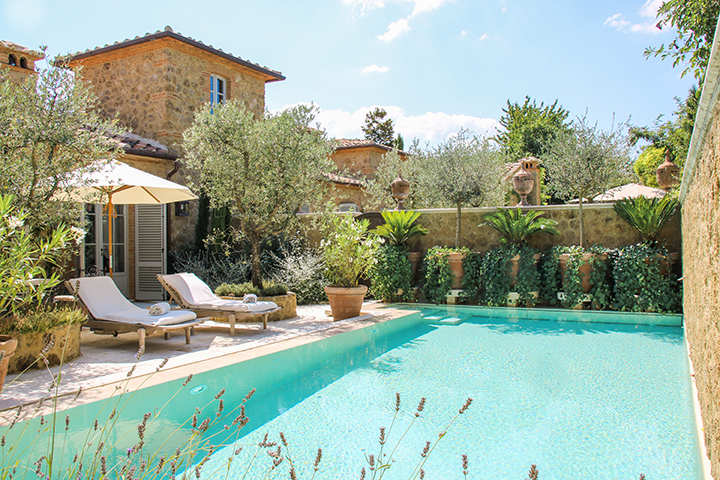 Your Private House with Pool
The opening of the 2022 season and the 20th anniversary of the hotel will be celebrated by introducing two new pool houses – Casa Gerda and Casa Ellen. Named as an homage to Claus and Jeanette's mothers respectively, this ultimate seclusion haven offers guests their private pool, outside area and lavishly furnished rooms. These new tranquil spaces also feature cosy fireplaces, Mediterranean style terraces and private access to Borgo's vast grounds.
The treehouses, scattered across the wilderness of Borgo Santo Pietro's Forest, offer an intimate and private alcove for guests looking for a peaceful spot to relax. Made of dark brown wood, these roofless cabana lounges blend flawlessly with the wonders of the forest. Harmony and a tranquil atmosphere surround these simple, but majestic constructions. Spread out pillows on the wooden floor guarantee comfort with a panoramic view of the enchanting local 'jungle'. The raw noises of nature as well as the scent flowers blooming nearby enhance the senses. The perfect space to meditate, read a book, enjoy a glass of wine or indulge in the products from the estate.
Hiking and Biking trails and Wild Swimming
The River Merse runs through the outskirts of the estate offering people a chance to immerse themselves with nature by swimming in the wild. Clean water running through the river is well known in the region and is drinkable with a revitalizing aftertaste. Surrounded by a captivating forest, visitors can enjoy the quietness around them and dive into crisp water to refresh their minds and body. This forest bathing experience proves to be a great way to cool down after exploring the estate's hiking trails, or mountain biking which is available to the guests.
Learning from Mother Nature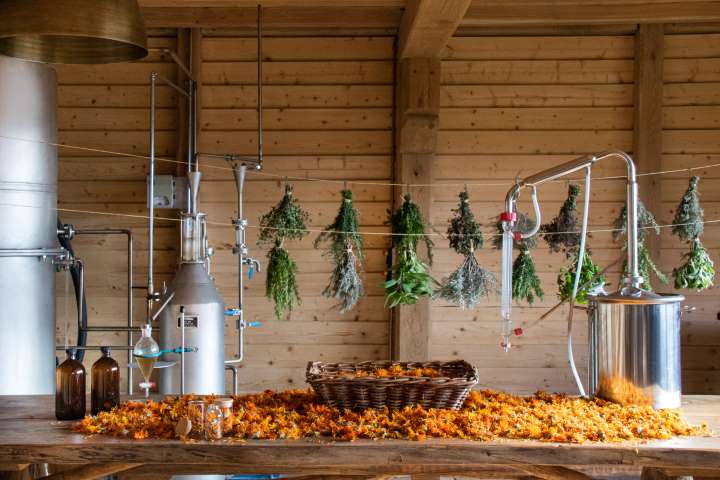 Herb House Workshops & Seed to Skin Skincare with Anne McIntyre
The Herb House is another extraordinary feature created by Claus and curated by Jeanette, whose passion for natural ingredients inspired her to create an entirely natural skincare line called Seed to Skin. The techniques used to create this organic produce date back to 1129 and use a wide range of the farm's herbs, raw honey and sheep's milk. Cosmetologist Anna Buonocore assisted in the creation of the skincare line with a 360-degree approach to beauty and wellness. Moreover, guests can gain knowledge about wild herbs and their medical benefits with Anne McIntyre, a medical herbalist and author of 20 books on herbal medicine. Each course will teach participants the healing properties of seasonal plants and herbs and how they can help you according to the time of year. Visitors can roll up their sleeves to transform herbs into oils, produce soaps and creams. This unique experience is a must-try for people wishing to expand their knowledge beyond the classical understanding of the organic produce. The seasonal workshops will take place: 25-26 June, 17-18 September and 29-30 October in the Herb House.
Aromatherapy Workshop Lindsay Woodman
Aromatherapy Workshop is introduced by Lindsay Woodman where guests can empower their olfactory senses and widen their grasp about the emotional, sensual and physical effects of essential oils. Lindsay will share her skills derived from 20 years of expertise as an examiner for the International Federation of Aromatherapists. This unique workshop will teach guests about the human body and its active interaction with oils. Jeanette comments: "At the end of the course, attendees will understand how to blend oils, which oils to use for their own needs, and how to go about selecting them, using them and taking care of them so that they remain active and safe." Hosted in the estate's Herb House, the aromatherapy workshops are intended to be a true revelation of smells and discover how oils impact the mood and health.
Orto's Pop-Up eatery and Fermentation Laboratory
Orto's Pop-Up eatery focuses on the organic cultivation of herbs, plants, and fermentation processes. To achieve the culinary perfection of this unique concept, the menu needs to be planned months in advance as ingredients need time to bloom and grow. Orto is surrounded by a vegetable garden which guarantees a special experience and a full exposure to its sustainable approach.
The fermentation laboratory combines the art of ancient cooking techniques with the creativity of Borgo Santo Pietro's team. The team of chefs practice the beauty of slow cooking and offers workshops to people wishing to gain knowledge about fermentation. Jeanette and Claus embodied delicious healthy cuisine with the roots of a sustainable lifestyle under the roof of the fermentation laboratory. Three long hour cooking classes are available to students to learn the basics of the fermentation technique and experiment with gourmet dishes. Close to 200 types of vegetables and over 50 herbs grown at the neighbouring herb garden are the key organic resources used in the laboratory, as well as throughout the menu of Michelin started Meo Modo.
Jeanette continues: "Our aim is not only offering a range of activities to our guests but a holistic 'dive in' to Borgo's lifestyle and the values close to our hearts." Jeanette and Claus embrace Borgo's living and always look for ways to share their expertise and knowledge with those visiting their home and create an oasis of nature. Claus comments: "People working in our hotel are not just workers, we are a community who value the beauty of nature and what it can offer. Our local artisans will gladly introduce you to the secrets of sustainable living and share their skills once you visit our beloved estate in the upcoming 2022 season."