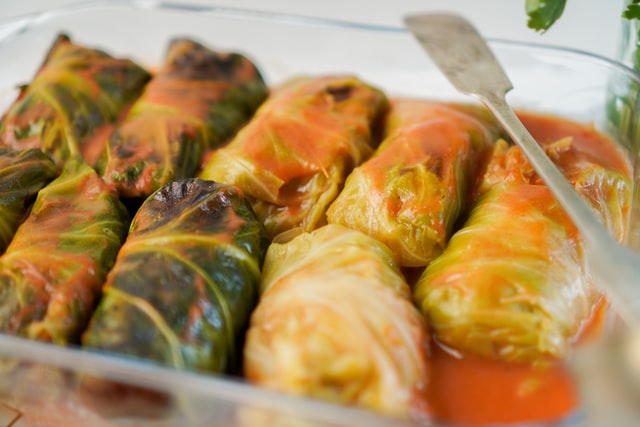 Unlike many other Jewish holidays, there aren't any specific foods to eat during Sukkot. Celebrating the end of the harvest and the protection that God provided for the Israelites during the forty-year wilderness, Sukkot is, therefore, a perfect time for the family to get together and try out some new recipes.
Although Sukkot recipes are up to interpretation, there is a tradition of preparing stuffed foods which can be a good starting point for those who want to be adventurous. The reason this tradition exists is that stuffed foods symbolise the shelter God gave the Israelites, protecting them from the harsh environment of the desert and the slavery that they were subjected to in Egypt.
The recipes for these stuffed foods venture far and wide, but there are a few notable dishes which can make this Sukkot holiday one to remember. After all, if you are hosting Sukkot, then it is your job to not only provide guests with plenty of Sukkot gifts and hospitality but also present them with delicious, memorable food which will ignite the dinner table and set taste buds watering. That's what Jewish holidays are all about!
Stuffed Mushrooms
Seeing as Sukkot celebrates the end of the harvest, many of the dishes revolve around fruit and vegetables. In this way, stuffed mushrooms can be a perfect starter dish. All you have to do is fry up some chopped onions, leeks, figs, walnuts, and a sprinkling of sea salt, tahini and sumac. Once this is done, place the filling into the mushrooms, roast them in the oven for fifteen minutes, and voila! You have your first dish of your Sukkot celebration.
Stuffed Pumpkins
Keeping with the theme of ease and efficiency, stuffed pumpkins are just as quick to prepare as mushrooms. This can be an especially good option for those living in North America too, seeing as pumpkins will be in ample supply across grocery stores and farmers' markets during the Sukkot holiday. To cook this, simply cut off the top of the pumpkin, scoop out the seeds and pulp, and then place it onto a large pan. Spoon inside a cup of couscous, onions, ground beef, honey, raisins and red wine, then cook for two hours (or until you can easily pierce the pumpkin with a fork).
Stuffed Cabbage
While a bit more intricate, stuffed cabbage rolls can also be a great choice for a Sukkot meal. To fill it properly, make sure to boil the cabbage and wait for the leaves to become flexible. Once this is done, prepare a filling of beef, rice, tomato paste and salt, and then carefully spoon the filling into the leaf, close to the stem. Fold the stem over the filling and roll the remainder of the leaf to create a cone, and then tuck the ends into the centre. If done well, this will not only taste delicious, but look like a professional art piece too.
Stuffed Artichoke With Goats Cheese
For goat cheese lovers, stuffed artichoke with goat cheese is a winning combination which is pretty hard to beat. Simply slice off the stems of the artichokes, transfer to boiling water and then cook for about twenty minutes. Next, combine bread, pine nuts, butter and thyme to a bowl and then cook the goat cheese and cream in a saucepan. Once this is done, scrape out the centre of the artichokes and fill them with the cheese sauce and bread mixture, cook for another fifteen minutes and then season with salt and pepper. If you want a bit of added sweetness, a spoonful of honey also goes a long way to light up this dish and get the taste buds sizzling.
Meat Stuffed Peppers
You can't go wrong with a simple meat-stuffed pepper. Like many of the dishes in this list, this recipe looks great, tastes amazing, and is simple to make. All you need are some bell peppers, kosher ground beef, onions, rice, tomatoes, parsley and garlic. Make sure to leave the peppers aside as you fry the other ingredients, then cut the tops of the peppers and spoon the ingredients inside. Once done, place the lids back on the peppers and bake them for around thirty minutes. If the oven is too hot, then make sure to cover the peppers with aluminium foil to stop them from getting too soft and brown. With a few added spices, this can be a dish which packs a punch and leaves a lasting memory for all of your Sukkot guests.