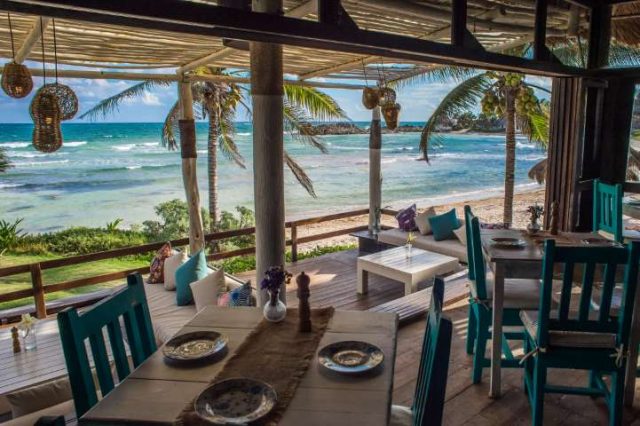 Plan a savory summer weekend of Los Angeles and Mexican tastes and styles with a seaside cocktail party, fusion dinner, and festive brunch at Colibri Hotels in Tulum. This trio of events, created by a foursome of culinary and beverage "wizards," can be booked as a whole or individually.
Starting on Friday, July 19, Mi Amor's star chef Paul Bentley invites mixologist Davie Fernie of LA's Honeycut and E Stretto to take over the bar at Mi Amor for a presentation of creative cocktails based on local Yucatán ingredients. Joining them to present a specially crafted menu of bar snacks are chefs Elia Aboumrad and Christian Page (Mr. and Mrs. Page). The following evening, Saturday July 20, the chefs and mixologist return to Mi Amor for a creative dinner and drinks event. The weekend concludes with brunch at El Pez on Sunday, July 21 with a menu of crave-worthy treats.
Chef Paul Bentley has selected the LA-based chefs based on his admiration of their culinary creativity. Tales of the Cocktail nominee David Fernie is best known in LA for creating music-influenced cocktail combinations. Chef Christian Page of LA's Short Order and Cassell's is joined by Elia Aboumrad, his wife and noted pastry chef (Cassell's, Hotel Normandie). Additionally, Top Chef finalist Aboumrad shows off her Mexican heritage (she is from Mexico City) with a menu that mixes traditions and techniques from her home country as well as from her culinary training at L'Ecole and under Joel Robuchon in Paris.
The cocktail menu will feature a fun menu of sweet, tart and savory drinks using local ingredients as a foundation, accompanied by small bites such as surf clam aguachile on tostadas; cochinita pibil taquitos with tropical crema; and uni, avocado and ant tostadas. Dinner demonstrates the exciting fusion of LA culinary techniques mixed into Mexican-inflected presentations of wood-grilled chaya, yucca and octopus with blackened sesame chili salsa; and maize gougère with whipped lard mantequilla and Manuka honey among other inventive dishes. Brunch is a festive affair with the likes of conch cocteles; aguachile; and fried crab bacalao and sweet potato waffles topped with queso fresco and sweet crema.
Reservations are required as space is limited.  Mi Amor: +52 (1) 984-188-4273 or concierge.miamor@colibriboutiquehotels.com; El Pez: +52 (1) 984-115-472 or concierge.elpez@colibriboutiquehotels.com. 
About Mi Amor
A contemporary, award-winning designer hotel featuring 18 rooms perched on a rock cliff overlooking the famed Tulum coast, the adults-only hotel offers a mix of oceanfront and garden/pool-facing rooms, a spa, swimming pool and nearby beach. Australia's award-winning Chef Paul Bentley heads up the restaurant with his distinct style of exciting flavors and playful textures. www.tulumhotelmiamor.com/ Facebook: www.facebook.com/miamorhoteltulum Instagram: www.instagram.com/miamortulum
About El Pez
Set on picturesque Turtle Cove, a natural sanctuary in Tulum, the family-friendly, 20-room oceanfront hotel offers rooms, suites and cabanas. Two new "superior beachfront rooms with plunge pools" were opened April 2019. The property includes a swimming pool and a secluded beach. Set against the backdrop of the Caribbean Sea, the hotel's restaurant showcases a mainly seafood menu with fresh and innovative selections along with a list of handcrafted cocktails.
www.tulumhotelpez.com Facebook: www.facebook.com/elpezhoteltulum Instagram: www.instagram.com/elpeztulum