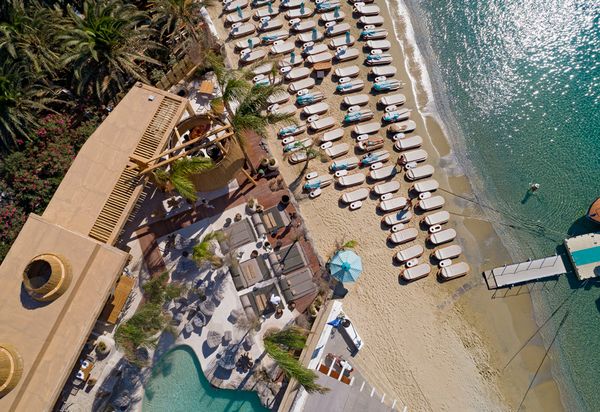 2018 has turned out to be a huge cause for celebration at Kenshō Boutique Hotel & Suites in Mykonos, Greece. From taking over the island's most exclusive beach to winning the best awards alongside heaps of celebrity endorsements, Kenshō put on a seriously dazzling show!
Kenshō Psarou blesses Mykonos's most exclusive beach
With this year's new arrival of Kenshō Psarou on Mykonos's most exclusive beach, even hard-to-please travellers fell in love with the island. The combination of 5* luxury on a prime beachfront location in a melting pot of cosmopolitan culture was simply irresistible.
The boutique hideaway welcomed guests to 30 rooms and suites, each with a private outdoor hot tub, plunge pool or jet plunge pool, alongside sparkling sea views.
Guests also indulged in the impressive menus of both restaurant and spa, satisfying their Mediterranean cuisine cravings and body pampering needs.
"And the winner is…"
Kenshō Ornos struck gold yet again, adding another accolade to their ever-growing collection. Winning Greece's Leading Boutique Hotel at the World Travel Awards has certainly made 2018 a legendary year for the hotel group!
Kenshō's most recent award came through a public vote and beat 11 nominees, just at the start of the property's second full season of operation.
The World Travel Awards are globally recognised as the hallmark of hospitality excellence.
Celebrities in paradise
Having won a number of awards, it's no wonder that the ultra-glam Kenshō has attracted celebrities and VIPs from the get-go. Within a month of opening, Kenshō Psarou was graced with Paris Hilton's first-rate review.
UK soap star Georgia May Foote was another celebrity delighted with her stay at Kenshō Ornos in May. Its ability to grant every luxury holiday seeker's wish, from incredible hospitality to lavish yet unique facilities, have made the property a sought-after VIP experience.
What to expect for 2019
Kenshō Psarou plans to wow its fans in 2019. Guests can look forward to its first fully operational season in true Kenshō style. Chilled summer beach parties with Greece's hottest DJs are just the start – why not host your own special events at Kenshō Psarou, be it birthdays, weddings or anything in between!
For more information visit kenshomykonos.com.