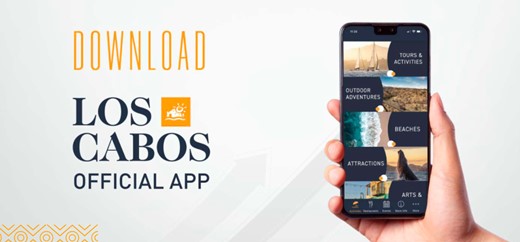 The best beaches, restaurants, and adventures in lovely Los Cabos are now at your fingertips with the all-new Los Cabos app. Designed from the ground up by the Los Cabos Tourism Board, the App delivers convenience and functionality to serve the modern, digitally-savvy traveller. Available on both iPhone and Android, the App brings the beauty of the Baja Peninsula to your smartphone screen, providing an invaluable resource for planning your next trip.
Once the App is downloaded and launched, users have the option to select either Spanish or English as their language of preference. Inside, travellers will find the 'Activities, Restaurant and Events' tabs loaded with what's current and buzzing in the dreamy destination of Los Cabos. Whilst you wait for your beach selfies and scenic sunsets to upload on social media, you can scroll through the Los Cabos app for a curated offering of the best dining experiences, local cultural events and wild water or inland adventures.
Known as one of the most luxurious destinations in the world, its food experiences and captivating culture, Los Cabos is your one and only vacation destination. Go ahead, download the App and start planning your next getaway! Located at a meeting point between where the sea of Cortez meets the Pacific Ocean, in Los Cabos, there is something suited for everyone from: fishing, golf, scuba diving, snorkeling, and kayaking, horseback riding, relaxing in luxury spas and resorts and dancing 'til dawn, you'll be sure to find the perfect activity to enjoy on your vacation.
You will also find helpful information on travel and health requirements, including arrivals and departures protocols to make your vacation planning to Los Cabos a breeze. To download the App click on this link Los Cabos App (visitloscabos.travel) or visit your Apple App or Google Play store and search 'Los Cabos'.