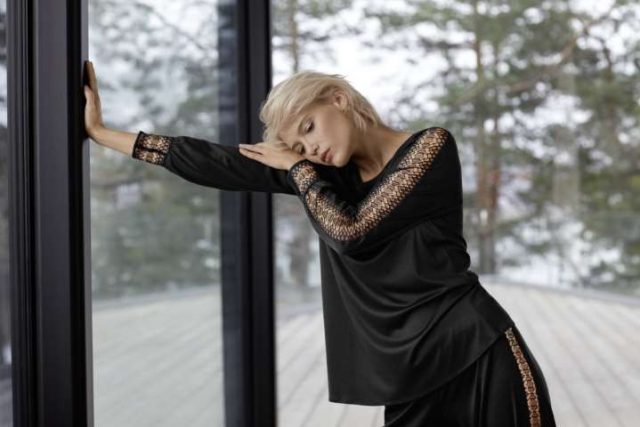 HANRO stands for subtle luxury, timeless elegance, and exquisite fabrics. With HANRO's love of detail and outstanding comfort, there is no better brand for luxury gifting – from stunning lingerie to luxurious nightwear and sophisticated loungewear.
The elegant best seller "Grand Central" is a modern and timeless style. This Fall/Winter, we are introducing three new trend colors – bohemian pink, major blue, and off white. The key highlights of the collection are the silk details on the iconic nightdress, as well as the silk pajama pants.
"Amanda" is a seductive, elegant sleepwear made of modal-silk. It comes in several nightdresses, as well as a pajama and robe in plum or black. The luxurious lace ribbon on the sleeves makes this nightwear a special Christmas gift.
The elegant nightwear "Maxim" is not only for sleeping, but also for lounging, or can be worn as a ready-to-wear look. The pajama and the robe feature a minimalistic jacquard design and are made from mercerized cotton making them the perfect gift for him.

"Select" – THE ultimate luxurious nightwear. It's in a class of its own, made from top-quality cotton in a wonderful woven jacquard, the fine satin weave creates a silky soft texture and an elegant sheen. One of the highlights of the collection is the ornamental-inspired print from the Baroque period on the pajama and robe.