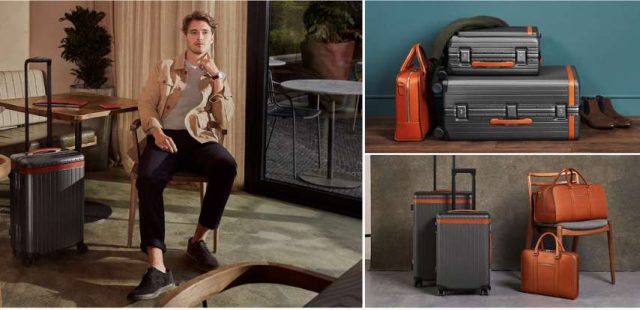 Carl Friedrik, a Scandinavian luxury leather and travel goods company known for their intelligent, sophisticated and sleek design, and long-lasting quality is expanding its reach and launches in the United States this month. Centered on modernity and minimalism, Carl Friedrik offers a wide variety of stylish, durable and timeless goods – from refined leather accessories to hardwearing, elegant luggage pieces.
Carl Friedrik combines traditional materials with a modern aesthetic to create functional, reliable accessories to empower modern professionals daily. Whether it is the daily commute, business trip or a vacation, the innovative company addresses the needs of their clients thoughtfully. At the core of Carl Friedrik's ethos is confidence. The company embraces a new era of reimagined, transparent luxury and intelligent, sustainable design. In unison with all of the company's previous work in the leather goods category, their collection is made working with the finest materials and craftsmanship. Focused on exceptional quality, the brand offers both a 100-day trial and lifetime guarantee.
Crafting high-quality stylish, sustainable products, the company delivers a cadre of premium leather and travel goods to keep modern professionals performing their best. From The Palissy briefcase bag, double and weekender to suitcases and travel accessories, including passport holders, watch straps, watch cases, laptop cases and charging trays, each product demonstrates that form and function go hand in hand. Carl Friedrik is also committed to using sustainable materials in their production process, such as vegetable-tanned leathers and recycled fabrics, as well as providing supply chain transparency. The use of fine and durable materials like Italian Vachetta leather, symmetrical metal zippers and heavy canvas fabrics underlines Carl Friedrik as an exciting, new industry player. 
Founded by two Swedish brothers, Niklas and Mattis Oppermann, Carl Friedrik was named after their late grandfather, who was always an inspiration to both. When starting the company, the Oppermanns were aiming to close an industry-wide gap. They noticed there was a scarcity of minimalist, well-designed, high-quality leather goods that are affordable. Carl Friedrik was born with the ambition to fill that gap and focused on becoming a brand that holds real value in the lives of people all over the world.
"By prioritizing functionality with timeless designs we empower our customers to allow them to engage with the world smarter, focusing on the things that matter the most. Our definition of quality is based on durable products, fine materials and exceptional craftsmanship. The ideal result? A lifetime of use. We want to provide a seamless, sophisticated experience where people can engage with our products; across all categories," said Niklas, co-founder of the company. "Our company is inspired by Scandinavian minimalism. At Carl Friedrik, we are committed to only producing long lasting products that are thoughtful and intentional. Every detail has a meaning from easy-access pockets in wallets, to luggage holders for our bags, and integrated power banks. We've created a portfolio to allow customers to carry with confidence," said Mattis, co-founder of Carl Friedrik.
To learn more about Carl Friedrik, please visit: https://www.carlfriedrik.com