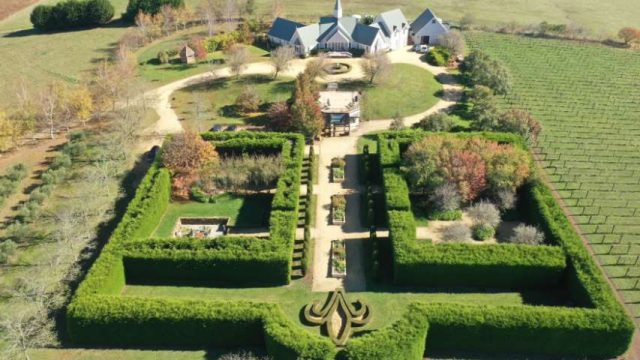 Dairy Flat Lodge, the stand-alone private villa set a short drive from the revered Lake House in Victoria's Daylesford spa country, is now formally adopted into the Lake House membership of Luxury Lodges of Australia.
Luxury Lodges of Australia Executive Chair Penny Rafferty said, "Now more than ever more, we see that the exclusivity and privacy of a villa or private residence has high appeal for couples, families, multi-generational and 'skip-gen' gatherings (grandparents and grandchildren)."
"The 'Villa within a Luxury Lodge', positioned in prime 'wow' locations, with all the experiential offerings, hospitality excellence and personalized service and amenities of a luxury lodge is super-appealing for travelers playing catchup on 'celebration escapes' and friends and family gatherings," she said.
Located a short 10-minute drive from the much-loved culinary retreat Lake House, Dairy Flat Farm and Dairy Flat Lodge are a labour of love for the Wolf-Tasker family and an extension of their deeply embedded ethos of sustainability, provenance and the art of hospitality.
Dairy Flat Farm is a 38-acre farm practising regenerative agriculture and sustainability in the provision of produce for the Lake House Restaurant tables. It includes extensive vegetable and herb plantings, a propagating glass house and three large hoop-houses, a two hundred tree olive grove, a three hundred tree orchard, productive beehives, a small vineyard and a complete working bakery producing sourdough in the traditional long, slow fermentation method. Agistment is offered to fellow regenerative farmers who are often also suppliers to Lake House. Lake House Spa treatments and products increasingly include plant derivatives grown at the farm.
Dairy Flat Lodge offers exclusive use for groups from two to 12 guests attended by the team from Lake House, with six luxury suites, kitchen, bar, reading, sitting and dining rooms situated across a completely restored Lodge. These are surrounded by extensive formal gardens that form part of the farm. Art by local artists and from the private collection of Lake House owners, the Wolf-Tasker family adds to the sense of connection to place.
"What Dairy Flat Lodge offers is the possibility of 'exclusivity', much in the manner of other existing super retreats and 'owner cottage' destinations within or adjacent to other lodges," reflects owner Alla Wolf-Tasker AM.
Four of the suites are in the main lodge building, while two suites offer views across the vineyard to the forest beyond and are set in the original high-gabled barn. The layout allows for flexibility for special occasion events and casual gatherings, the opportunity for private retreats, multi-generational get-togethers and families traveling with children.
Dairy Flat Lodge is an ideal destination for guests seeking to trade the busyness of everyday life for the more relaxed pace of the country, surrounded by good things to eat and drink and shared with a small number of friends and family as fellow guests. The promise of design-your-own, easy exploration and walks in the sweet air is enhanced by service-as-requested, bespoke luxury and hotel-style comforts at the lodge.
The latest addition to the esteemed Luxury Lodges of Australia collection is part of a new generation of ultra-luxury villas set within or adjacent to existing luxury lodges and which offer the flexibility and privacy of an exclusive use villa with the service, concierge, amenities, experiential and dining options available in a luxury lodge stay.