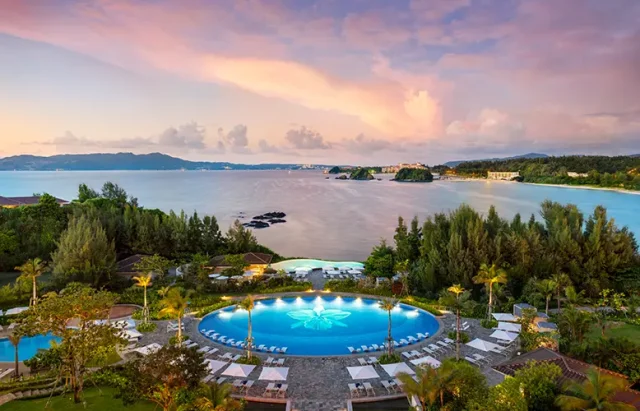 For a luxurious warm-weather getaway, skip the overcrowded tropical locales and head to Okinawa, Japan's best-kept secret and a designated Blue Zone full of lush greenery, scenic beaches and rich history.
Nestled in the island's village of Onna is the Halekulani Okinawa resort, a Five-Star oasis that fully embraces the region's culture and wisdom of longevity. See below for a few property highlights: 
Exclusive Cultural Programming for Guests
Discover the Island's Umui (Spirit) is a spiritual guided tour through the historic Nanjo region of the island designed to help guests cultivate a mindful connection with the island through their three stages of life: past, present, and future. Along the journey, travelers will stop to taste some of the finest delicacies that blend elements of tradition with cultural infusion.
Discovering the Island's Mabui (Soul) honors Okinawa's origins as the birthplace of karate with a course that teaches pattern-based movements and specialized breathing techniques of the sacred art.
VIP Helicopter Transport from the Airport
For VIPs looking to arrive to Halekulani Okinawa in style, the property will happily arrange private helicopter transfers from the airport. This is the most convenient and luxurious option, and the heliport is a mere several minutes from the property.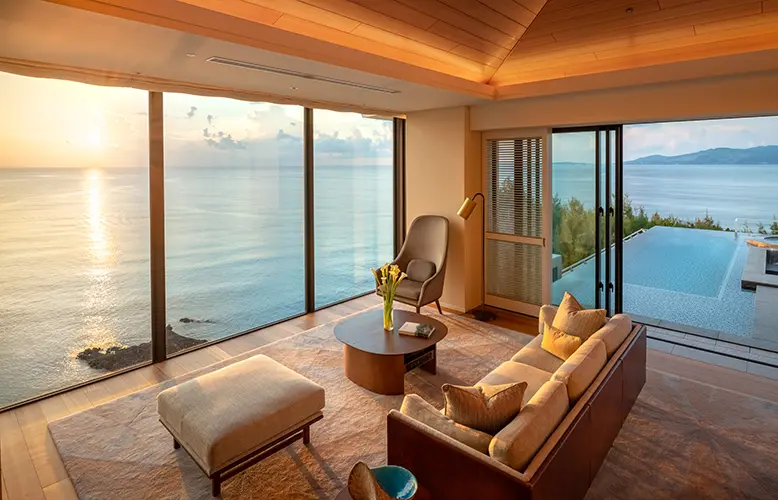 Private Villas with Jaw-Dropping Views
Halekulani Okinawa offers five villas, each designed as a sanctuary to provide guests with the ultimate relaxation and privacy. Villas feature private heated pools and natural hot spring baths, dotted along the clifftop close to the stunning blue ocean. Here, guests will enjoy the tranquility of their new 'second home.' There are two types of villas:
Cliff Villa (One bedroom): These exquisite villas offer a truly unique experience. Built with traditional Okinawan aka-gawara red tiles, the Cliff Villas feature Japanese design elements with the intention of seamlessly blending into the local landscape. Featuring their own private heated swimming pool and natural hot spring (onsen), these villas create a complete sense of privacy and seclusion and highlight the property's incredible position amongst the island's natural beauty.
Halekulani Cliff Villa (two bedroom): Perched on the hilltop of the property, the Halekulani Cliff Villa offers a lush environment surrounded by the local flora of the island. The sumptuous villa is home to the resort's most panoramic views of the East China Sea. It is thoughtfully designed with spacious, well-appointed interiors, and expansive outdoor spaces including a private heated swimming pool and bath fed by a natural hot spring. A perfect sanctuary for couples and families looking for a tranquil hideaway.
Innovative Cuisine from a Renowned Chef
Visitors will delight in a memorable, locally-sourced menu at signature Shiroux, one of the property's four restaurants, which was recently honored with Wine Spectator's Best of Award Of Excellence 2023 and is helmed by two Michelin star chef Hiroyasu Kawate. The fine dining venue offers a menu as innovative and distinct as its surroundings, featuring sophisticated French-based cuisine.