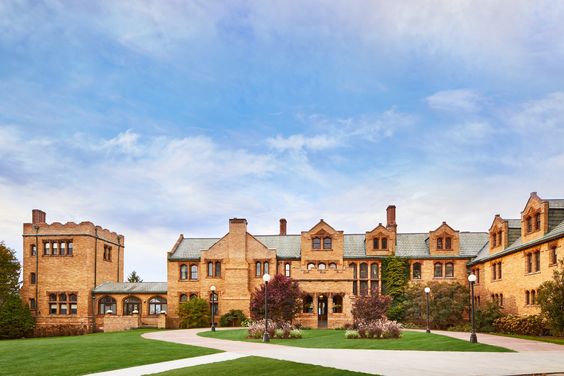 Miraval Resorts & Spas announced today (February 7, 2022) the planned addition of Wyndhurst Manor's Wyndhurst Mansion, three charming carriage houses, and a historic fine-dining restaurant to Miraval Berkshires Resort & Spa on April 1, 2022. Currently part of the Destination by Hyatt brand, Wyndhurst Manor will add the Wyndhurst Mansion's 10 newly renovated guestrooms and suites, all named after writers, artists, and creatives of a bygone era, to the Miraval Berkshires experience. Three carriage houses with 10 additional guest accommodations and an upscale dining establishment, 1894 Fireside Bistro & Bar, named after the year the mansion was completed, will also become part of Miraval Berkshires.
Miraval Berkshires offers a premier wellness destination for travelers 18 years or older to explore and immerse in nature, wellness, and spa experiences in the heart of the Berkshires.
"We're thrilled to expand the Miraval Berkshires experience to include the iconic Wyndhurst Mansion and carriage houses, which will elevate the full breadth of amenities and wellness experiences available at Miraval Berkshires while providing unique and historic accommodations and increased suite availability," said Vic Cappadona, General Manager, Miraval Berkshires Resort & Spa. "This brand transition will help Miraval Berkshires meet the increased popularity for our resort's signature wellness offerings, spaces, and spa services."
As the centerpiece of Miraval Berkshires' 380-acre property, Wyndhurst Mansion features a stately brick exterior and opulent interiors and embodies the history of the Berkshires. Along with the mansion's 10 elegant guestrooms inspired by the Berkshires' Gilded Age, the mansion offers direct access to the historic golf course where golf enthusiasts can experience the mindful side of the sport. Three adjacent carriage houses feature an additional 10 rooms and suites each and serve as ideal accommodations for multi-generational family reunions with guests who are 18 years or older, getaways with friends, or team retreats.
The mansion is also home to a glass-walled sunroom, private boardroom, a grand ballroom, and sprawling Great Lawn, ideal for weddings, enabling Miraval Berkshires to be the first property in the Miraval Resorts & Spas portfolio to offer these types of large events year-round. The mansion is available for full buyouts for wedding parties, and the Miraval Life in Balance Spa allows brides, grooms, and wedding parties to relax and get pampered ahead of their big day.
Wyndhurst Mansion's 1894 Fireside Bistro & Bar will offer a unique culinary programming experience and a secondary dining experience for Miraval Berkshires' guests, featuring a formal dining room and bar with views of the rolling Berkshire Hills, complementing the resort's existing dining outlets at Harvest Moon Restaurant and The Roost.
Wyndhurst Club, a golf & fitness club and membership, will not experience any changes to its branding, operations, or membership with Wyndhurst Manor's brand transition. The venue features multiple offerings for the local community and homeowners to enjoy club membership amenities, including golf, tennis, fitness center, the Wyndhurst indoor and outdoor pool, Sloane's Tavern, and access to Miraval Berkshires Resort & Spa via day and evening packages. Sloane's Tavern will continue its legacy of servicing the community, with plans to be open year-round.
For further information on the new Wyndhurst Mansion experience at Miraval Berkshires, please visit miravalberkshires.com/accommodations/wyndhurstmansion.