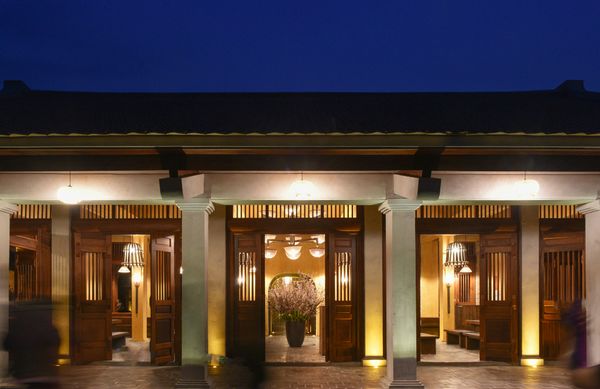 MGallery announces the opening of Legacy Yen Tu, a wellness sanctuary located on the sacred Yen Tu mountain, approximately 1,068 metres above sea level for travellers seeking an annual retreat for a spiritual hideaway. Situated near the UNESCO World Heritage site of Ha Long Bay, at Yen Tu Mountain, King Tran Nhan Tong established Truc Lam Zen Buddhism. The destination is part of Vietnam's historical golden era and has a rich history dating back some 760 years.
"The opening of Legacy Yen Tu, MGallery combines the quintessence of wellness tourism and luxury travel to provide a getaway for travellers in search for a complete rejuvenation of their body, mind and spirit," said Mr. Patrick Basset, Chief Operating Officer for AccorHotels Upper Southeast & Northeast Asia and the Maldives.
Designed by Bill Bensley, renowned designer of luxury resorts, each of the 133 rooms at Legacy Yen Tu MGallery is a reflection of heritage and spirituality. Built using ancient methodologies to emulate the peaceful way of life, the rooms feature the signature wooden-inked slab traditionally used for calligraphy and an outdoor patio living area.
"Inspired by the ancient architectural design, Legacy Yen Tu, MGallery is a testament to Vietnam's rich history. The property features handcrafted interior décor items with hand-made traditional materials to blend with its surrounding ambience," said Mr Markus Hesse, the resort's General Manager.
Legacy Yen Tu, MGallery awakens guest to a new world of self-discovery and spiritual transformation while exploring the destination. Legend has it that a hermit monk An Ky Sinh travelled to Yen Tu mountain in search of medicinal herbs during the pre-Buddhism times some two thousand years ago. Since then, the mountain has been regarded as a divine and sacred place.
Guests can savour authentic Vietnamese cuisine at the hotel's Tho Quang restaurant or an evening wine-down at Thien Tra Lobby Bar which overlooks the picturesque mountain views. For events, weddings and meetings, the hotel's ballroom can cater up to 800 guests.
The hotel is also home to a range of leisure facilities, including Tue Tinh Am Wellness that offers an open space for meditation, yoga and Truc Lam Zen practices.
Currently, MGallery has four hotels in Vietnam which include MGallery Hotel de l'Opera Hanoi, MGallery Hotel Des Arts Saigon, MGallery Hotel Royal Hoi An and MGallery La Veranda Resort Phu Quoc. With more than 90 storied boutique hotels around the world, MGallery will expand its collection with captivating new hotels including Inle Lake Myat Min Resort – MGallery (Myanmar) or MGallery Callao (Argentina).