Mövenpick Hotels & Resorts brings the romantic charms of a Tuscan country estate to the biodiverse ecological wonderland of Khao Yai with Mövenpick Resort Khao Yai.
Located less than a three hour drive from Bangkok on the fringes of the Khao Yai National Park, the 112-room resort is the ideal getaway for families, friends and couples looking to indulge in a castle-style experience surrounded by a mountainous landscape.
"The opening of Mövenpick Resort Khao Yai represents our 10th Mövenpick address in Thailand. Home to a rich National Park, Khao Yai has long been a favoured getaway for Bangkok residents and domestic travelers seeking an escape into nature. With the opening of our first hotel here, we are looking forward to showcasing the 70-year culinary legacy of the Mövenpick brand, and delivering a guest experience that is authentic and memorable, through a sustainable and responsible approach," said Patrick Basset, Chief Operating Officer of Accor, Upper Southeast & Northeast Asia and the Maldives.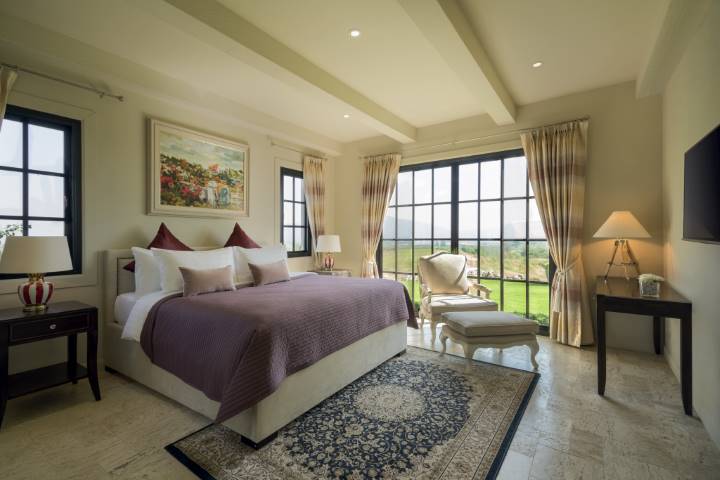 The stunning landscape is complemented by the hotel's unique Tuscan architecture and spacious rooms are decorated in the Renaissance and Modern Baroque styles. The resort features 62 guestrooms, ranging from a 45 square metre Deluxe Room to the grand three-bedroom Penthouse as well as 50 villas, many with garden and pool views reminiscent of Italy, perfect for friends and families traveling together. Ideal for intimate events and large groups, the palatial five-bedroom pool villa offers a luxurious sanctuary immersed in nature. All guest rooms overlook the sweeping fairways of the golf course and a serene European garden.
The hotel offers an all-day dining experience at Flavours of Khao Yai with a choice of indoor and al fresco seating where diners can enjoy an unobstructed mountain view alongside a range of delectable local and international cuisine. For a relaxing dining experience drawing on the bucolic charms of the natural surroundings, Castleton Café is styled as a green café and embodies the tranquil atmosphere of the resort. Guests can enjoy afternoon tea in the mountains and a variety of refreshments including a farm-to-table organic salad with fresh produce from the onsite organic vegetable farm.
Providing optimal wellness with health-recovery programmes, Panacee Wellness Khao Yai offers guests the opportunity to optimize their strength, energy, and holistic wellness with a range of spa treatments to relieve stress inside-out, delivered by the spa's wellness experts. Guest can choose from a selection of holistic health check-ups, vitality (anti-aging) therapies, hair and facial detox treatments.
Leisure facilities include a swimming pool and an 18-hole golf course with preferential rates for in-house guests. Children are kept entertained at the My Ozone Animal Club, where they have the opportunity to get up close and personal with a variety of farm animals including ponies, horses, chickens, rabbits, sheep and goats.
The stunning European-like ambience lends itself to spectacular events, including wedding parties and pre-wedding photo shoots. Located on the ground floor near the lobby area and restaurant, Ozone Hall can accommodate 120 guests in theatre style, or 200 guests for cocktail parties.
Khao Yai has long been known as a countryside getaway just a short drive from Bangkok. In addition to the lush Khao Yai National Park – the country's oldest, and part of the UNESCO World Heritage-protected forest complex – the area is home to many points of interest, including Chokchai Farm, Jim Thompson Farm, GranMonte Vineyard and Winery, PB Valley Khao Yai Winery, and Heaw Narok Waterfall. 
"With the opening of Mövenpick Resort Khao Yai, we are delighted to showcase a range of service offerings for travellers to the resort. Khao Yai is the one of the region's most picturesque destination packed with fun attractions and scenic mountain views perfect for the family," said Benoit Metanomski, General Manager of Mövenpick Resort Khao Yai.
For more information, visit movenpick.com.