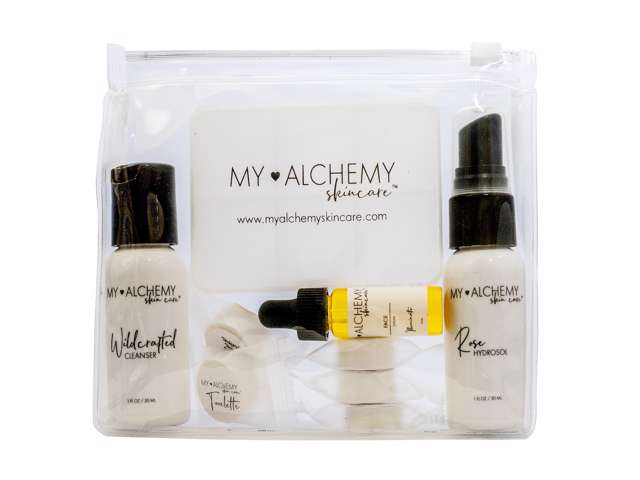 Travel Essentials Include:
Wildcrafted Cleanser to remove grit and grime, a great protector from environmental impurities.
Rose Hydrosol – hydration-on-the-go to refresh and revive skin in any climate, altitude or season. As a bonus, it's a great make-up setting spray.
Illuminate, our golden multi-tasking Vit. C rich serum, to moisturize and nourish skin with a miracle boost of vitamins and antioxidants to keep your face naturally glowing.
Compacted Travel Towelettes to remove make-up, wash face/hands – 100% cotton, biodegradable, reusable and very handy for unexpected emergencies.
Vitamini Box for pills and supplements. We believe in nourishing both inside and out. BPA free, 100% food grade and FDA certified.
Packed together in a small, sturdy, lightweight zipper pouch.
Package with the traveler in mind
designed an organized TSA-friendly space saver to keep skin care accessible, quick, easy and convenient.
created a quick and simple skin care routine for traveling and on-the-go lifestyles. For a naturally gorgeous glow, this is all you need to pack.
formulated for all ages, skin types, genders.
created skin products with wild & organic botanicals, always cruelty-free and safe.
Buy it: https://myalchemyskincare.com/products/lift-off-and-glow-travel-set