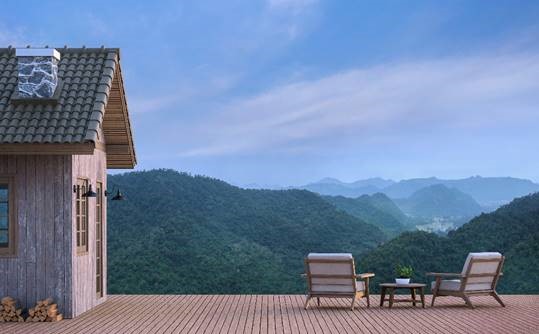 If you've been scrolling through Pinterest or Instagram for décor ideas, it turns out, you've been looking in all the wrong places.
According to new research commissioned by Booking.com, the global leader in connecting travellers with the widest choice of incredible places to stay, over half (51%) of Canadian travellers said the interior design of their holiday accommodation motivated them to redecorate their own home. They also found inspiration from local designs (43%), being immersed in new cultures (35%), as well as visiting museums and galleries (15%).
So why is it that a vacation can prompt a home redecoration? Well, for over a third (38%) of Canadian travellers, a holiday stimulates their creativity when it comes to their home interiors. One in three (31%) claim they like the interior design that reminds them of happy days on holiday, while for one in six (16%) it's a way to recreate their holiday experiences once they return.
Fresh Ideas come from different settings
Interior design is a lead factor in the decision-making process before booking somewhere to stay, with one in three Canadians (31%) claiming it's the most important. For a large majority (80%) of Canadian travellers, a key consideration for booking an accommodation is that it has a different design (look and feel) than their own home. Over half (56%) enjoyed being in a completely different setting, as it helps them get the most from their holiday. In fact, one in five (23%) say they have spent more time in their accommodation than originally planned, because they loved the interior design so much.
Leading the way are rental homes (e.g. cottages, villas, gites) in sparking creative ideas, with over a third (31%) of Canadians saying they select these unique types of stays for their inspirational décor, compared to just 17% who select hotels on this same basis. Over four in ten (43%) support this thinking as they say they would choose to stay in a holiday home over a hotel if they wanted to experience unique or unusual interior design.
Pepijn Rijvers, Chief Marketing Officer at Booking.com comments: "The experiences we have while on holiday can last for a lifetime; whether that's the memories we create, the purchases we make or the inspiration we come home with. Passion for interior design is one that spans all continents, and what better way to get new ideas and fresh inspiration than looking to the accommodation we stay in while on holiday.
"At Booking.com we offer 30 different types of accommodation – from home and apartment rentals and B&Bs, to tree houses and igloos, all of which are designed to give travellers the ultimate holiday experience, and may even inspire them to make home décor changes in the process."