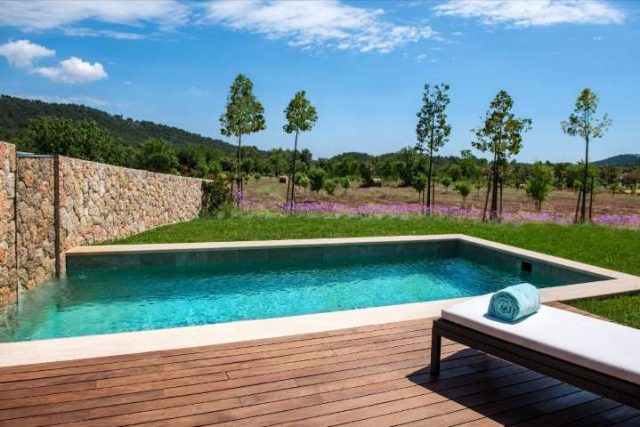 Castell Son Claret, a nineteenth century castle, hotel and estate located 30-minutes from Palma in Mallorca's UNESCO World Heritage listed countryside, has revealed three new pool suites just in time for Summer 2019. For those guests who can't take their eyes off the view, the hotel has also introduced a menu of in-suite activities that can be enjoyed poolside, including lunching like a local with their own paella party.
Surrounded by extensive gardens where the air is heavy with the scent of bergamot, grapefruit, orange, rose and jasmine, these spectacular new suites are cocooned in nature. Each suite has a fresh design and modern interior, while outside is a 10m2 pool, surrounded by a sundeck fringed by a private garden, guaranteeing absolute tranquillity. The layout of each suite has been orientated to ensure that far-reaching views of the countryside and Tramuntana mountain range just beyond can be glimpsed from every angle.
"Here at Castell Son Claret we like to take the time to listen to our guests and evolve the hotel sensitively according to their desires. What they were telling us was that they wanted more privacy, more tranquillity and the opportunity to live immersed in our beautiful gardens. The idea of having the services of a five-star hotel while feeling that you have the freedom and flexibility of your own private country villa was one that came across very strongly," commented Björn Spade, Managing Director of Castell Son Claret. "The development of these new suites is part of a schedule of improvements to the estate implemented as part of our fifth anniversary celebrations and will bring the total number of suites and rooms at Castell Son Claret to 41 within the 123-hectare estate."
New for Summer 2019, Castell Son Claret has also introduced a menu of activities that guests can experience without having to leave their own suite. One such experience is lunching like a local with a paella party poolside. The Castell gastronomic team will deliver to each suite freshly made paella for two in thetraditional circular pan, along with a bottle of chilled wine and dessert so that guests don't have to move a muscle and can enjoy a leisurely lunch that stretches out into the entire afternoon. A paella party is priced from Euro 96 for two people.
For a private and intimate social gathering, the Castell team can also organise an informal feuerring or barbecue party for guests and their family and friends in a selected spot of the garden or estate. The feuerring is the modern equivalent of a fire pit over which fresh meat and vegetables can be grilled. A dedicated team from Castell will look after the group all evening, keeping the embers of the fire alight and festooning surrounding trees with lights. Background music and some good Spanish wines ensure life is celebrated through this sociable get-together.
More energetic guests who want to work up an appetite can now explore the Mallorca's peaceful bays, scenic mountains and local tapas bars on one of Castell Son Claret's new electric bikes, available to borrow from reception.