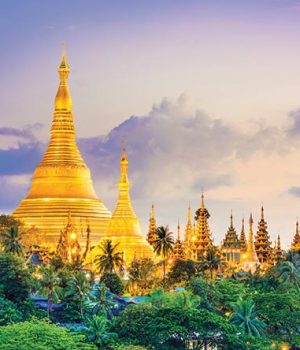 MIAMI, FL, February 27, 2017 – World travelers wanting to experience more travel milestones during a single journey than many do in an entire lifetime can achieve their dreams with Oceania Cruises' announcement of another awe-inspiring 180-day world cruise for 2019. With the unveiling of this global odyssey, the line is offering guests the flexibility of embarking the full world cruise in New York, Miami or Los Angeles.
"Our exciting 2019 Around the World journey offers guests an expertly crafted route spanning the four corners of the globe, touching on nearly 100 captivating destinations and dozens of UNESCO World Heritage sites. It's truly the journey of a lifetime," said Bob Binder, President & CEO of Oceania Cruises. "The added convenience of three departures, new for 2019, brings guests greater flexibility and can help simplify their travel plans."
Aboard the elegant and intimate 684-guest Insignia, the Around the World voyage brings travelers the journey of a lifetime, sailing more than 45,000 nautical miles across two oceans and 16 seas while visiting 90 fascinating destinations in 36 countries. Departing New York on January 11, 2019; Miami on January 14, 2019; or Los Angeles on January 30, 2019, this epic five-continent expedition invites seasoned travelers to explore the far corners of the world in luxury and style.
The Ultimate Route
The line's new 180-day epic route for 2019 follows the sun west to the beautiful islands of Hawaii and the deep blue South Pacific before heading Down Under for adventures across New Zealand and Australia. Insignia then explores the vast marvels of Asia, the Holy Land and classics throughout the Mediterranean before crossing the high seas to New England, Canada and Bermuda.
To further enhance this incredible travel experience aboard Insignia, the itinerary features a total of 14 overnight stays including:
Bali (Benoa), Indonesia – In this veritable paradise, guests can experience soaring volcanoes and ancient Hindu temples during adventures into the lush countryside, along with traditional Balinese dance.
Hong Kong, China – A unique juxtaposition of the ancient and modern, this buzzing mecca reveals its personality in its lively markets, soaring skyscrapers, a floating village and renowned monasteries.
Yangon, Myanmar – A faraway city of golden temples, Yangon teems with shrines, colonial-era buildings and open-air markets; the pinnacle is the enormous gilded 2,500-year-old Shwedagon Pagoda.
Luxor (Safaga), Egypt – Often referred to as the world's greatest open-air museum, Luxor brings guests to the foot of ancient monuments such as the majestic Karnak and Luxor temples, the famed Valley of the Kings with the tomb of Tutankhamun, the Colossi of Memnon and more.
The Around the World journey also includes a host of free exclusive shoreside events for guests booked on one of the full world cruises. Highlights include:
Tokyo, Japan – Guests will step back in time during an authentic tea ceremony and stunning Kabuki and ninja performances at the historic Meguro Gajoen hotel, which is filled with verdant gardens, art-adorned halls and stunning woodwork.
Jerusalem, Israel – Recent excavations of the UNESCO World Heritage site of Old Acre revealed a mysterious complex of halls built by the Templars, where guests will be welcomed with a memorable cocktail hour before enjoying an exquisite dinner and entertainment in the central court.
Bordeaux, France – Epicureans will delight in this experience at an 18th-century family-owned wine estate, offering the chance to sample distinctive vintages and a delicious three-course dinner of farm-to-table Bordelais delicacies.
Shipboard Highlights
Aboard the acclaimed Insignia, there are only 684 privileged guests who are catered to by 400 professionally trained staff. Travelers will indulge in The Finest Cuisine at Sea in four open seating gourmet restaurants where they will dine on continental specialties prepared à la minute by the line's innovative chefs. Enhancing the enriching nature of the journey, authoritative and engaging experts will deliver compelling lectures on history, art, and music. Throughout the journey, Insignia will be a sanctuary of modernity and old-world comfort. Her 342 staterooms and suites are elegantly appointed and 70% of them have their own private teak veranda, the perfect perch from which to take in the ever-changing panoramas.
Valuable Amenities
No matter which of the three cities guests choose to sail from, Oceania Cruises' world journey includes an array of valuable amenities including free first class roundtrip airfare, along with the Exclusive Prestige Package, featuring generous perks such as free pre-paid gratuities, free onboard medical care, and free laundry service. The voyage also includes the line's popular OLife Choice package, which offers guests their selection of one of the following amenities: 72 shore excursions, a beverage package or a $7,200 shipboard credit (selected amenity is per stateroom).
Oceania Cruises' Around the World 2019 journey opens for reservations on March 1, 2017. For more information about Oceania Cruises, call 855-OCEANIA (855-623-2642) or contact a professional travel agent.
About Oceania Cruises
Featuring a fleet of intimately luxurious ships, Oceania Cruises offers an unrivaled vacation experience renowned for the finest cuisine at sea and destination-rich itineraries spanning the globe. Seasoned world travelers are drawn to Oceania Cruises' expertly crafted voyages, which call on more than 370 ports across Europe, Asia, Africa, Australia, New Zealand, the South Pacific and the Americas. Spacious and elegant accommodations aboard the 684-guest Regatta, Insignia, Nautica, and Sirena and the 1,250-guest Marina and Riviera invite guests to explore the world in unparalleled comfort and style.