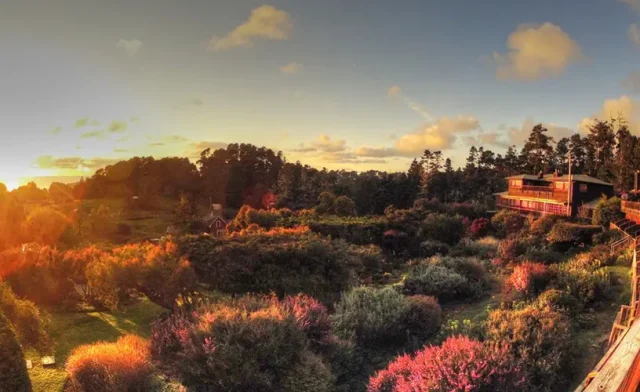 Perched on a scenic coastal hillside, the Stanford Inn & Resort offers panoramic views of Mendocino Bay and its own historic farmland. This sanctuary provides a unique blend of opportunities for guests to rejuvenate, tap into their creativity, and bond with nature and loved ones.
The inviting and expansive lobby sets the tone for your stay. Each guest room and suite at this Mendocino boutique hotel is adorned with pine and redwood paneling, reflecting the natural surroundings. Attention to detail is paramount, from ready-to-light wood-burning fireplaces to the luxurious organic plant-based breakfasts crafted by expert chefs and included in your stay.
Ravens Restaurant, the resort's in-house dining experience, has garnered national acclaim and features in publications like Oprah Magazine. With its menu inspired by the on-site certified organic gardens, it sets the standard for gourmet vegan cuisine on the Mendocino Coast. The resort's commitment to sustainability extends beyond the kitchen, encompassing a comprehensive composting and recycling program, eco-friendly cleaning supplies, and bio-diesel powered trucks. This makes the Stanford Inn & Resort the only fully sustainable destination in North America.
Specializing in romantic escapes, the resort is also welcoming to families and pets. It's a coveted venue for weddings and elopements along the Northern California Coast. With its "Massage in the Forest" offerings and a wellness center that hosts an array of life-enriching activities, the resort is a holistic haven. Unique to the resort is the 'pedaling and paddling' experience, where guests can enjoy serene canoeing trips up Big River on a specially designed redwood outrigger canoe.
Dining at Ravens Restaurant is an experience of conscious culinary artistry. Breakfast offerings include a wide array of delectable plant-based options, designed to satisfy all palates, whether you typically follow a plant-based diet or not. Dinner time is no less spectacular, featuring inventive vegan alternatives to classics like Kalua pork, crafted using onions and mushrooms to replicate the dish's traditional flavors. The menu also highlights unique dishes such as Ravens' signature Sea Palm Strudel, which incorporates locally harvested sea palm and root vegetables, accompanied by wasabi and umi plum raspberry sauces. The restaurant boasts an exceptional wine list, featuring selections from local vineyards, and a full-service bar.