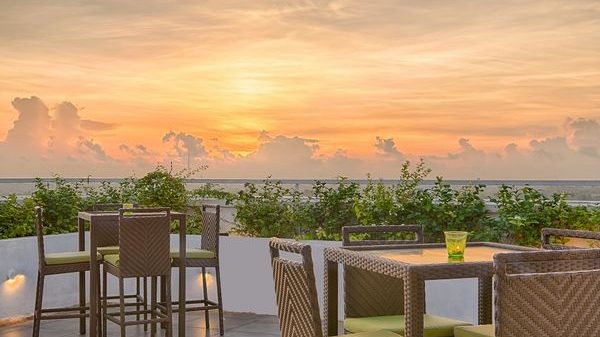 Tired of venturing to the same spot over the long-weekends? Bored of the standard cookie-cutter holiday? Keen to experience a new part of the country? Then Jaffna is just the destination for you. It's not your typical over-commercialized or over-publicized vacation spot, however that's part of Jaffna's unique allure- it remains an area of un-spoilt beauty, that's fairly new to the travel and tourism circuit and buzzing with authenticity. You can take one of several trains to Jaffna, the fastest of which will get you all the way up there in just 6.5 hours. It's a one-stop ride that covers 398 km and you can even travel first class for a very reasonably priced ticket.
Once you do get to Jaffna, there's a never-ending list of potential sites and spots to explore, so do plan your trip out and allocate a few days for your northern adventure. Remember that it can get extremely hot during the days, so keep ample time throughout your trip to catch up on some RnR, sip a cocktail and lounge by your hotel swimming pool. Recovering from three decades of war, Jaffna is steadily transforming into a magnet for tourists, serving up infusions of different cultures in everything from architecture, to food to places of reverence. Here's a list of 10 cool activities that you can slot into a holiday in Jaffna, there's literally something for everyone.
10. Beach Please! The Casuarina beach has the appearance of a still and calm pool and is a perfect resting point during an afternoon tour of Jaffna town. It will take you less than an hour to get there on the Karainagar bus, and a quick dip is the ultimate mid-day cool off. The beach gets its name from its signature shrubbery of Casuarina trees and its untouched shoreline is the perfect backdrop for some striking snaps.
9. Chundikulam – Jaffna's best kept birding secret: Whether you're a birding enthusiast, all-round nature lover, or photography pro, Chundikulam is one of the few places where you can see many of Sri Lanka's endemic bird species in a completely carefree and undisturbed state. An arid, wild strip of land filled with marshes, dunes and mangroves, that sits between the ocean and lagoon, Chundikulam is a haven for birds that is still relatively unknown but has been a sanctuary since 1938. What makes it so special? Well it harbours so many different habitats that hundreds of different birds flock to the area, which is so untainted that you can witness and observe countless unique interactions and snap worthy moments. No birding or photography checklist would be complete without a visit to this park, which still remains off the radar of mainstream travellers.
8. Market marvels – get tasting: Jaffna market, a building with a distinct yellow hue is known for offering a delicious mix of fresh fruits, veggies, spices and sweet delicacies all under one roof. When exploring the nooks and crannies of stalls and pop-up shops, do pack some wet wipes in your bag so you can dig into all the fresh goodness of local treats without worrying about making a mess- when in season Jaffna's juicy mangoes for instance are a not-to-be-missed item on any foodies' list.
7. An ancient feat of architecture: One of the last remnants of ancient Buddhism in the north, the Kadurugoda Temple and Ruins are a protected archaeological site that are under the purview of the Sri Lankan Army. Eerily saddening is the fact that in 1917, the Jaffna Magistrate at the time, Paul E. Peiris, documented a total of approximately 60 gray and coral-stone stupas in the vicinity, however in the shade of palmyrah trees, only a handful of 20 stupas stand today. These stupas are a fascinating window into Sri Lanka's past, having survived nearly three decades of civil war, they remain shrouded in mystery. They have a very definitive design and vary in size from six feet to twenty-three feet, legend has it that they were built to enshrine the remains of 60 arhats who passed away from a famine that swept the land. The site is located just half an hour away from the Railway station and can easily be accessed by tuk tuk or bus.
6. Tuck into a crab feast at North Gate by Jetwing or enjoy Cocktails at Jetwing Jaffna's rooftop bar: A trip to Jaffna would not be complete without tucking into a delicious crab curry – fiery flavours and all. The restaurant at North Gate by Jetwing draws on the heritage and influences of the north to create authentic Jaffna specialties, of which crab curry and a scrumptious seafood broth known as odival kool are hot favourites. North Gate is conveniently located right beside the Jaffna Railway Station and is the ideal base from which you can explore the city and enjoy a host of tailormade excursions, tours and activities.
For a panoramic view of the vast Jaffna Peninsula, there's no better vantage point than the Jetwing Jaffna rooftop bar. Sip delectable cocktails from sunset to starlight, as you gaze across the sights and sounds of the peninsula – the lagoons and silhouettes of palmyrah trees. It's a great destination to savour fusion cocktails made with local ingredients topped off with the warm signature brand of Jetwing hospitality.
5. Visit the home of 100,000 books: The Jaffna library was established in 1933 and was once one of the largest libraries in all of Asia. After surviving a devastating burning in 1981, it still remains an iconic landmark that instills great pride in the community. A beacon of classical architecture and home to 100,000 books, many of which include ancient literary documents from famous scholars, the Jaffna Library is a treasure trove of knowledge and history. Not all of the wings in the library are open to walk-in visitors and it closes by 18.00, so do drop in before then. It's situated just five minutes away from the station, making it extremely accessible.
4. 25 days of timeless Hindu traditions: The Nallur Kandaswamy Kovil is a breath-taking site to visit at any time of the year, but during the Nallur Festival – a colourful 25 day procession that starts in July, it offers an entirely different almost other-worldly experience. Gigantic murals, bright paintings and a holy pool all form part of this impressive structure which is one of the most important Hindu complexes and places of worship on the island. Do keep in mind that when visiting, all visitors must remove their shoes and men are required to remove their shirts as well. Remember to carry a backpack or bag with you, so you don't have to toss your shirt and belongings aside and can keep them with you.
3. Take a walk on the wild side: The island of Delft is home to nearly 2000 wild horses that roam its coastlines. Descendants of the horses that were bred by the Dutch in Sri Lanka during colonial times and thereafter abandoned, these horses have grown in their numbers and roam freely across the island. This population of horses is however under threat as many of them die due to shortages of food and water. To protect them in the years to come, Delft is on the verge of being declared a sanctuary for horses. You have to take a boat ride to reach the island and once there, walking through Delft is like taking a step back in time. Do pack a snack and water bottle with you, so you can spend as much time as possible exploring this captivating location.
2. Visit the ultimate archaeological monument in Jaffna: Constructed during the 17th century, the Jaffna Fort was originally built by the Portuguese and later captured by the Dutch and British respectively. Though many of its archaeological monuments got destructed from the civil war in Sri Lanka, the hangman's tower, the Queen's monument, and the old prison remain to be in sufficient condition. One significant feature of the fort, is the construction of the inner and outer defence walls which is built in a Vauban star design – a geometrically perfect set of pentagons within each other. Rumour says that these walls are constructed from coral, stone, brick and mortar which are still hidden beneath overgrown slopes. With many of these ramparts restored, guests standing by the fort, will be able to notice the aquamarine moats, an occupied cricket field, a mosque and the Jaffna city itself. You can enjoy all this whilst absorbing the cool ocean breeze and taking in the mesmerizing views of the northern skyline at sunset. Leave at-least half a day to explore the fort, there's so much to see, so it's best not to rush this tour.
1. Take a boat ride to Nainativu – Nagadeepa: Tucked away in the secluded island of Nainativu, are the famous historical sites, 'Nagapooshani Amman Kovil' and 'Nagadeepa Purana Viharaya' which hold paramount importance to Hindus and Buddhists respectively. For Buddhists, Nainativu is one of the 'Solosmasthana' – the 16 most sacred pilgrims in Sri Lanka, whereas for Hindus the Nagapooshani Amma Kovil serves homage to Goddess Meenakshi – the giver of fertility. A tip to keep in mind is to make sure you wear modest clothing and remember to bring a bag of snacks and water as there are no places to buy food in the island! If you venture across this whole island you will come across a church or a mosque, and this shows the peaceful coexistence among the diverse communities of Sri Lanka.
To find out more about how you can plan the ultimate trip to Jaffna visit www.jetwinghotels.com