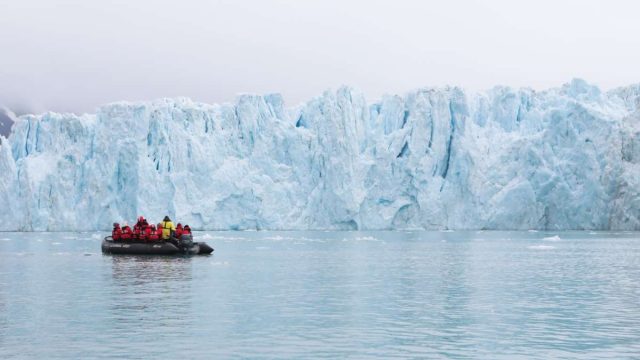 PONANT has resumed luxury expeditions to the Arctic. The first emblematic Arctic destination? Spitsbergen, aboard Le Boréal, with a departure on 18 July 2020. PONANT, world leader of luxury expeditions, will also set a course through the legendary Northeast Passage before sailing onward to Kamchatka and the Kuril Islands in the Russian Arctic.
Between now and September 2020, PONANT will be undertaking no fewer than five inspirational itineraries to the Arctic, four of them brand new.
Destinations include the Bering Strait; Chukotka, one of the most remote parts of the world; Svalbard and its Nordaust-Svalbard Nature Reserve; the Kuril Islands, and the Northeast Passage.
Polar bears, seabirds, walruses, bears and arctic foxes, surreal polar landscapes, volcanoes, remote outposts… life enriching voyages, each holding the promise of unforgettable moments. With extensive experience in sailing the polar regions, and expertise for over 20 years, PONANT has resumed voyages in 2020 designed to appeal to the inner explorer.
Looking ahead with confidence here are some examples of PONANT's 2020 soon-to-sail Arctic voyages to stir the mind for when the time is right for international travel again:THE BEST OF SPITSBERGEN, Norway – departed 18 July 2020 and 25 July
Longyearbyen to Longyearbyen – Aboard Le Boréal
An exceptional voyage to discover the Far North and the vastness of the Arctic polar region. Discover exceptional fauna and flora, adapted to the polar extremes, including walruses, arctic terns and polar bears, the Lords of the Arctic. Well beyond the Arctic Circle, experience the unique impression of having reached the end of the world.UNEXPLORED SVALBARD, Norway – departing 30 July and 6 August 2020
Longyearbyen to Longyearbyen – Aboard Le BoréalA Norwegian archipelago situated beyond the Arctic Circle, the Svalbard Islands open the doors to the Far North to discover a fascinating history, breathtaking landscapes and an exceptional flora and fauna capable of adapting to extreme conditions with temperatures dropping to around -30 °C in winter. A rich ecosystem supports colonies of seabirds, walruses, bears and arctic foxes. THE NORTHEAST PASSAGE, Norway to the Russian Far East – departing 26 August 2020
Longyearbyen to Anadyr – Aboard Le Boréal – 22 Nights
This is a pure expedition voyage in the wake of Roald Amundsen, one of the greatest polar explorers. Explore the Russian Arctic National Park; the vast polar desert of Severnaya Zemlya; the New Siberian Islands and their exceptional biodiversity; Wrangel Island and its unique ecosystem… Cross the Bering Strait and discover Chukotka, one of the most remote regions on the planet, with an opportunity to visit some villages and meet their inhabitants. More information.THE RUSSIAN ARCTIC, From Kamchatka to the Kuril Islands – departing 19 September 2020
Anadyr to Tokyo – Aboard Le Boréal – 15 nights Discover the rarely visited Russian Far East. Visit Chukchi villages to share moments in the daily lives of these Siberian peoples; on the Kamchatka Peninsula, spectacular landscapes are home to brown bears, many species of seabirds and marine mammals, while in the Kuril Islands, in the Sea of Okhotsk, every island is a volcano. More information. Please note: the itineraries may be altered based on port approvals and to comply with applicable government regulations